Andre's Journey to RAAM is Here
The epic quest begins, and you can follow his journey.

ABOUT ANDRE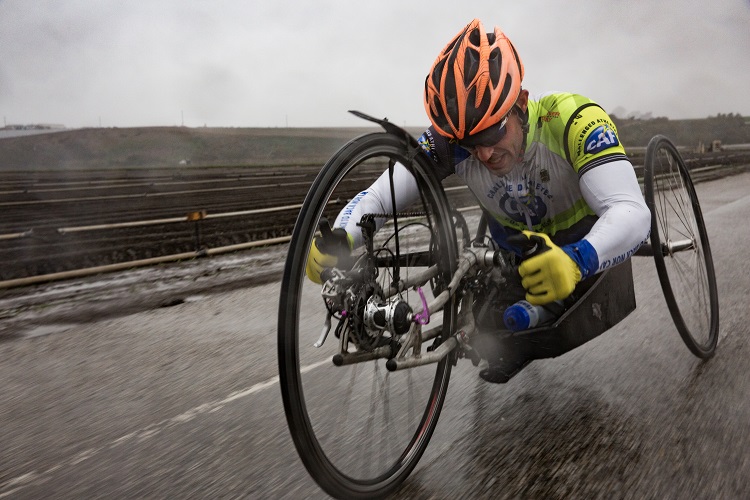 While studying in Prague, Andre was struck by a subway train and lost both of his legs above the knee. After waking up from a three-week long coma, Andre's life had changed dramatically. While it was tough to comprehend that he would never walk again, Andre almost immediately took to his new lifestyle, and the endurance sports world, with a "Challenge Accepted" mindset. He was named "USA's Paratriathlete of the Year", winning the Pan American Championship, IRONMAN 70.3 and Kona World Championships. He was also the first wheelchair athlete to finish Ultraman Canada, Hawaii and Australia, and the grueling Brazil135 Ultramarathon.
ABOUT RAAM
Race Across America (RAAM) stands as one the toughest events in the world and a tribute to human endurance. It is a transcontinental bicycle race that starts in Oceanside, CA on the west coast and finishes in Annapolis, MD on the east coast, covering 3,000 miles, climbs 173,000 feet, crossing 12 states, traversing three major mountain ranges (Sierra, Rocky and Appalachian), crosses four of America's longest rivers (Colorado, Mississippi, Missouri and Ohio) and the Great Plains. In January this year, André became the first handcyclist to qualify by finishing the SoCal400 course of 401.7 miles, 20,462 feet of climbing in 31 hours + 2 minutes!
SUPPORT ANDRE & FOLLOW HIS JOURNEY
Andre will depart Oceanside, CA on June 13, 2017 and will have 12 days to complete the race, alongside his crew and full support van.
Don't miss any of the action!
Race Across America has a webpage for tracking the ride and Andre's website is full of information about him and the race. Andre, his team, and CAF will all be updating social media, so be sure to follow @CAFoundation and @AndreKajlich.
Andre's journey wouldn't be possible without the generosity of the CAF community, who took on their own fundraising and donation challenges to help Andre attempt his greatest goal yet.
There is still time to honor Andre and other athletes like him by donating just $10 through the link below.

A SPECIAL THANK YOU TO #TEAMCAF
"It's been a long and uncertain path from my accident to this point and this race. Along the way, I got into endurance sports through CAF. All of the foundation's supporters have gotten me here through their generous financial contributions and encouragement. I've also gained an amazing community of role models, mentors and fellow wheelies who've helped me with gear, information and camaraderie. Thank you, supporters of CAF, for everything you do!" – Andre