Celebration of Abilities Award Program Presented by Aspen Medical Products
Every October, the Challenged Athletes Foundation (CAF) hosts an extraordinary weekend of fundraising events which includes the inspirational Celebration of Abilities award evening. This year, we will be producing this heartfelt program for a worldwide audience to enjoy online. While we can't come together in person this year, we can celebrate the extraordinary heart and performance of CAF athletes and supporters throughout the past year. We know this year has been uncertain for all of us, but a few things remain certain…lives will always be transformed by sport and CAF's support is needed now more than ever.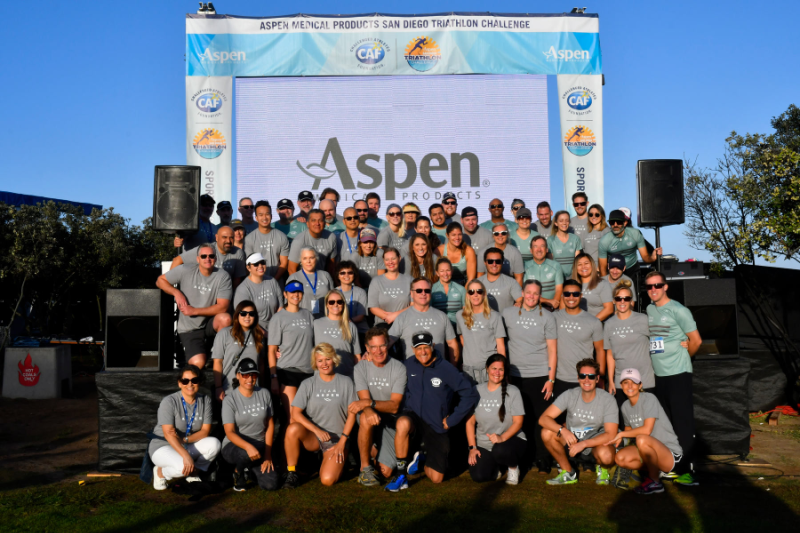 CAF Celebration of Abilities Award Program
On Saturday, October 17 viewers around the world will have the opportunity to tune in to Facebook, YouTube and Instagram for the live premiere of the 2020 Celebration of Abilities Award Program presented by Aspen Medical Products. CAF will recognize partners, fundraisers and challenged athletes from around the country for their trailblazing and inspirational achievements in the prior year.
CAF co-founder, IRONMAN Hall of Famer and USA Triathlon Hall of Famer Bob Babbitt will join American Pro-Golfer, Michelle Wie and KUSI's Allie Wagner to host this uplifting program that will honor athletes with physical challenges and supporters who have demonstrated exceptional amounts of strength, resilience, and commitment. Celebrity presenters include Robin Roberts, Bill Walton, and Joan Benoit Samuelson. Featuring a special performance from the Grammy® Award winning band Switchfoot.
Aspen Medical Products has been involved with CAF for 20 years, with their philanthropic leadership igniting a culture of giving back through their employees. They are truly devoted to the CAF Community and started participating in our San Diego Triathlon Challenge in the early years as a strong volunteer effort where their employees came down and helped set up the venue and man the volunteer stations.
The partnership has grown under the leadership of Dan Williamson and Geof Garth as a major employee and client engagement effort to become the title sponsor of the Aspen Medical Products San Diego Triathlon Challenge. Year after year, they help CAF raise over $1.4 million dollars through the event and enable thousands of people with physical challenges to pursue active lifestyles. This year we are proud to have them as the title sponsor of our virtual Celebration of Abilities Award Program presented by Aspen Medical Products.
The awards program ties in with the 2020 CAF Community Challenge, a multi-week virtual challenge that runs from August 8 – October 18. The challenge calls on the community to collectively run, cycle, swim, walk and move one million miles to raise over one million dollars. Funds raised from the event directly supports CAF's mission to provide opportunities and support to people with physical challenges so they can pursue active lifestyles through physical fitness and competitive athletics.
Tune in Saturday, October 17 at 4pm PST to experience powerful moments as we honor our athletes and announce the 2020 winners of the Jim MacLaren Award, Trailblazer Award, Most Inspirational Award, Exceptional Athletic Performance Award, and Partner of the Year Award.
2020 Celebration of Abilities Awards
The Jim MacLaren Award – The highest annual honor given to the individual or individuals who have made the greatest contribution to the CAF mission in that year.
Trailblazer Award – A challenged athlete who demonstrated courage, commitment and leadership – not just in their personal performance but in opening doors for others.
Aspen Medical Products Most Inspirational Award – An athlete who never ceases to inspire those around them through strength, athleticism, ability and true dedication to the CAF mission.
Exceptional Athletic Performance – An athlete who, through perseverance and exceptional athletic conditioning, has achieved extraordinary levels of success in sport.
Partner of the Year – A partner who has made a significant contribution to CAF in the past year and whose values best reflect the values and mission of CAF.