Team CAF Takes on IRONMAN Kona's 40th Anniversary
Triathlon was the first sport that CAF evolved from, and so it's only fitting that Team CAF has a big presence at the 40th anniversary of the IRONMAN® Kona World Championships next month on October 13, 2018! CAF has nine amazing challenged athletes participating this year… read on to learn about their stories and how you can cheer them on and follow their journeys to the starting line:
Meet Sarah Reinertsen: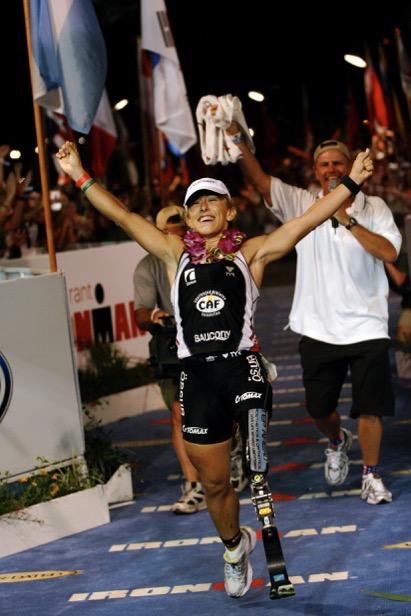 Above-Knee Amputee | California
A former Paralympic Track Athlete and first amputee woman to complete Ironman Kona, current triathlete, Sarah Reinertsen, has served as motivation for countless athletes by demonstrating what she could accomplish in spite of being born with a bone growth disorder.
Sarah has won accolades for the USOC and ESPN Best Female Athlete with a Disability (in 1991 and 2006 respectively), as well as been named USAT Best Physically Challenged Triathlete of the Year in 2006.

Sarah has also been featured on the cover of Runner's World among numerous other publications, including ESPN's The Body Issue.

Her most recent accomplishment includes running 7 marathons, in 7 days, on 7 continents.
Follow Sarah's journey on her social media:
Instagram @alwaystri

Twitter @alwaystri

Facebook @alwaystri
Meet Glenn Hartrick: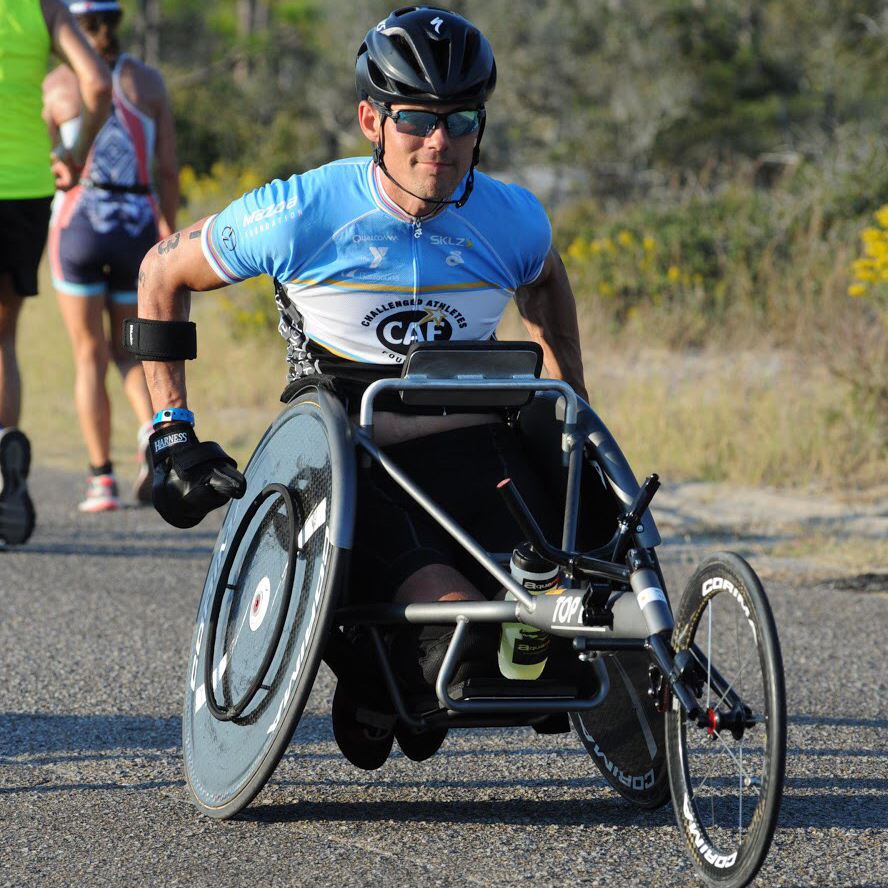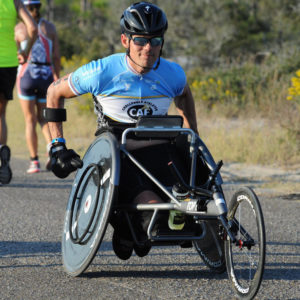 Paraplegic | New York
Glenn was hit by a car in 2014, leaving him a paraplegic. A former established IRONMAN triathlete and Runner's World cover model, Glenn immediately sought out ways to continue competing. His insistence to his therapist to let him try a handcycle in the parking lot of his rehab facility opened up his world to Paratriathlon.
A CAF grant in 2015 allowed Glenn to compete in his first handcycle race, the Rutgers Half-Marathon and has continued to refine his skills through training and competition.

Glenn completed his first Ironman in Florida 2017, taking first in his division.
Follow Glenn on his social media:
Instagram @glennhartrick

Twitter @glennhartrick

Facebook @glennhartrick
Meet Liz McTernan: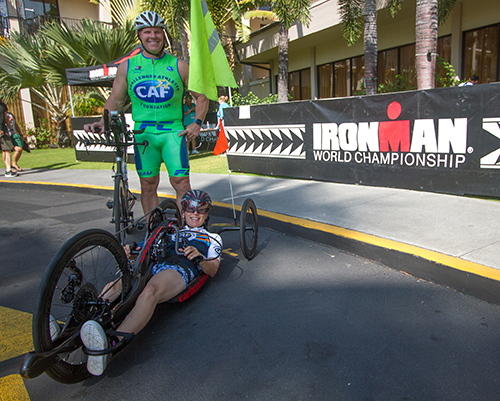 Paraplegic | United Kingdom
Liz competed at ITU Elite Paratriathlon level in the past, before switching to Para-Cycling five years ago.
She turned to Ironman after missing the cut-off for the Rio Paralympic Games in 2016 in an effort to continue challenging herself. After finishing Ironman 70.3 Haines City, Liz enjoyed it so much that she looked to continue competing in the sport. Her coach, Ralf Lindschulten, encouraged her to try and qualify for Kona, which led her to her first IRONMAN World Championship last year.  This year, Liz is back for more, back for redemption. She has been training hard to make the swim and bike cut-offs, ensuring this year she crosses the finish line at the IRONMAN World Championship. 
Recent Accomplishments:
Double Bronze Medalist UCI World Cup, Bilbao 2016.

Bronze Medalist World Para-triathlon Championships, Auckland 2012.

Attended CAF's first all-wheelchair women's ParaTri camp in 2018
Follow Liz's journey on social media:
Instagram @wobblybetty

Twitter @lizmcternan

Facebook @HandcyclingTriathlete
Meet Daniel Garcia: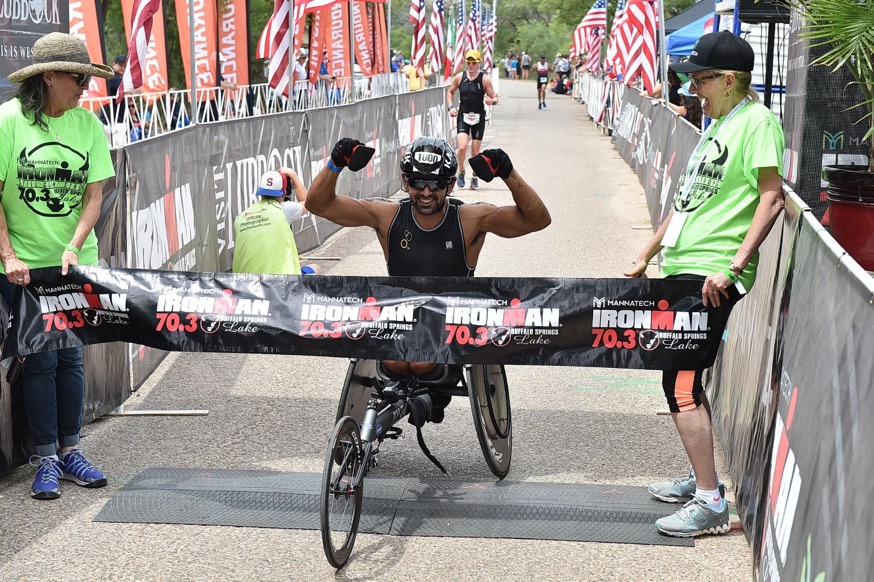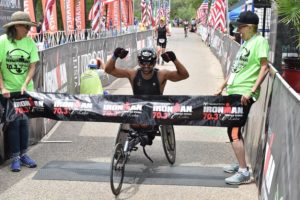 Paraplegic | California
On April 2, 2016, Daniel competed in his first ever triathlon, IRONMAN 70.3 Oceanside, California.
He competed in IRONMAN 70.3 Buffalo Springs, one of only 3 national championships in the world with qualifying spots for IRONMAN World Championships. Daniel finished 4th & qualified for the 70.3 IRONMAN World Championship Sunshine Coast, Queensland Australia.
On September 4, 2016 Daniel became the IRONMAN 70.3 World Champion earning his spot for the 2017 70.3 IRONMAN World Championship. He then set a goal to qualify for Kona in 2017

At the IRONMAN 70.3 Buffalo Springs, Daniel ended up finishing 1st 38 minutes ahead of 2nd place and qualifying for the Ironman World Championship in Kona Hawaii.

Daniel completed Ironman World Championships in 2017.
Follow Daniel's journey on social media:
Instagram @Pigscanflyiwilltri

Facebook @daniel.garcia.73345
Meet Geert Schipper: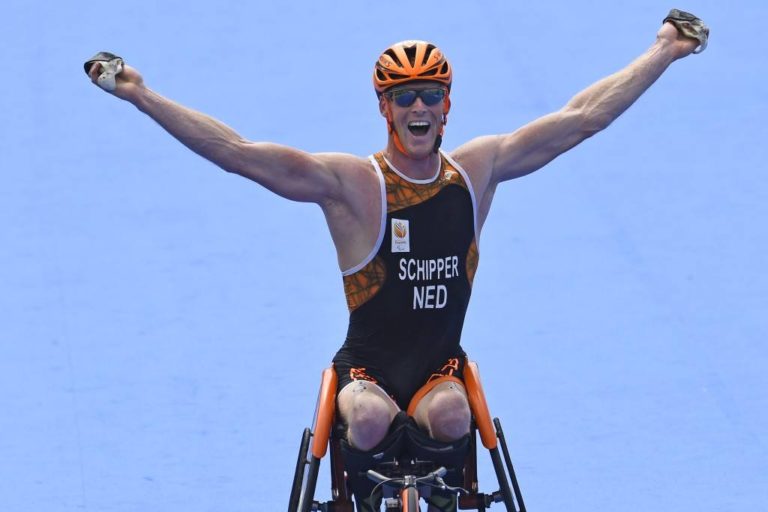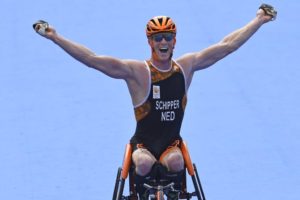 Paraplegic | Holland
Geert received his spinal cord injury from a flying accident in 2004. He is the founder of Sportisleven, which organizes sporting clinics and adventures trips for disabled people. Geert made his debut in paratriathlon in 2014, at the Netherlands National Championships.
Recent Highlights:
2nd place at the 2017 ITU World Triathlon Grand Final Rotterdam;

Winner of the 2017 Edmonton ITU World Paratriathlon Series;

Winner of the 2016 NED Paratriathlon National Championships;

Winner of the 2017 Yokohama ITU World Paratriathlon Series;

2nd place at the 2016 Rio de Janeiro Paralympic Games; and

4th place at the 2017 Kitzbühel ETU Triathlon European Championships.
Follow Geert's journey on his social media:
Instagram @geertschipper

Twitter @geertschipper

Facebook @geert.schipper.56
Meet Jeffrey Lampe: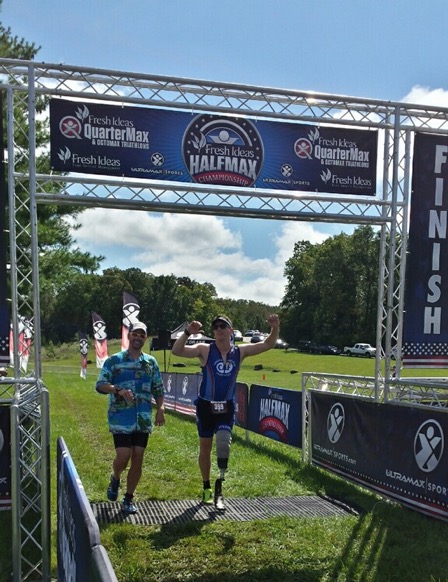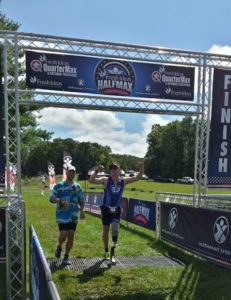 Below-Knee Amputee | Colorado
An amputee for 7 years, Jeffrey was awarded a running prosthesis through CAF two years ago and has since completed two triathlons and 3 half marathons. He is also on the US Paraskeleton team and competed in Park City, Utah, Norway, and Saint Moritz Switzerland for World Championships. In Norway, Jeffrey placed 5th.
Jeffrey is an avid licensed skydiver, and sailor; he competed in Nationals in the Santana 20 class in Dillon, CO. He plans on attending the Robie Pierce Regatta, a goal he places among competing in Ironman Kona and attending the San Diego Triathlon Challenge.
Follow Jeffrey's journey on social media:
Instagram @rswarrior110

Facebook @jeff.lampe.16
Meet Diogo Ratacheski: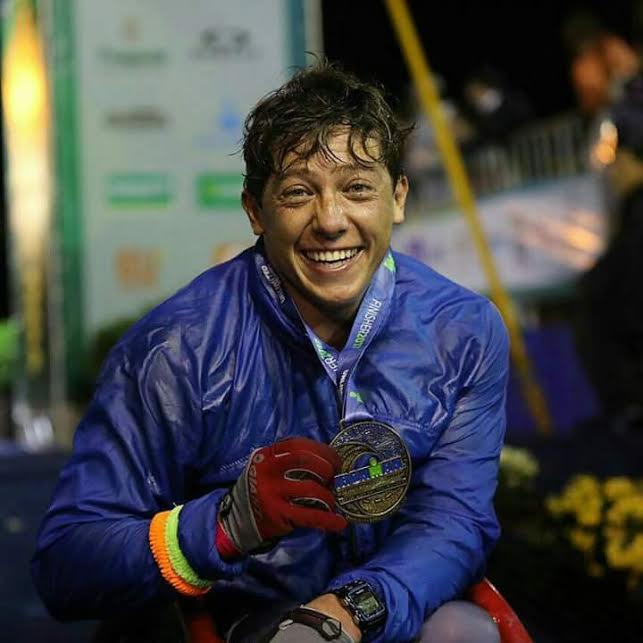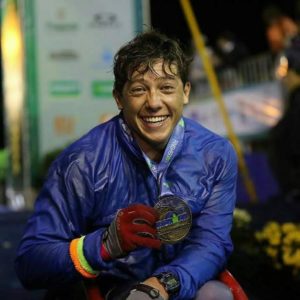 Paraplegic | Brazil
Before Diogo's accident, he had been a two time Brazilian Champion and South American climbing champion. His passion led him to climb all the hardest routes in the country. Diogo started his racing career with street races, finishing 10, 21 and 42 kilometer races in a regular wheelchair. Diogo made the transition to triathlon and has finished all distances from sprint to Ironman.
Diogo discovered the Challenged Athletes Foundation through friends. He made the first contact in IRONMAN Florianópolis (2017) where he met a volunteer that introduced him to CAF's grant program.

With CAF's support, Diogo plans to give his best for a place in Kona in the Ironman World Championship.
Follow Diogo's journey to Kona on social media:
Instagram @diogo_ratacheski

Facebook @vontadeilimitada
Meet Ahmed Andaloussi: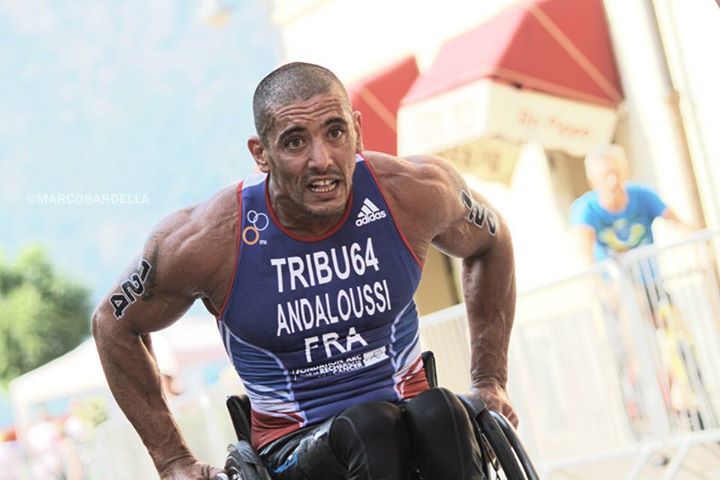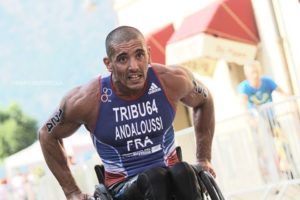 Paraplegic | Czech Republic
Ahmed was involved in a car accident in 1993, which resulted in paraplegia. Ahmed started his ITU paratriathlon career in 2013 when he won gold at the 2013 FRA Paratriathlon National Championships. He has gone onto have numerous wins and podium finishes.
Recent Highlights
7th at the 2017 ITU World Triathlon Grand Final Rotterdam;

Winner of the 2017 Altafulla ITU Paratriathlon World Cup;

Winner of the 2017 Besancon ITU Paratriathlon World Cup;

3rd place at the 2017 Gold Coast ITU World Paratriathlon Series;

5th place at the 2017 Kitzbühel ETU Triathlon European Championships; and

Winner of the 2016 Châteauroux ETU Aquathlon European Championships.
Follow Ahmed's journey via his social media:
Instagram @andaloussi_paratriathlon

Twitter @ahmedandiss

Facebook @ANDALOUSSITRIATHLON
Meet Erich Manser: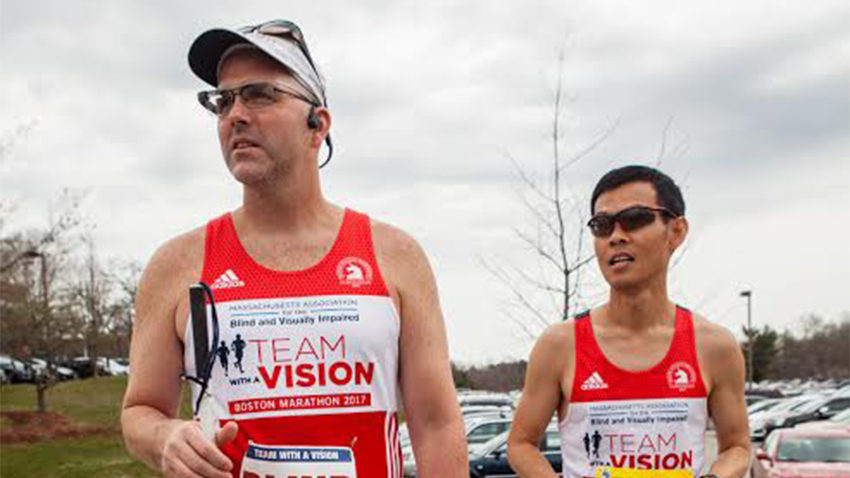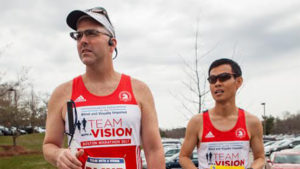 Visually Impaired | Massachussets
Erich suffers from a degenerative eye disease called retinitis pigmentosa, which has gradually decreased his vision. He swam through college before seriously picking up running after graduating. He has also completed 16 marathons, including 8 Boston Marathons.
He holds the record for physically challenged athlete in an Ironman competition, set in 2015.

Erich is part of the IBM team exploring new approaches to accessible technology, new applications of emerging technologies to enhance accessibility, and contributing actively to worldwide accessibility standards.
Follow Erich's journey to Kona on his social media:
Instagram @erichmanser

Twitter @erichmanser

Facebook @erich.manser.1
CAF is thrilled to cheer on these inspirational athletes in Kona!