Adaptive Sports Equipment
We are fortunate to have partnerships with several elite adaptive equipment partners who help make it possible to fulfill our mission to provide as many athletes as possible with adaptive sports equipment. Below is a list of our preferred partners along with the specialized equipment they offer.
CAF Preferred Partners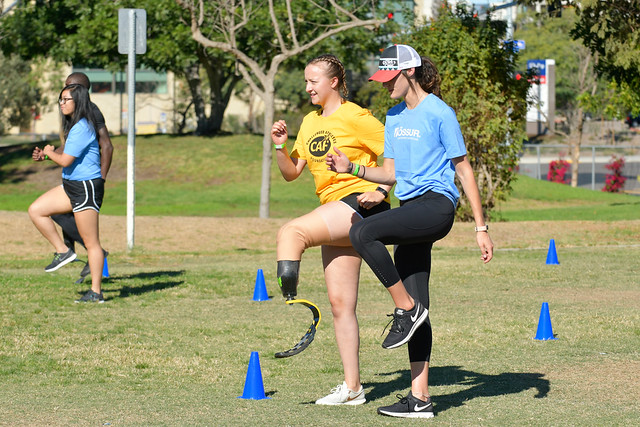 A Global leader in orthopedics, Össur employs the smartest minds and the most advanced technologies to help keep people mobile.
Colours Wheelchairs
Since our beginnings in the 1990s, Colours has always been about more than great ultralight weight wheelchairs. Colours is a lifestyle. We make products that empower users to become their best selves.
Melrose Wheelchairs
We design and fabricate custom-built sports chairs, products and accessories in Fresno, California. Our custom sports chairs are made to measure, designed to fit you and to suit the way you move.
Eagle Sports Chairs
At Eagle we take pride in manufacturing advanced recreational and elite competitive sports wheelchairs. Every Eagle Sportschairs is custom-built for you. We do not stock wheelchairs or their elements. We start from scratch every time and that allows us the greatest range of design and style available anywhere.
Box Wheelchairs
BOX Wheelchairs are not about status, but soul…not about image or popularity, but about lifestyle and the desire to push the limits of your passions!
GRIT Wheelchairs
We believe that everybody deserves access to the outdoors and adventure, regardless of their physical ability. By applying rigorous engineering and thoughtful product design, in partnership with our customers, we can create solutions that help them to live the lives they want to live, without limitations.
Per4Max
Our full-time staff includes current and former Paralympians and daily wheelchair users who custom design, build and test all equipment prior to delivery.
Canyon Bikes
From serpentine road climbs to all-out sprints, high-mountain trail riding to big mile gravel escapades, Canyon bikes carry you to the top. Your dream Canyon mountain bike is in stock, and ready to ship right to your home.
RGK Wheelchairs
Respecting you individuality is our passion, which is why create made to measure wheelchairs. Perfection is key and we aim to offer the highest quality products possible. We guarantee to support your journey, during and after the process of getting your own RGK.
Top End
Our Technology. Your Achievement. Wheelchairs for recreation, fitness and competition.
Unique Inventions
We have had the privilege of building equipment for some of the most talented and inspiring athletes anywhere, for a long time.
Vesco Metal Craft
With over 1,000 rugby chairs and a dedicated team of highly qualified personnel, VMC is determined continue to stay a step ahead of the competition for years to come.
Motivation
We are a global disability charity and social enterprise. Our vision is for a world in which all disabled people are included and can fully participate in all areas of life. Through our wheelchairs, services and training projects, we have been changing the lives of disabled people in developing countries for nearly thirty years. Your support allows us to enable mobility, independence and new opportunities for disabled people around the world.
CAF GRANTS
Interested in applying for an adaptive sports equipment Grant?

Note for prospective Grantees:

 MSRP reflected on the vendor sites is not indicative of the final cost of the grant as preferred vendors extend special pricing.

 CAF will fund equipment grants, as able, to a certain amount. Some equipment awards will be partial awards, thus the grantee would be responsible for remaining expenses.

 CAF granted sport wheelchairs will include basic feature—click strap, side guards, and anti-tip wheels. Other accessories may be added at the grantee's expense.

 CAF granted equipment awards do not include shipping fees.