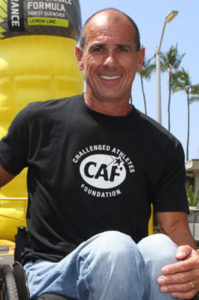 Physical Challenge: Paraplegic
Sport: Cycling, Triathlon
Hometown: São Paulo, Brazil
Carlos Moleda grew up in São Paulo, Brazil. At age 18, he chose a life of adventure, moved to the United States and joined the Navy. His ability to work hard and learn fast eventually won him a coveted spot as a Navy SEAL.
A few years later, he found himself in the middle of an intense firefight in Panama. Nine of the 10 men in his unit were wounded, four fatally. Carlos was hit near his spine and leg, and lost feeling in his lower body, forever. Competitive sports proved to be the best way to recover from this traumatic injury. Through an unyielding spirit and a passion for competition, Carlos turned his misfortune into his greatest adventure: becoming a champion.
Since his injury, Carlos has become a world renowned athlete. He's climbed Mount Kilimanjaro, completed Race Across America, won the Hawaii IRONMAN World Championship five times, and has competed in numerous other triathlons and cycling competitions around the world. He won the 367-mile Sadlers Ultra Challenge handcycle race in Alaska, and is a two-time National Handcycling Champion.
"CAF has provided me live-changing opportunities."-Carlos Moleda
Carlos appreciates how far he's come. To help others, he serves as a spokesman for the Challenged Athletes Foundation and uses his expertise and motivational skills to teach younger kids with disabilities how to ride handcycles.  He is also a triathlon coach for CAF Operation Rebound.

In The Media:

Challenged Athletes Live Q&A with Bob Babbitt: Episode Six | Carlos Moleda