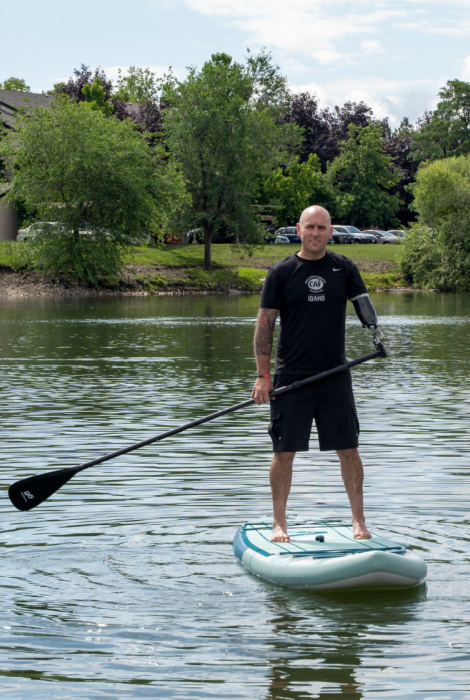 Physical Challenge: Above-elbow amputee (Elbow Disarticulation from a Brachial Plexus Injury)
Sports: Paddleboard, Sandboard, Skateboard
Hometown: Meridian, ID
What began as a scenic family trip to Idaho's Shoshone Falls turned into a nightmare when Chris Manning fell from a cliff more than 50 feet high. During his five weeks in the hospital following the accident, Chris underwent multiple surgeries to fix his broken humerus bone, shattered pelvis, prolapsed bowel, 11 fractured ribs, lacerated knee, hand and head, blood clots, torn spleen and liver, torn arteries and multiple fractures of the vertebra. Chris also ultimately lost his left arm.
Although the recover was trying, Chris' generous spirit and infectious personality never stopped lighting up a room. Affectionately referred to as "Humpty Dumpty" by his doctors, Chris has maintained his enthusiasm for the outdoors and strives to not only be a champion for Idaho's adaptive community, but to be the best role model possible for his two sons. Since the accident, Chris has taught his boys to ride a bike, skateboard, paddleboard and sandboard, with more new adventures in their future to experience together.
Through a grant from CAF Idaho, Chris received a specialized prothesis to continue paddle boarding across his favorite Idaho lakes with his family. Lucky Peak, Red Fish Lake and the Centennial Waterfront Park are no match for this "right-hand man."
In The Media:

Clear Water Tribune | Chris Manning Feature
CAF Idaho Adaptive Paddleboarding Clinic Hosted by Chris Manning & Christiaan Bailey