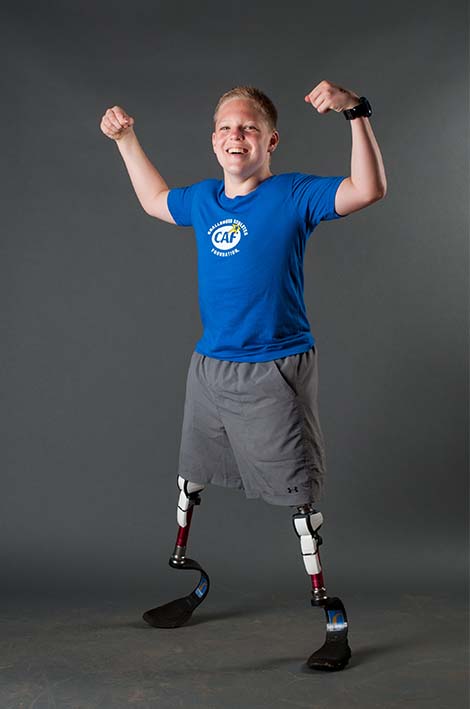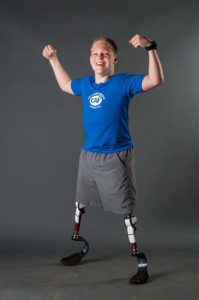 Physical Challenge: Double above-knee amputee
Hometown: Keller, Texas
Sport: Swimming
Cody was born with a rare birth defect that caused his legs to form missing both his tibias and knees. Just after his first birthday, he became a double above knee amputee. At age 5, he was showing his competitive nature in the pool and 5 years later he competed in his first national swim meet. By the age of 14, Cody had undergone more than 25 surgeries and had gone through more than 20 sets of prosthetic legs. From the 2016 Paralympic time trials for Rio to the countless number of swim meets along the way, Cody is well on his way to achieving Paralympic gold.
A spokesperson for CAF, Cody has mentored new challenged athletes in their quest to reach their athletic goals. One of the greatest opportunities he has had because of being an amputee is that he has the honor of working with our military that have been injured while serving and protecting our Country. Cody visits with them while they are in the hospital and at rehab. He helps them to see that they will still be able to live an active and fun life. They often have lost hope after what they have gone through, and he tries to help them overcome and see that if they have a positive outlook, anything is possible.
One of Cody's goals is to swim for Team USA in the 2020 Paralympics. He also has been on the student council, band, recycle club, junior counselor's club, and many other school activities. Besides being a Paralympian, Cody's other dream is to be an anesthesiologist.
In The Media
Challenged Athletes Live Q&A with Bob Babbitt: Episode Thirty Six | Cody McCasland
Cody McCasland Inspires War Hero Kevin McCloskey
Cody's Team Website | TeamCody.com