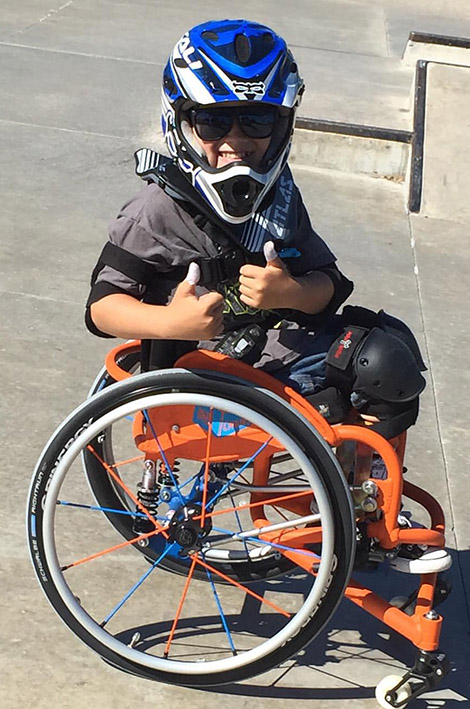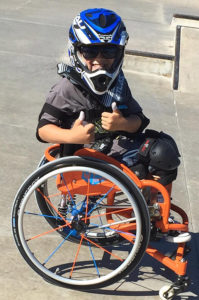 Physical Challenge: Paraplegia (born with Spina Bifida and Hydrocephalus)
Hometown: San Diego, CA
Sports: WCMX, Surfing, Basketball
Hunter Pochop is happiest when he is at the beach surfing or at the skatepark dropping in over coping and carving a bowl. Hunter also loves riding his bike around the neighborhood, reading anything and EVERYTHING he sets his eyes on, driving his RC cars around the park, or just hanging out with his buddies playing video games.
Hunter was born with Spina Bifida and Hydrocephalus. He has had 20 surgeries and requires most activities to be adapted for him, but that doesn't stop him for even a second! Hunter is full of life and is one of the happiest kids around. In 2016, Hunter competed in his first WCMX World Championships in Texas and took first place in the beginners division. He continues to work hard at the skatepark and is looking forward to future competitions. Hunter was given the nickname "Wave Hunter" by his surfer friends. He has participated in numerous surf camps and clinics over the last few years and is planning to compete in several events in Southern California and Hawaii. Hunter is committed to competing in the Paralympics in Los Angeles in 2028, when he'll be in his mid-twenties.
CAF has been proud to support Hunter with the right equipment so he can go tackle life and do what he does best: lead by example. Whether it's the skate park, the basketball court, or riding the waves, Hunter is always moving forward.
In The Media:
Hunter Pochop | Personal Website
Adaptive Surfing | Inside San Diego Sports | FOX Sports San Diego