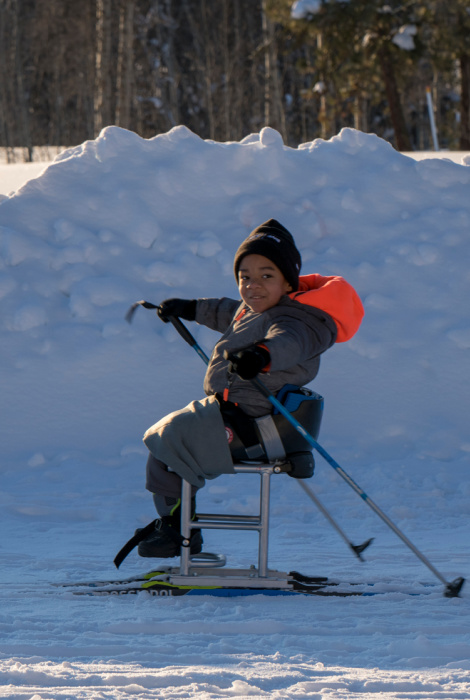 Physical Challenge: Spina Bifida
Sports: Multi-sport
Hometown: Twin Falls, Idaho
Jaxon Palmer was born with spina bifida, a bilateral clubfoot and quite possibly the most contagious laugh in the Pacific Northwest. His outgoing demeanor and limited patience leave him rushing to try new things at a moment's notice, especially if he has the opportunity to try something on his own without the help of mom and dad.
Jaxon's love of sports was apparent even as a baby. His eyes would be glued to any sporting event that came across the TV, and as he got older, he began to participate in the sports he loved watching. Jaxon enjoys rock climbing, skiing, kicking and throwing a ball, riding his bike, and horseback riding.
In early 2020, Jaxon received a grant to attend CAF's first ever Nordic skiing and biathlon clinic at Tamarack Resort in Idaho. At this clinic, Jaxon found himself surrounded by other kids and adults with physical disabilities and he was ready to race the Paralympic coaches from the get-go. He not only gained the confidence to fly down ski hills at lightning speed, but he also made friends that he continued to spend time with at future clinics, including a sledge hockey and curling clinic in Hailey, Idaho.
You'll often hear Jaxon yell, "let's do this!" as he powers through a new challenge and with the help of CAF Idaho, he'll continue to add new sports to his repertoire.
In The Media:
Challenged Athletes Foundation: Helping everyone enjoy Idaho's outdoors | Jaxon Palmer