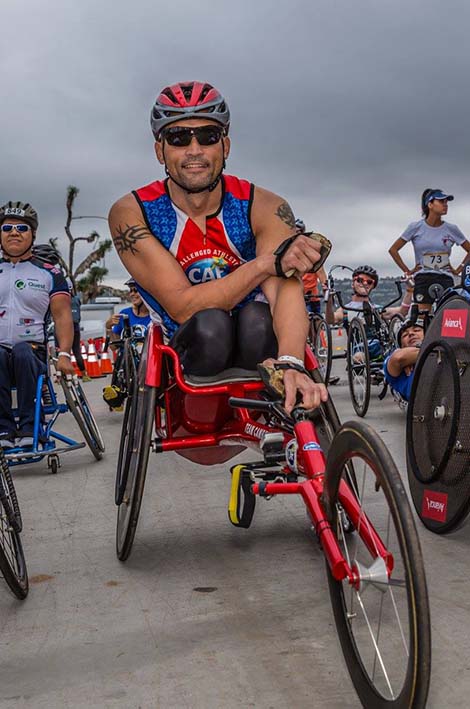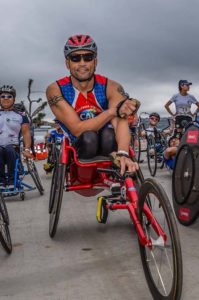 Physical Challenge: Paraplegic
Sport: Handcyclying, Triathlon, Pilot
Hometown: Mineral Wells, TX
Justin was always an active kid, participating in sports and riding motorcycles. He got his first motorcycle on his 5th birthday and took to it right away. After high school, he went to college to get his fire science degree and went through the fire academy at the same time. Even after completing the fire academy and becoming a fire fighter/EMT, he was still riding and racing motorcycles.
Unfortunately, at the age of 22 he had a bad racing accident which left him paralyzed. Even though his life was changed forever in the blink of an eye, he knew he had to stay active and physically fit. As soon as Justin left the hospital, he started shopping for Handcycles and found the one he wanted. Once he had his first handcycle, he rode it every day and loved the freedom it gave him. Only 6 months after starting his handcycle training he entered a race and was hooked. He eventually found an old used racing chair and fixed it up so he could start doing running events too. A short time later he started swim training and not long after that he did his first triathlon. CAF came into his life with the help of friends who were already active with the CAF. Being involved with CAF encouraged Justin to start doing bigger races and then national championships. He finished on the podium at his first paratriathlon national race and was then given the opportunity to travel and train with the US team at races all over the world.
During all of this time post injury he was also working toward becoming a pilot. After becoming a pilot and gaining a lot of flight experience, he decided to get back into motorsports by becoming a formula one air race pilot. After completing the training required and gaining his racing license, Justin was the first and only paraplegic pilot to become an air racing pilot in history. He won the rookie of the year award in his debut season of air racing and in 2018 won the Formula One Air Racing World Championships in his custom designed race plane that he built himself. CAF has supported Justin in all his racing endeavors all along the way and continues to support him and help him achieve his goals of more air racing victories and set more records.

In The Media:

Justin Meaders Heroes of Sport Podcast