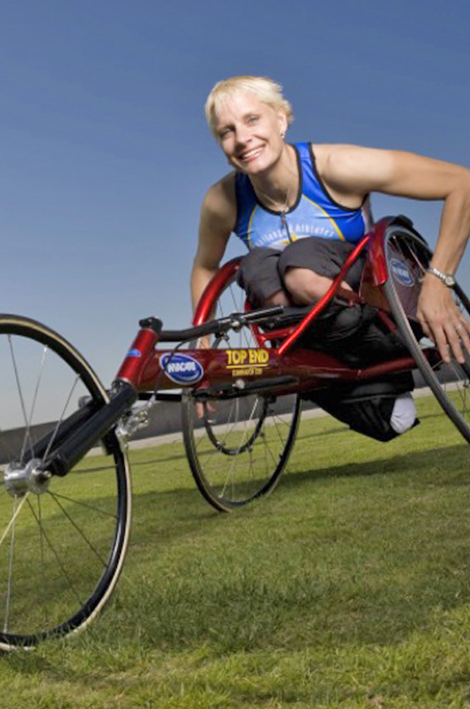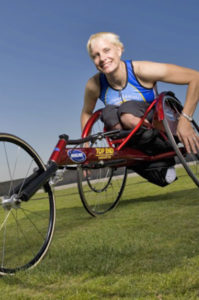 Sport: 
Cycling
Biography:
Kristina is a Southern California native and graduate of California Lutheran University in Thousand Oaks, CA. In 1996 she joined the Los Angeles Police Department and worked in South Central Los Angeles as a patrol officer and gang unit officer. On the night of 3 June 2006, while on patrol, Kristina was shot three times at point- blank range while in foot pursuit of a career criminal who had just committed a store robbery. One of the bullets that hit Kristina ripped through her left lung and lodged in her spine leaving her paralyzed from the chest down. Kristina is now retired from the police department after 11 years of faithful service.
Kristina now competes in marathons had has completed both the Los Angeles and Boston marathons twice. In 2009 Kristina received a new handcycle from CAF Operation Rebound and in 2010 she rode it to a successful completion the 3,000 mile Race Across America.
"CAF Operation Rebound has helped me so much." – Kristina Ripatti-Pearce
Your generosity and support gives Kristina the opportunity to continue marathon and handcycle racing and experience the healing power of sports.
How Does Operation Rebound Help?
Operation Rebound provides unparalleled sports opportunities and support to our troops and veterans of any branch of service and first responders who have served honorably and have suffered permanent physical injuries. Grants are awarded for event travel, lodging, entry fees, training and equipment.
How Can You Help?
Make a tax-deductible contribution to Challenged Athletes, Inc., (dba Challenged Athletes Foundation) a non-profit 501 (C) (3) organization. To make a donation, please call (858) 866-0959, send a check to the address listed below, or make a secure payment through our website: www.challengedathletes.org.