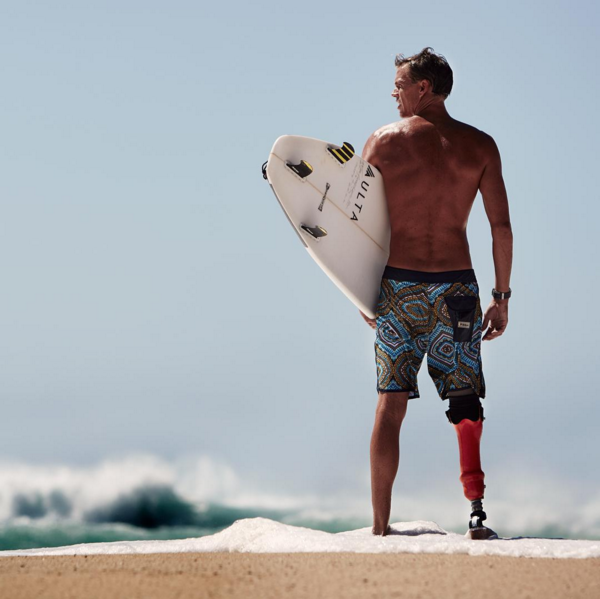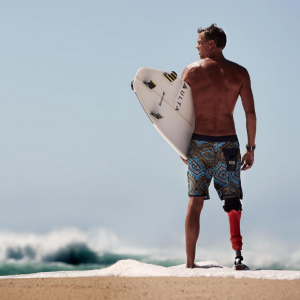 Physical Challenge: Amputee
Sport: Surfing
Mike Coots, a Hawaii native became an amputee when he lost his right leg in a tiger shark attack at 18 years old while bodyboarding. After successfully fighting it off, Mike finally realized that his right leg was missing. Even though his friends and family were concerned with his loss, Mike was simply happy to be alive and set his sights on returning to the outdoors.
Mike endured months of recovery and rehabilitation along with the introduction of a prosthetic limb before he set foot back into the water.  In the meantime, Mike was also enrolled in photo school and developed a rapport as a capable and creative outdoor photographer.
Between seeing nature behind the lens and immersing himself completely through surfing, hiking, and running, Mike realized the importance of preservation and has since become an advocate for saving sharks in an effort to maintain balance in the ecosystem. He has become a shark advocate, world-famous ocean photographer, accomplished surfer, and silver medalist at the 2016 ISA World Adaptive Surfing Championships.
Mike continues to mentor and inspire other adaptive athletes in the water while living his own life of outdoor adventure and courage.
"It was worth losing a limb just for that alone. And to help other amputees and kids that are dealing with limb loss, I feel really blessed. If you want to do something, don't worry about what people tell you. If you think you can do it, just do it."

In The Media:

See Mike's story, his view on sharks, and the direction his life takes
Mike Coots Photography Portfolio
Challenged Athletes Live Q&A with Bob Babbitt: Episode Twenty Two | Mike Coots