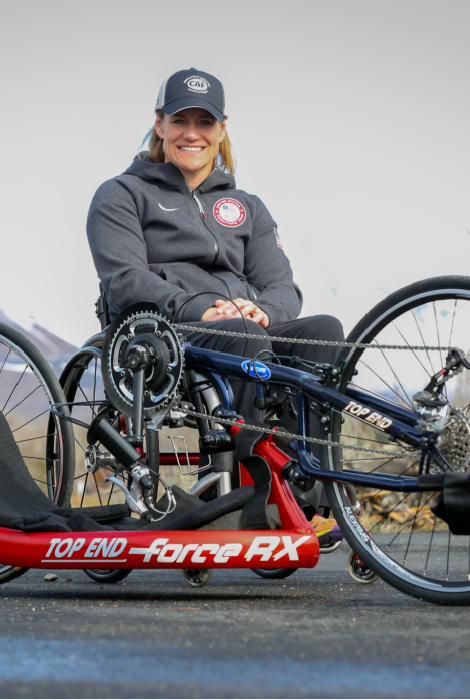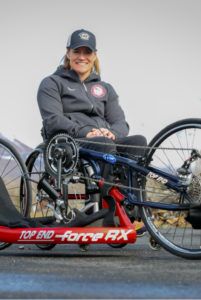 Physical Challenge: Paraplegia
Sports: Paracycling, Paratriathlon, Alpine Skiing, Mountain Biking
Hometown: Sun Valley, Idaho
Muffy Davis began skiing at age three. She dedicated much of her time to training for the Olympic Games and as a teen was a top-ranked junior ski racer. At the age of 15, her dreams of competing alongside the world's best skiers came to a halt when she lost control on a ski run at Bald Mountain, leaving her paralyzed from the chest down.
Muffy maintained her competitive spirit and began to channel her energy into training for the Paralympic Games. She went on to win a bronze medal at the 1998 Nagano games in Women's Slalom, and three silver medals at the 2002 Salt Lake City Paralympic Games in Women's Giant Slalom, Women's Super G and Women's Downhill.
As she continued to diversify her portfolio, Muffy picked up competitive cycling and later went on to win a record-setting three gold medals in handcycling at the 2012 Paralympic Games in London. Muffy also serves as an Idaho state legislator and is the founder of the Women's Athletic Foundation.
Fast forward to 2020 and you'll find that Muffy is not only surviving as a challenged athlete, she's thriving. With seven Paralympic medals under her belt, including three record-setting gold medals in hand cycling, Muffy is an accomplished public speaker, community leader, and an athlete who continues to push herself to new heights in pursuit of her lifelong passions.
In The Media:

Paralympian state representative brings value to legislature through lifelong experiences
Muffy Davis, 2020 Women of the Year
CAF Idaho Feature: Muffy Davis
Challenged Athletes Live Q&A with Bob Babbitt: Episode Forty Seven | Muffy Davis