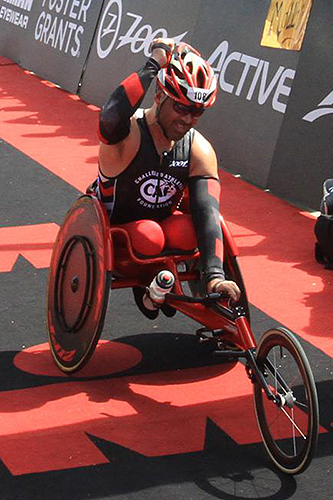 Physical Challenge: Paraplegia
Sports: Triathlon, Cycling
Hometown: West Hills, CA
Rob Balucas is an 'every-man joe' who was thrust into extraordinary circumstances in 2015 when a cycling accident rendered him paraplegic. At the time he was training for his first half IRONMAN triathlon, which was supposed to take place the very next weekend. He vowed to return to triathlon within a year and raced in 3 sprint-distance triathlons the next year after his injury. He used the Strava app to track his rehab and through CAF had the opportunity to advise Strava's engineers to include handcycling as an activity. Rob has helped shape the wheelchair athlete community at CAF.
Since then he's competed in 5 half IRONMANs, including the 2019 half IRONMAN World Championships in Nice, France. His next goal is to qualify again for the Kona (full) IRONMAN World Championship and race in triathlon's biggest stage as a paratriathlete. Having a strong community in sport through CAF has made all the difference for Rob.
Outside of paratriathlon, Rob resides in Southern California with his partner, Erika, and their dog Chloe. He is a small business owner at babaLucas Creative, serving the branding, marketing, and website needs of small businesses and non-profits.

In The Media:

Rob Balucas's Personal Website
Challenged Athletes Live Q&A with Bob Babbitt: Episode Fourteen | Rob Balucas
In Those Moments When You Are Paralyzed By Fear | Rob Balucas | TEDxBigSky