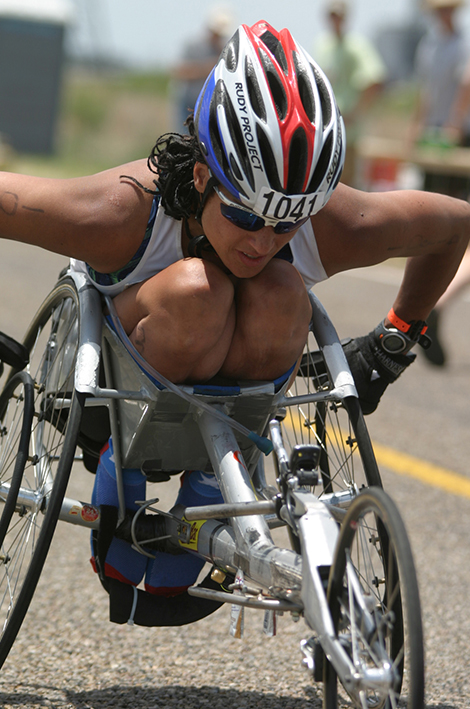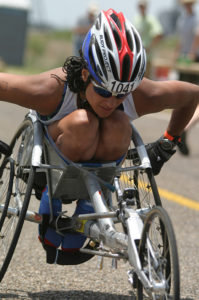 Sport: 
Triathlon
Biography:
As an elite road and track cyclist, Trish Downing "gave back" to the community by volunteering her cycling skills as a pilot for visually impaired riders. Little did she know that an accident in the Fall of 2000 would put her on the other side of the equation.
Trish was training in Golden, CO when she was hit by a car and suffered a T-4 spinal injury. Her back was broken, but not her spirit. Trish's experience working with challenged athletes gave her faith that everything would be okay. From her hospital bed, Trish wrote out her first grant request to CAF – for a handcycle that would get her back on the road … and back into life. Trish understands that her accident was not an end, but a new beginning. And what a new beginning it has been.
Determined to live life on her terms, Trish turned her misfortune into opportunity, and is now a pioneer in the sport of women's wheelchair triathlon. She has competed in a wide variety of triathlons, from sprint to Iron distance, is a member of the Physically Challenged National Triathlon team and has qualified for and competed in the World Triathlon Championships and the Hawaii Ironman World Championship.  She was named USA Triathlon's Physically Challenged Athlete of the Year for 2003. In 2005, she became the first wheelchair racer to compete in and finish the 2.4-mile swim, 112-mile bike, and 26.2-mile run of the Redman Ironman triathlon in Oklahoma City, Okla.
Tricia's passion for helping others overcome challenges and achieve their dreams is contagious.  She is a spokesperson for the Challenged Athletes Foundation and mentors to other recently injured athletes. Through her example, she's inspired other female wheelchair athletes to take on triathlon. Now as professional speaker, she hopes to share her message of how strength, courage, and perseverance turn "I Can't" into "I Can" when faced with seemly overwhelming challenges, with schools, businesses and the general public.