BUMP, SET, SPIKE! Bethany Zummo, Paralympic Gold Medalist & Drew Brees, former NFL Player take on sit volleyball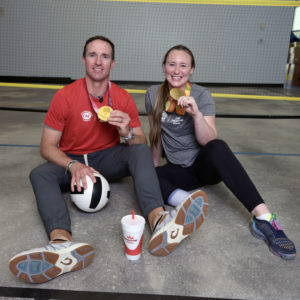 Her eyes lit up when he walked into the Challenged Athletes Foundation headquarters.
Drew Brees was a household name for Bethany Zummo. Every Sunday, Monday and Thursday, the TV was set to NFL games, Bethany and her dad watching Brees throw touchdown after touchdown. Never in a million years, did she think they would share the power of sport.
Bethany's parents introduced her to sports at a young age and like most parents, they created an environment where she believed she could do anything anyone else could. She was born with two congenital conditions which resulted in the amputation of her right leg by the age of two. She loved sports and in high school she discovered sit volleyball and dedicated herself to the sport — so much so that at the Rio Paralympics in 2016, she brought home the first gold medal in the history of U.S. Sitting Volleyball. Along the way, CAF gave Bethany an Ossur prosthetic leg so she could cross-train in beach volleyball. She became more involved with CAF and attended clinics as a coach and mentor to youth athletes. Last summer, she brought home her second paralympic gold medal from the 2020 Tokyo Games.
Bethany brought both of her gold medals to the CAF offices this year and, through a partnership through Smoothie King, had the opportunity to meet NFL superstar, Drew Brees. He came to spend the day learning various adaptive sports and experience competition from a new angle.
"It's friendly competition here and that's what connects us," said Bethany Zummo. "We're all athletes here whether were adaptive or traditional."
Bethany shared her story with Drew and had the opportunity to teach him about the game she loves. They sat on the gym floor and rallied next to the lowered net. It was not surprising, Drew's natural athletic ability shined. She gave him some helpful tips on hip movement and body angles and within minutes Drew was able to bump, set and spike the ball from a seated position.
 "I love athletics and sports, especially when its' something new. I had so much fun learning the techniques of sitting volleyball from Bethany," smiled Drew Brees.
Bethany mentioned that her father would never believe she met Drew. So, Drew picked up Bethany's phone and recorded a video message to him. "She beat me at sitting volleyball…really bad…so my ego is hurt a little bit". The room erupted with laughter as Bethany chimed in, "It's real, I told you."  https://www.instagram.com/p/CcEXay-Fazu/.
Sit volleyball utilizes the same volleyball skills and techniques as the standing game with a few key differences. Players use both their arms and legs to move across the court, and it's a physical, fast-paced game. Since sitting volleyball eliminates jumping, it puts all players on a level playing field and brings all abilities together to enjoy the sport.
Bethany continues to encourage the next generation to embrace their uniqueness and show what is possible when someone believes in you.