Courage: Strength in the Face of Pain or Grief
In October of 2019, the Gossard family traveled from Boise, Idaho to San Diego, CA to participate in CAF's San Diego Triathlon Challenge Weekend. Brooklyn Gossard, who is eight years old, loves sports and happens to play them from a wheelchair. Her parents and siblings are her biggest fans and are equally as passionate about adaptive sports.
Brooklyn's older brother Isaiah was excited to spend a weekend in San Diego, supporting his sister, but he left with a life experience that was bigger than anticipated. Isaiah now supports his sister and other athletes at CAF clinics and is sharing the message of the power of sport in his school and community.
Below is an essay that Isaiah wrote for a 6th-grade school project about CAF ambassador, Roderick Sewell, and Isaiah's definition of courage.
Courage: "strength in the face of pain or grief."
This is Roderick Sewell's story. Written by: Isaiah G.
Courage has a couple of definitions but one that really stands out to me is having "strength in the face of pain or grief." I am writing about a man that shows Courage his name is Roderick Sewell. Roderick Sewell is a "double above the knee amputee" meaning he was amputated on both legs above his knees.
I chose Roderick because I got the great honor of meeting him and I got to watch him do a triathlon thanks to the Challenged Athletes Foundation (CAF). Roderick was born missing both his tibias in his legs which prevented him from walking. Roderick stated that "It was either amputation or living life in a wheelchair. There was no stability, my mother, a single mother, decided to have my legs amputated, and she was terrified because she had never seen an amputee living a normal life, She didn't really see amputees." Later on around 2- 3 years old he was crying all the time his mother couldn't figure it out but when he was 8 years old they discovered that he was going through phantom pain which means he can feel pain in his legs even though they were amputated. At that time he and his mother were poor and used the only money they had to buy Roderick prosthetic legs which then made him and his mother homeless. When they were going through homelessness they met CAF. CAF helped Roderick and his mother find a home.
Roderick met Rudy Garcia-Tolson, a fellow bilateral above-knee amputee. Friendship and support quickly formed through solidarity and Roderick found him following Rudy onto the track then eventually into the water. "Sports changed my attitude about life," explains Roderick."As soon as I started doing sports, I became very competitive and saw everything as a challenge that I had to get through. I started seeing life the same way, as a challenge that I could get through."
In 2019 Roderick was asked to do an Ironman (a really long marathon/triathlon) World championship on October 12, 2019. The Ironman World Championship is a high-endurance triathlon that has been held in Kona since 1978. Roderick made Ironman history He became the first-ever double above the knee amputee to finish an Ironman. He finished in 16 hours, 26 minutes, and 59 seconds.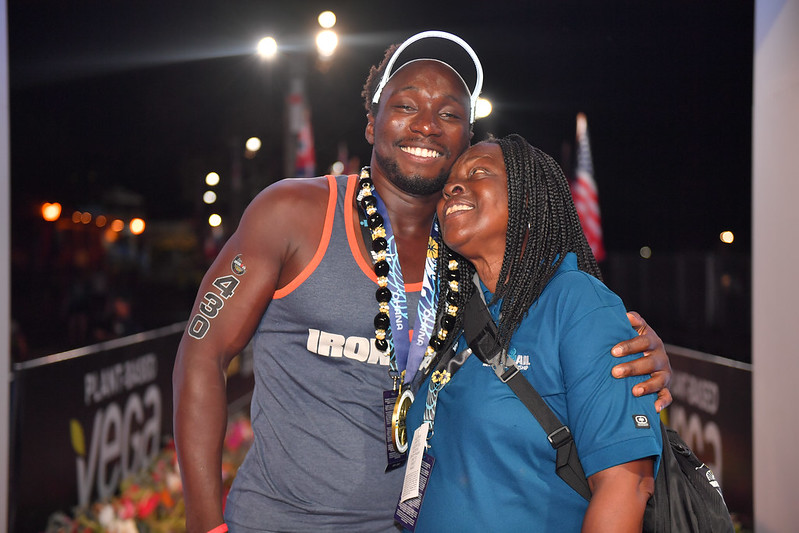 An ironman is about 40% physical and 60% mental during the race people will start doubting themselves and start slowing down. Imagine all of that but without your legs. That is what Roderick went through. Would you be able to do that? Would you be able to make it through? Even with legs, it is one of the hardest Triathlon races you can sign up for and Roderick even said, "I couldn't eat my food, my stomach was completely torn up, I'm kind of feeling the ground up to me, but I know I just gotta keep going forward." This shows what he was going through mentally. It takes a lot of courage to get through an ironman but it takes more to get through an Ironman without legs. But that didn't stop Roderick.
Sources:
Good Morning America
San Diego Union Tribune
---
To read more about Roderick, click here.
Don't miss our interview with Roderick on Episode 5 of Challenged Athletes Live Q&A with Bob Babbit!