CAF Community Challenge – Final Weekend
Join Us For The Celebration of Abilities Presented by Aspen Medical Products
We've made it! And we are SO close to our goal! As of the morning of 10/16/20 we have raised $1,907,246 and are only $92,754 away from our goal of $2 million dollars. Let's celebrate the final weekend of the 2020 CAF Community Challenge together.
Mark your calendar for Saturday October 17th – 4pm PT LIVE on Facebook and YouTube.

Tune in for the 2020 Celebration of Abilities Awards Program co-hosted by Michelle Wie, Bob Babbitt, and KUSI's Allie Wagner as we showcase of unforgettable sports accomplishments! Celebrate the extraordinary CAF athletes and the generosity of CAF supporters throughout the past year.
Celebrity presenters include Robin Roberts, Bill Walton and Joan Benoit Samuelson. Featuring a special performance from the Grammy® Award Winning band SWITCHFOOT.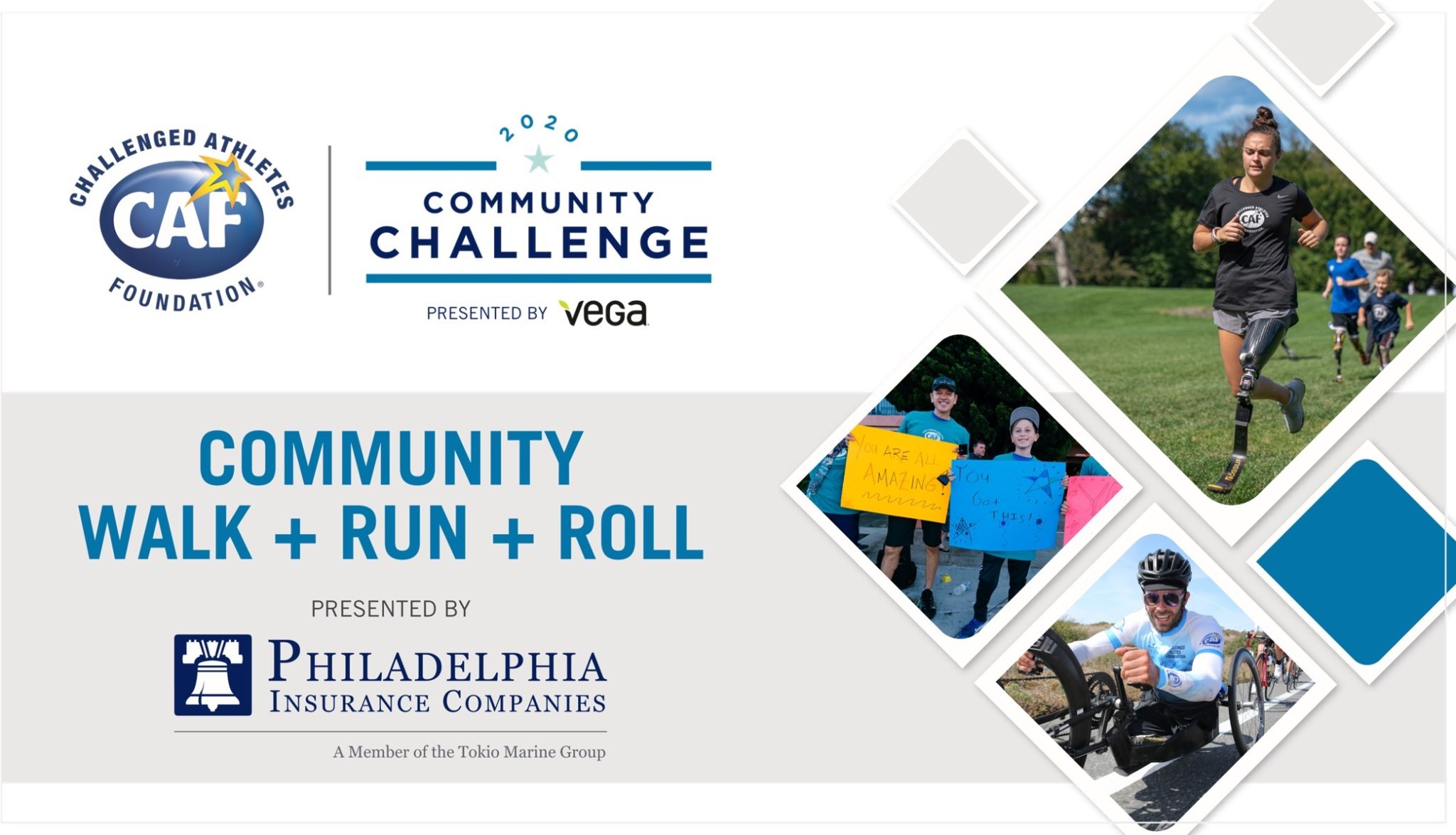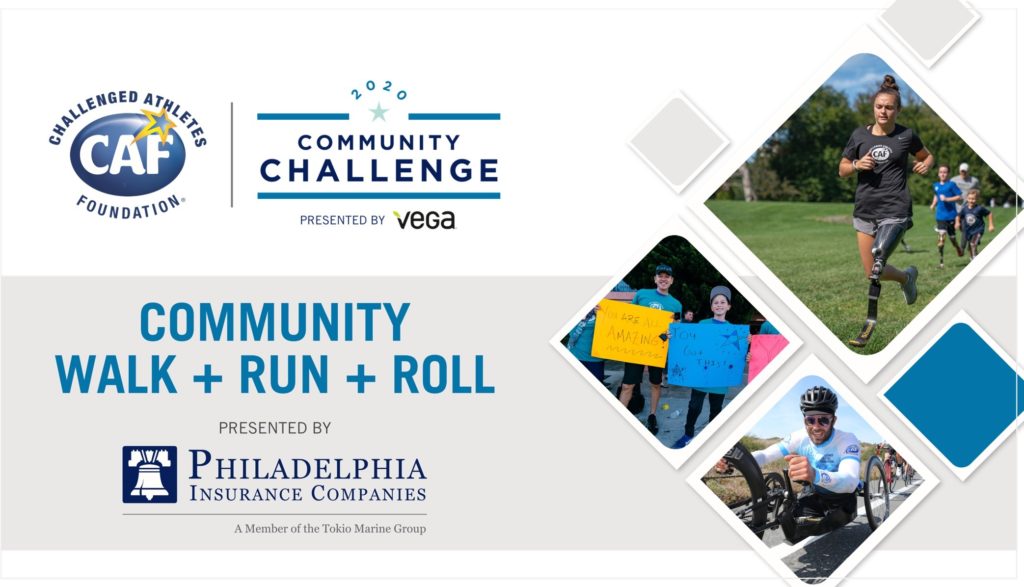 Community Walk, Run, Roll presented by Philadelphia Insurance
Join us Sunday, 10/18 at 7:30 am PT
Finish the Challenge with us on a community run, walk, roll. It's the new way to be active together – virtually. Invite your family and friends for a fun, interactive, hour.
Rudy Garcia-Tolson will be our emcee and will share his amazing story all while listening to some of your favorite tunes. This will be an event you don't want to miss! Athletes of all levels and abilities are welcome to join.
Its free and easy to join with the Charge Running app!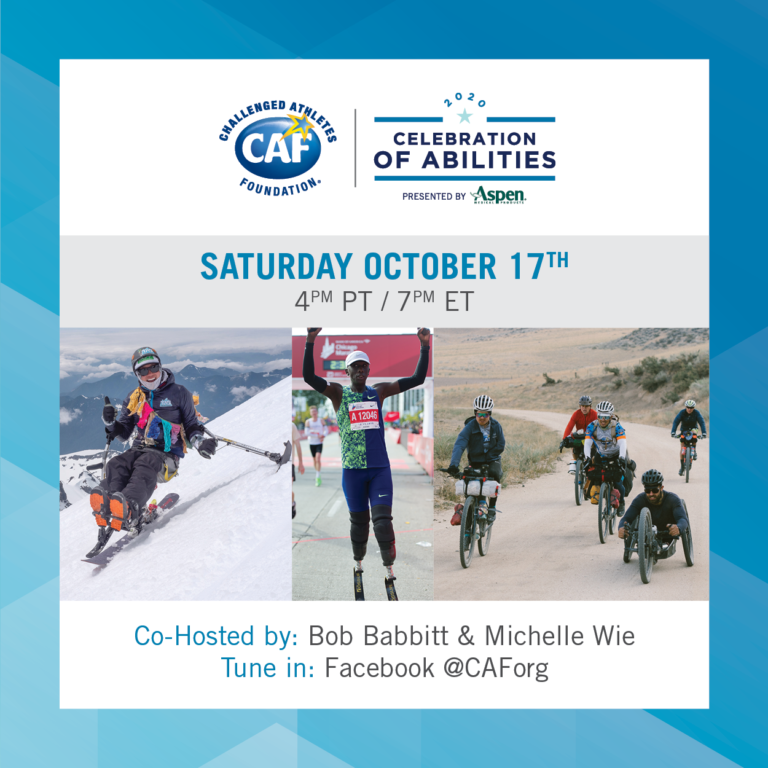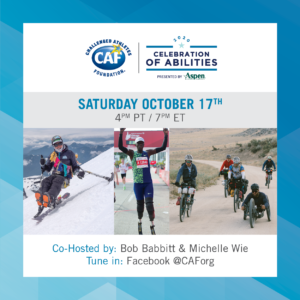 Get your friends and family to tune in to Celebration of Abilities tomorrow. Share the video and social graphic linked below on your social channels and remind your support network that all donations on Saturday will be matched up to $65,000!
Supporters, old and new, will get a strong taste of the CAF mission through this exciting program.




Don't forget to share your finisher photos!
As you finish the challenge this weekend make sure to post a picture, you can download your finisher certificate here. We've also created all new fun Giphy graphics to add to your Instagram stories! Just search Challenged Athletes Foundation in IG or Facebook Stories. Don't forget to use the hashtag #CAFCommunityChallenge in your shares!

CAF has moved 199,078 miles. We have 3 days remaining to hit our goal of 1,000,000! Keep pushing.
Congratulations to our top athletes in each category as of 10/15/2020:
DISTANCE:
#1 – Brandon Lyons -2,651 miles
#2 – Jamie Maguire 2,596 miles
#3 – Joe Hamilton 2,475 miles
ELEVATION:
#1 – Jamie Maguire 189,761 feet
#2 – Steven Peace (USMES Trike) 139,554 feet
#3 – Seth Ferguson 133,222 feet
CONSISTENCY:
#1 – Dr. Bryon Solberg 213 activities
#2 – Barry Vince 173 activities
#3 – Sherrine Jones Hayward 172 activities
DEDICATION:
#1 – Barry Vince 218 hours 28 mins,
#2 – Francisco Poslethwaite Munoz 195 hours 51 minutes
#3 – Sherrine Jones-Hayward 184 hours 16 minutes
TEAM:
#1 – Wednesday Girlz Friends & Family 16,151.2 miles
#2 – Team CAF San Diego Cycling Club 9,988.6 miles
#3 – Team Caffeine Green (MDC Ride Leaders) 9,498.6 miles

To see more results click below to visit our Challenge Hub
Top Fundraiser Incentive Prize
We are excited to share that the top four fundraisers in the CAF Community Challenge will earn their choice of the following four incentive prizes in roll-down order beginning with the highest fundraiser. The top fundraiser will be determined on Saturday, October 18th at 12:00 pm. (CAF Staff and BOD members are not eligible).
• Addaday IRONMAN® BioChair Pro
• Freemotion t10.9b REFLEX™ treadmill
• Entry into the 2021 IRONMAN® 70.3 World Championship in St. George, Utah on September 15-19, 2021
• Hydrow Rower

CONGRATULATIONS to our top fundraising teams as of 10/15/2020
1. IRONMAN-ish 140.6 with Team Whalen
2. Team Tommy
3. Team ColRich
4. Team Aspen
5. Team Maguire
CONGRATULATIONS to our VIP GOLD TEAM as of 10/15/2020
Tommy + Beth Knapp
Alan Shanken + Allison Caccoma
Danny Gabriel
Patrick O'Connell
Geof Garth
Blair Cannon
Caylan + Kelly Myronowicz
Jeffrey Essakow
Dick Lansing + Carleen Kreider
Jim + Chris Wittmer
Richard Wallace
John Elliott
Jim + Katherine Flynn
Jamie Maguire
Megan Maguire
Susie Maguire
Timothy Maguire
Chris Renard
Brian Enge
Douglas Kincart
Don Ankeny
Bob Babbitt
Parker Olenick
John Payne
Ralph Robinson
Tina + Tim Weidenkeller
Elijah Taylor
Dean Roeper
Kelly Ray
Andre Malick
Wayne + Holly Brander
Craig Blackwood
Paul + Denise Fejtek
Steven + Nicole Ludwig
Nancy Reynolds
Michael + Cindy Winn
John Heuisler
Kathryn Ray
Tom Atwell
Donald Muller
Melinda Johnson
Mike Mogul
Marci Mauro
Stephen Doyne
Cat Ellis
Barry Baker
Tom Smith
Ron Sisk
Staci Hartmann
Logan Seitz
Bill Heuisler
John Sheridan
Lauren Wolman
Olivia Stone
Keith Colburn
Virginia Tinley
Leigh Vosseller
Roger Martin
Tom Fisher
Rosalind Jarrett-Sepulveda
Gary Huang
John Dempsey
Nancy Groot
Greg + Debbie Hexberg
Jack Winn