Adaptive Equipment for Golf
Adaptive Equipment for Golf
The range of equipment for golf includes adaptive golf clubs, teeing devices, adaptive gloves/grip devices, and adaptive golf carts for transportation on the golf course. Scroll below to learn more…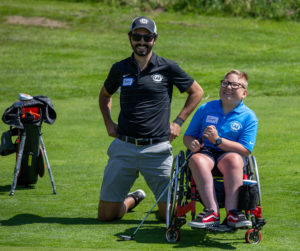 GOLF CLUBS
Golf clubs that suit a wide range of abilities are available. In addition to a standard golf club, swingless golf clubs and custom golf clubs are available.  See below to learn more…
Swingless Golf Club
The swingless golf club allows the athlete to control the distance the golf ball travels once hit, anywhere from 50-200 yards. No swing is required to engage in the sport of golf, as this golf club uses a power strip to provide the energy to hit the golf ball once a trigger is pulled.
Information & photo pulled from Power 2 Golf. Swingless Golf Club.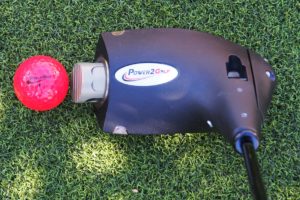 Custom Golf Clubs
Custom golf clubs are available to best suit the user's physical build and preferences! This image shows a custom putter that is available through completion of a fitting process that can be done virtually or in person. 
Information & photo pulled from PING. Custom Golf Clubs.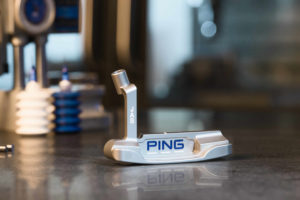 TEEING DEVICES
Teeing devices are available and intended to eliminate the need to maneuver a tee in the ground. See below to learn more about the varying types of teeing devices…
Toss Tee
The toss tee is simply tossed to the spot the athlete wishes to hit from. The tee is designed to always land upright, eliminating the need to maneuver a tee into the golf course ground. A device also comes with the toss tee which aids the athlete to pick up a golf ball without bending down to the ground.
Information & photo pulled from Toss Tee. Toss Tee.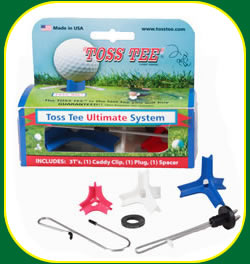 Tee Golf Ball Placer
This device allows the individual to set up and retrieve their tee without bending down to the ground. There are a variety of products that share a similar design and purpose to provide ease with bending down. For the device shown in this image, the golf ball is placed in a holding area at the bottom of the placer, and the individual presses down on a spring system that places the golf ball and tee into the ground.
Information & photo pulled from Vertical Golfing. Tee Golf Ball Placer.
GLOVES/GRIP DEVICES
A variety of glove and grip devices are available for individuals to have improved grip and control while golfing. See below to learn more about some available gloves and grip devices for golf…
Eagle Claw
This device is designed to help an individual maintain their grip on the golf club and their swing accuracy while playing golf. This device also helps the athlete to strengthen their grip while golfing through holding the grip in place. The Eagle claw fits over an individual's thumb and pointer finger and locks into place with the flip of a clasp.
Information & photo pulled from Eagle Claw. Eagle Claw.
Quantum Grip
The quantum grip includes a grip that is placed on the golf club, along with a glove that is worn by the golfer. The glove and the grip are made of a material that bond to each other while in contact with one other. This allows the individual to maintain their grip on the club throughout the swing cycle.
Information & photo pulled from Quantum Grip. Quantum Grip.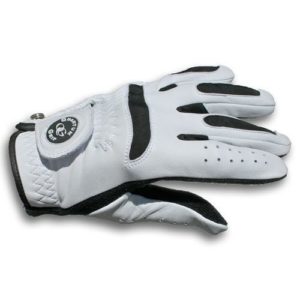 GOLF CARTS
In addition to standard golf carts, adaptive golf carts are available that have hand controls and a swivel seat for ease with transfers. See a few adaptive golf carts below to learn more…
Golf Cart with 
Hand Controls & Seat Lift
This golf cart is operated with hand controls and has a seat that pivots and raises up to 12 inches for ease with transfers or swinging the golf club in a seated or raised position. This device can reach up to 13 miles per hour and has a place for holding the golf bag.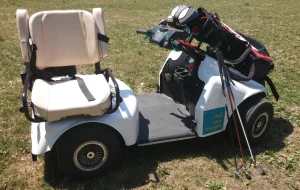 Golf Cart with Hand-Controls & Multi-Position Seat
This golf cart has a low center of gravity, providing ease with transfers on and off the cart. This cart has hand controls and a multi-position, adjustable swivel seat for the rider. This golf cart comes with transfer bars and belts for the waist and chest to secure the rider.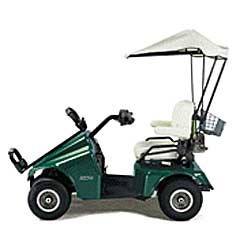 This resource is intended to be used for informational purposes only. The information contained does not reflect an endorsement of these products or companies by CAF.