Humberto Reyna Regains Life After Traumatic Brain Injury
Authored by: Christy Fritts
"The man that left the house that morning did not come home" – Kay Reyna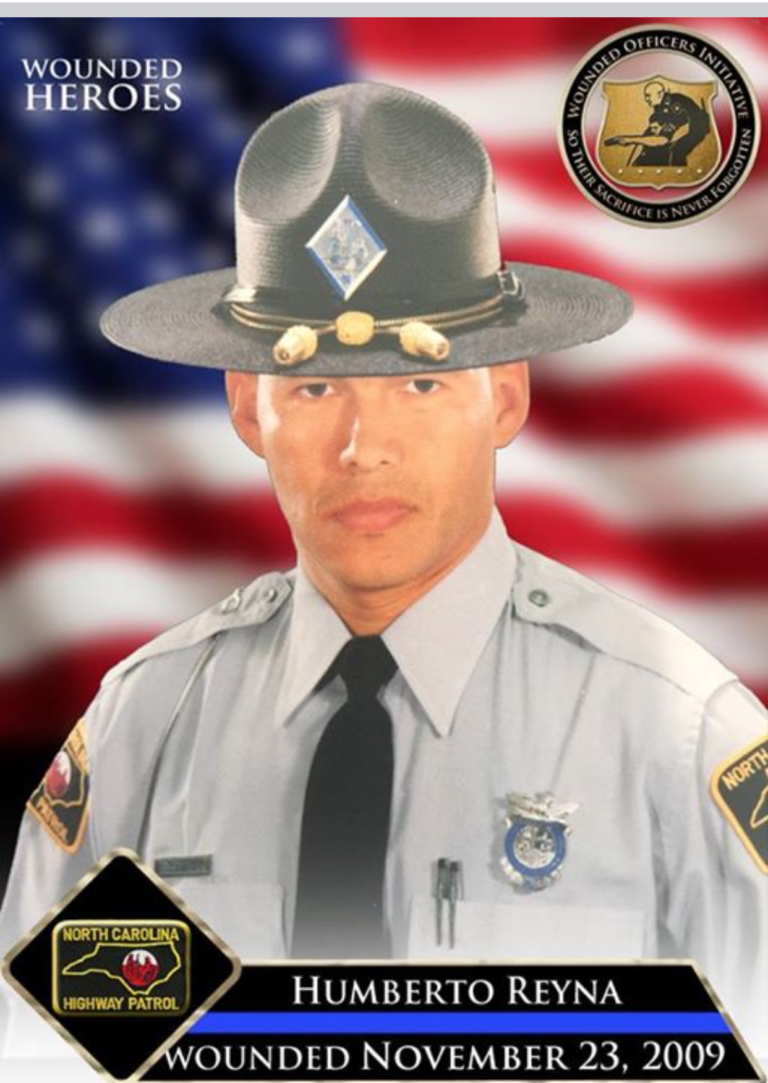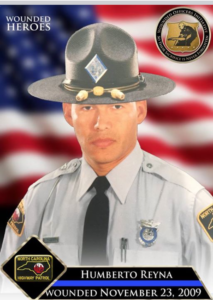 One never knows when life, as we know it, will take a dramatic turn that will lead us down deep valleys of struggle and back up to the high peaks of success. This is the exact story of Humberto Reyna and his fight to regain his life after suffering a traumatic brain injury. Wounded Officer's Initiative first posted the story of Reyna's accident on their website honoring injured law enforcement officers in 2017: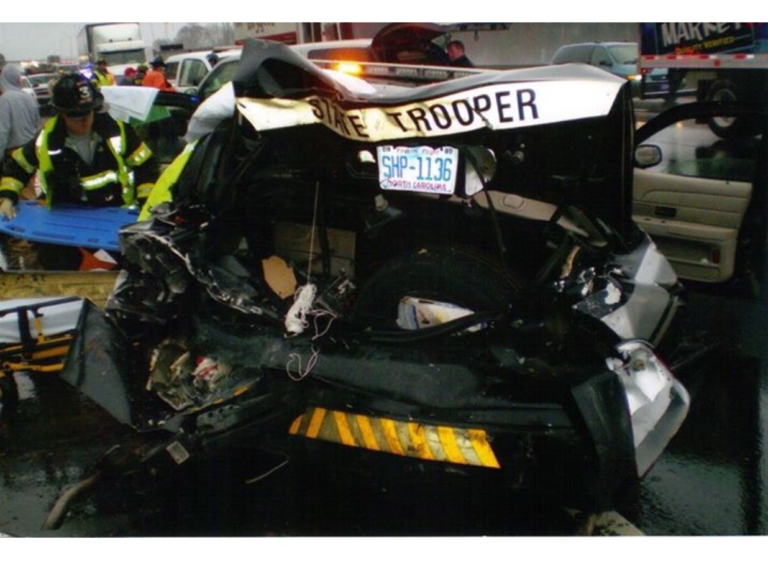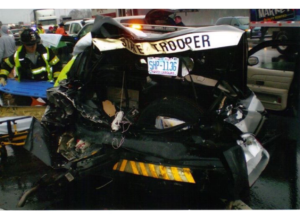 North Carolina State Trooper Humberto Reyna was the poster boy for the North Carolina State Police, literally, serving as the Latino face for the agency in several print ads at the time. That all changed on a rainy, road slickened day on November 23, 2009. Trooper Reyna responded to a vehicle crash at I-40 and I-85 and was awaiting a wrecker on the shoulder of that location when his marked patrol car was struck from behind by a vehicle that swerved and lost control on the wet roadway. The vehicle hydroplaned and struck Trooper Reyna's patrol car at 75 MPH, before also striking a pedestrian-related to the first crash, and then a sign, where it finally came to rest in a ditch alongside the highway. The force of the impact sent the patrol car careening down the shoulder and crushed it like an accordion, collapsing the entire rear of it toward Trooper Reyna, sitting in the front seat. Trooper Reyna sustained multiple injuries from the impact, including broken ribs and at the time, was thought to be a simple concussion. During what should have been Trooper Reyna's recovery period, it was discovered that those injuries were far worse than anyone initially thought. Trooper Reyna was diagnosed with traumatic brain injury.
Humberto's wife, Kay Reyna, had no idea what life would look like after the injury. All she knew was that he would require 24/7 care and supervision since the accident. She devoted herself to taking care of him and ensuring that he received the special rehabilitation services and treatments he needed. 
Prior to his injury, Humberto was extremely energetic, active, and athletic. He was a right-handed golfer, a collegiate cross-country runner and a competitive swimmer.  He represented his home state of North Carolina for the Highway Patrol in Trooper Challenges, a physical and law enforcement skills competition against other State Troopers across the country. He also participated in running fundraiser events, in fact, race organizers had to ask Humberto to stop on one occasion after he ran 20 miles because they ran out of time… otherwise, he would have kept on running. Humberto was not necessarily a triathlete, but he did participate in all three sports separately.
After rehabilitation, his doctors suggested he get back to being active despite his emotional and cognitive deficits resulting from his brain injury. Finding a way to make this happen became Kay's main mission.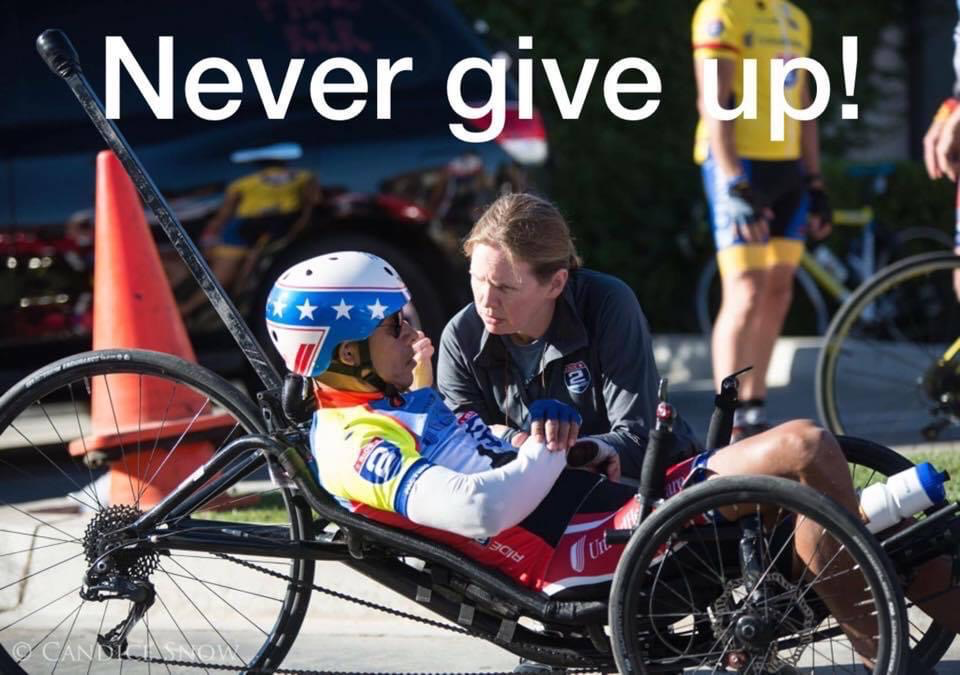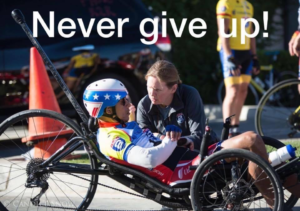 "It wasn't easy for him to get back out and participate in sports. Swimming came first, then golf, where he had to relearn to swing left-handed, then running and eventually cycling utilizing a recumbent bike due to balance issues. With the traumatic brain injury, he lost all of his social skills, so doing these things is socially and physically therapeutic for him," said Kay. "Because of his condition, he never gets fatigued, hungry or thirsty, and requires very little sleep. Participation in these group activities, in a group setting, has been ideal therapy for easing him back into normal life situations." 
Kay researched adaptive sports and discovered CAF's Operation Rebound program. The adaptive sports program allows injured law enforcement officers, firefighters, paramedics, and veterans with permanent injuries a chance to rebuild community and friendships. CAF is among the few organizations in the country that include injured law enforcement officers like Humberto. When there are events planned, they can look forward to, it provides a reason for them to go on. "Through adaptive sports, Humberto was able to get back into a life he once loved," she explained, adding, "I believe because he lived, he deserves to have a life with purpose and hope even if he requires help to do so."
For those who have endured the physical hardships that result from a traumatic brain injury, the trauma can also be compounded by personal loss in other areas. "Living with TBI is extremely difficult. People are not the same as they used to be and they must rebuild a new life from the beginning," Kay expressed, "and often friends do not know how to deal with a person with a brain injury and many lose what friendships they had prior to the injury." After experiencing the difficulties of rebuilding after traumatic brain injury and inspired by Humberto, Kay obtained her doctorate degree and is currently a traumatic brain injury researcher at the University of Oregon's Center on Brain Injury Research and Training working on groundbreaking research to help law enforcement officers with traumatic brain injury and their caregivers. She often points other traumatic brain injury survivors and their families to CAF's adaptive sports programs.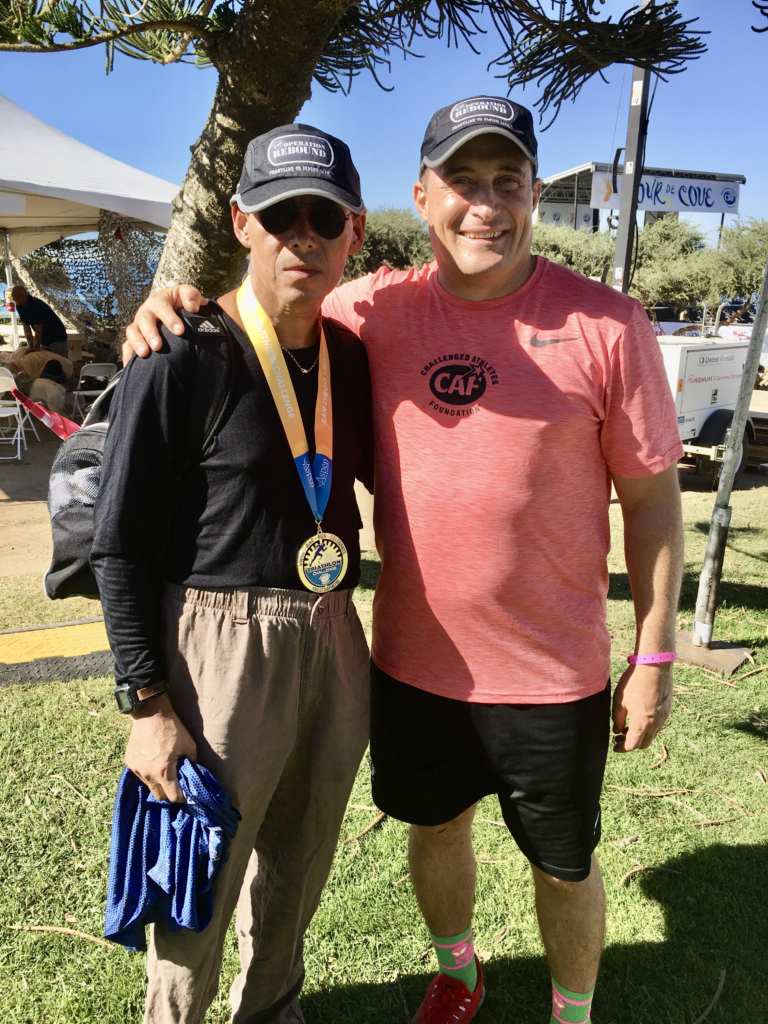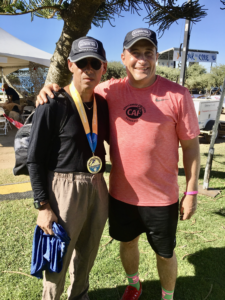 "CAF has been a lifesaver," said Kay. "Nico Marcolongo is CAF's Operational Rebound Program Director and perhaps the most wonderful human I have ever met. His love of the athletes is apparent, and he encourages Humberto to participate in the sports he enjoys." Through OR, injured law enforcement officers can rebuild many vital aspects of their lives through adaptive sports and the meaningful relationships they build within mentorship and the community.
Humberto's competitive spirit has kept him training hard for the upcoming Ironman Oceanside 70.3 on April 1, 2023. Fellow injured law enforcement officer Tom Giannettino has experience with half-distance Ironman races and is coaching Humberto to prepare him for the upcoming 1.2-mile swim, 56-mile bike and 13.1-mile run. 
We all can't wait to see Humberto light up the Ironman Oceanside racecourse! He may not be the same man who left his home on that fateful November morning 14 years ago, but through endless grit, determination, and the love and support of his team and family, Humberto has grown into a man who represents strength and inspiration for all who have the privilege of knowing him.