IDAHO ELITE ATHLETES TO COMPETE IN BEIJING PARALYMPICS
Idaho has become a haven for athletes of all ages and abilities to discover their passions and refine their skills on the path to the Paralympics. And with an expansion into winter sports over the past two years, CAF Idaho has been able to help athletes of all abilities gain experience and knowledge in sports like sled hockey and Para Nordic skiing and biathlon.
IDAHO ATHLETES
These Idaho athletes will compete in the Beijing Paralympic Games in 2022.
DANI ARAVICH
Being born without her left hand and forearm has never stopped Dani Aravich from realizing her destiny as a competitive athlete. After her time as a D-1 cross country and track and field athlete, Dani quickly became involved in the adaptive sports community where she not only volunteered as a limb-different coach, but also began training for and ultimately competed in the 2020 Paralympic Games in the 400M sprint in track and field as a member of the U.S. Paralympics Track and Field.
Through this training, Dani caught the attention of a U.S. Paralympic Nordic Ski coach who invited her to a training camp in 2019. And today she is in Beijing as a member of the U.S. Para Nordic Team for the 2022 Paralympic Winter Games. She will be competing in Biathlon and Cross Country.
JOSH SWEENEY
Paralympic gold medalist and Pat Tillman ESPY award winner Josh Sweeney grew up playing competitive sports. But his favorite soon became hockey, which he played throughout high school. After graduating, Josh served in the military in the Marine Corps as a Sergeant. In October of 2009, he stepped on an improvised explosive device (IED) while serving in Nowzad, Afghanistan. As a result, he underwent surgery for bilateral amputations above the knee. To help him heal, Josh turned to sports.
During his rehabilitation, Josh was introduced to adaptive sled-hockey and was immediately hooked. He went on to play for the San Antonio Rampage, a club sled hockey team, as well as a three-time U.S. National Sled Hockey team member and captain. He currently competes in Nordic skiing as a member of the US Paralympics Nordic Skiing team.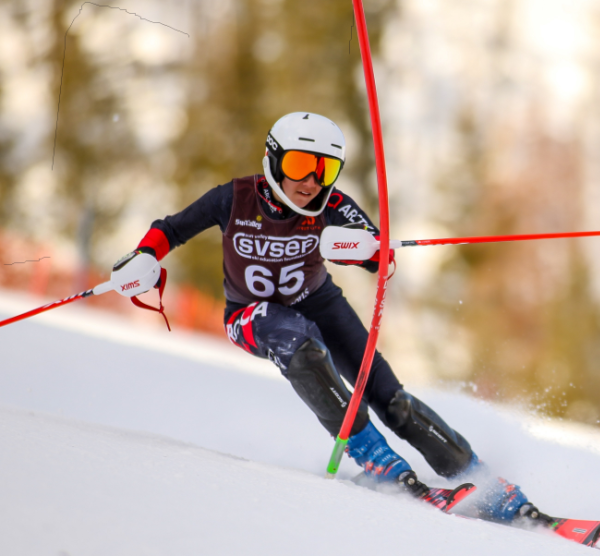 JESSE KEEFE
17-year-old Jesse Keefe was born with no ankle bone in his right foot and at 11 months, his parents had to make the decision to have his foot amputated. He's been involved in skiing and mountain biking his whole life and won his first race at the age of three. At the age of seven, Jesse joined the Sun Valley Ski Education race team and hasn't turned back!
Just this past year, he won the 2021 US National Giant Slalom after making the US National Para Alpine Team. His all-time favorite thing about alpine skiing is the community it brings as well as how fast you can go.
"[Sport] has completely impacted my life giving me support, structure, and goals for a passion I can be successful at." says Jesse Keefe, "I like sharing my story with others so they can also feel empowered to try new things."
THE COST TO COMPETE
For those athletes traveling to Beijing, the cost to compete is often more than lodging and transportation. In fact, over 55% of Team USA has received financial support from the Challenged Athletes Foundation somewhere along their athletic journey, regardless of the sports they participate in. For elite athletes like Oksana Masters, Para Nordic sit ski equipment can range from $3,000 to upwards of $10,000 per sit ski.
The expense of adaptive sports equipment can often be an obstacle that keeps those with physical disabilities on the sidelines. Medical insurance does not cover adaptive sports equipment which are deemed "luxury" items. CAF, however, believes sport is a right, and works to overcome this economic barrier. With the right support and proper equipment, the opportunities are limitless.
Use the links below to learn more about CAF Idaho programs and development.