What you need to know to become a paratriathlete
How to get involved in Paratriathlon
Paratriathlon earned its debut at the 2016 Rio Paralympics, celebrating a completely new host of Paralympians who have fought their way to the highest echelon of competition. More importantly, it has opened the door to the next generation and given young challenged athletes with Paratriathlon dreams relatable role models as well as concrete footing for their journey towards the podium.
Advice from Team USA member Jamie Brown: "Triathlon is one of the few sports that doesn't compete on a specific field or controlled environment, even at the Paralympic level. Therefore, every race will challenge you differently, and you must have the ability to be adaptable and flexible because as triathletes we will NEVER have consistency when it comes to race venues."
What to know about Paratriathlon vs. Triathlon
The traditional triathlon consists of a swim, bike, and run towards the finish line. Paratriathlon is no different and uses the same format to host events from the sprint, Olympic, ITU Long, half-Ironman, and Ironman distances.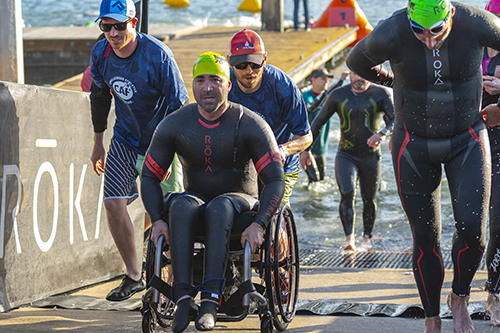 Types of Triathlons
| | | | |
| --- | --- | --- | --- |
| Name | Swim | Bike | Run |
| Sprint | 0.5 mi (750m) | 12.4 mi (20 km) | 3.1 mi (5km) |
| Olympic/5150 | 0.93mi (1.5km) | 24.8mi (40km) | 6.2mi (10km) |
| ITU Long | 1.86mi (3km) | 49.6mi (80km) | 12.4mi (20km) |
| Half/70.3 | 1.2mi (1.9km) | 56mi (90km) | 13.1mi (21.09km) |
| Full Ironman | 2.4mi(3.8km) | 112mi (180km) | 26.2mi (42.195km) |
A huge difference in Paratriathlon, like all Paralympic sports, is the use of classifications. Similar to combat sports like wrestling or boxing, classification strives to create the most even playing field possible and puts athletes of similar abilities against each other; this is based on static metrics like limb length in amputees and separating wheelchair athletes from ambulatory athletes. A rough outline is presented below: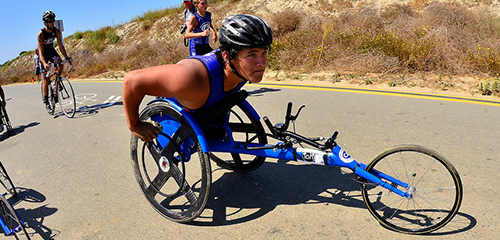 Wheelchair
PTWC- Wheelchair users (Athletes must use a recumbent handcycle on the bike course and a racing wheelchair on the run segment. The recumbent cycle helps even the playing field between athletes with and without trunk function)
Ambulatory
PTS2- Severe Impairments

PTS3- Significant Impairments

PTS4- Moderate Impairments

PTS5- Mild Impairments
Visually Impaired
PTVI – Total or Partial Visual Impairment [sub classes B1, B2, B3] (Includes athletes who are totally blind, from no light perception in either eye, to some light perception (B1) and partially sighted athletes (B2, B3).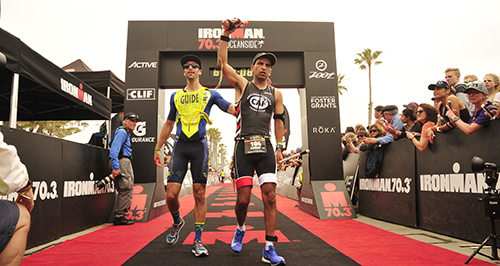 What you need to get started
For those new and curious, or experienced and simply looking to double/triple/quadruple check. Here are some items to secure before you head out the door:
Wetsuit (optional but highly recommended)

Bike – Road or Time Trial (necessity)

Running Shoes

For amputees- Running-specific prosthetic (optional but a very important difference maker)

Wheelchair athletes – Racing chair

Wheelchair athletes – handcycle

Visually Impaired athletes – a good guide (reach out to local triathlon clubs or blind stokers clubs)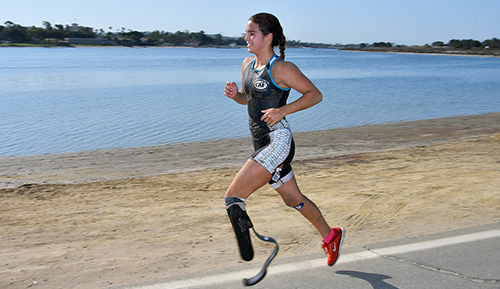 Go seek out your local bike or triathlon shop and look to engage in the community. Training partners, local clubs, and experienced racers can offer support, encouragement, advice, and valuable knowledge as you build up to your first race.
Once you're ready, below is a couple of easy ways to find a race:
Note: If you're a wheelchair athlete, remember to check if the course if accessible. This may involve checking elevation maps or contacting the race director. If you have the availability, taking the time to drive the run/bike section of the course is also a plus.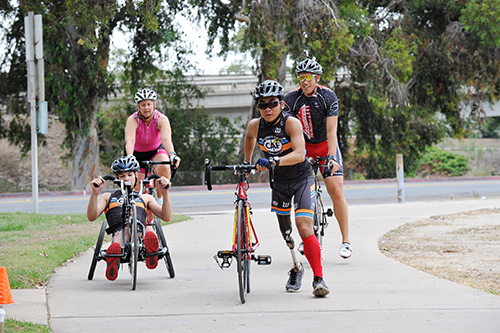 More helpful resources:
Once you've done a couple races and realize that you enjoy this amazing sport, get yourself back onto the USA Triathlon/Paratriathlon Page and fill out the Paratriathlon Introductory Questionnaire, where you will gain access to monthly newsletters, clinics and camps, races, coaches, how to get classified, etc., and understanding the process to getting to the Paralympics: Paratriathlete QuestionnaireFrom here you will gain access to monthly newsletters, clinics and camps, races, coaches, how to get classified, and understanding the process to getting to the Paralympics.Hope this helps get you started on your Paratriathlon journey. Time to start training!
Get inspired, and watch CAF paratriathlon camp videos:
FIRST-EVER WOMENS WHEELCHAIR PARATRIATHLON CAMP
2015 YOUTH PARATRIATHLON CAMP