Partner Spotlight – Össur
For more than two decades, global medical technology leader Össur has partnered with CAF. Headquartered in Iceland, Össur is dedicated to developing innovative technologies to help improve peoples' mobility and allow them to enjoy "Life Without Limitations". Össur provides world-class prosthetics for people with upper- and lower-limb loss, as well as non-invasive orthopedic solutions for osteoarthritis patients and those recovering from injuries.
---
Partnership Highlights
As CAF's exclusive prosthetics partner, Össur has donated hundreds of prosthetic running feet and knees to athletes through CAF's Access for Athletes Grant Program. Many CAF grantees receive prostheses with Össur's proprietary Nike Flex-Run Sole, which was inspired by Team Össur and CAF Athlete, Sarah Reinertsen.
In addition, Össur hosts several Össur Running and Mobility Clinics presented by CAF across the U.S. each year.  These free clinics provide a supportive, encouraging environment where lower-limb amputees can learn to walk, run and move more efficiently with their prostheses. Attendees work alongside their peers and local medical professionals, receive tips and inspiration from world-class Team Össur members and Össur Ambassadors, and benefit from specific guidance provided by world-renowned gait expert Robert Gailey, Ph.D., PT, and Peter Harsch, CP.  See 2017 Clinic Schedule.
---
What We Solve Together
According to the Amputee Coalition, there are approximately 2 million Americans currently living with limb loss, and an additional 185,000 people undergo amputation each year.  Most amputees struggle with their mobility, which is why Össur contributes hundreds of its innovative prosthetic limbs to recipients of CAF's Access for Athletes Grant Program. Through these donations and the Össur Running and Mobility Clinics Presented by CAF, Össur encourages people to enjoy "Life Without Limitations" as they rediscover and regain their abilities to become and stay mobile.
---
The Results – Told Through Athlete Profiles
Whether an amputee wants to run a 5k with their family, join their school track team or become a Paralympian, their journey begins with a first step and progresses with the support of their community. Here are a few athlete stories that showcase the impact of the CAF and Össur partnership.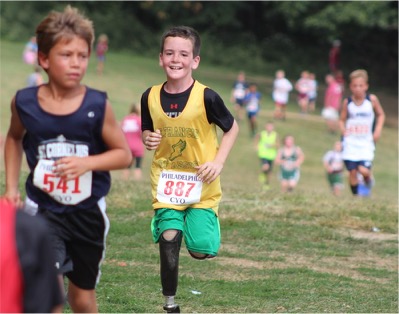 Jack Cunningham, Springfield, PA
Jack was born premature and was missing the fibula bone in both legs, which led to a double amputation when he was just a year old. Upon attending his first Össur Running and Mobility Clinic presented by CAF in New York, he ran in his everyday prostheses.  When his family was later invited to attend CAF's San Diego Triathlon Challenge (SDTC), Jack saw other kids with running prostheses, and knew he wanted them too. CAF fulfilled his wish by granting his Össur running prostheses last year, and Jack now runs Track and Cross-Country on his school team with the biggest smile on his face. "It's hard to describe running with my new legs," he says, "but it just makes me so happy inside."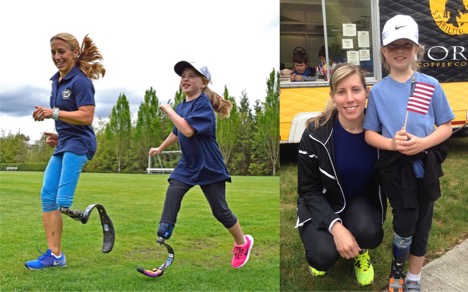 Lauren Darvell, Dupont, WA
Born with Proximal Femoral Focal Deficiency (PFFD), Lauren was missing her right tibia and had her leg amputated below the knee. At the 2015 Össur Running and Mobility Clinic presented by CAF in Portland, Oregon, Lauren received her custom Össur running prosthesis and spent the day being mentored by Team Össur and CAF Athlete, Sarah Reinertsen, who also had PFFD. This past year, Lauren and Sarah ran together in the "Wear Blue 3K" to honor fallen soldiers.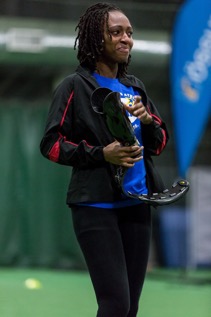 Femita Ayanbeku, Boston, MA
Femita lost her leg in a car accident at the age of 11 and grew up playing basketball. As an adult, she continued participating in athletics, and was introduced to the Paralympic movement by her training mate, Össur Ambassador and U.S. Paralympian Jerome Singleton. Femita attended the 2015 Össur Running and Mobility Clinic presented by CAF in Boston, and while there, was granted her custom Össur Flex-Run prosthetic foot.  Less than one year later, she was participating at the U.S. Team Trials for the 2016 Paralympic Games, taking 1st in the 100m dash, and 2nd in the 200m dash. She ultimately represented Team USA at the 2016 Paralympics in Rio, competing in the 200m dash against a field of other world-class athletes.
---
About Össur 
To learn more about the partnership between CAF and Össur, please visit http://www.ossur.com/prosthetic-solutions/ossur-mobility-clinics