The Pieces that Power CAF's Athlete Grants | The Craig H. Neilsen Foundation
Everyone is invincible when they're young. At 21 years old, 6 feet tall, and 185 pounds, my ego and athleticism were larger than life. I dove headfirst into the final water obstacle during a mud race at the behest of the race announcer and immediately broke my neck. I shattered my 6th cervical vertebrae, which resulted in an incomplete spinal cord injury. In the heat of the moment, nobody noticed me amongst the 40,000 people there that day and I was run over by other competitors for several minutes before other runners finally noticed and pulled me out themselves. I wondered if I would ever walk again.
My entire world shrank to the size of a hospital bed.  Even after I had made it into therapy and rehabilitation, I was thoroughly convinced my remaining years would be spent going from vacantly staring out the window in my wheelchair to vacantly staring at the ceiling above my bed.  Fortunately, my therapist showed me a documentary about wheelchair rugby called Murderball.  The men in the film were portrayed as tough, authentic, athletic, and unapologetic, all while in their wheelchairs.  I wanted to play too.
My first time in a rugby chair was exhilarating.  It didn't matter that I sucked, or could barely push it without gassing out.  I was happy because for a moment, I felt capable.  A teammate at my first practice got me involved with CAF, leading to my very first grant for a rugby chair.  That capability would eventually evolve into scoring goals, no longer being the slowest player on the team, becoming a captain, then finally, realizing I might have the opportunity to play internationally.
All because of one grant.
The heart of Challenged Athletes Foundation has always been rooted in providing opportunities for adaptive athletes.  23 years ago, former Yale football star Jim McLaren lost his leg after being hit by a bus in New York City. He remade himself through sports as a record-breaking endurance athlete.  A second tragic accident would leave him a quadriplegic.  Three friends of Jim's rallied and hosted a triathlon in La Jolla Cove to raise funds to help Jim be independent.  The overwhelming success of the event snowballed into a massive movement to celebrate the ability of adaptive athletes.
Over the past 23 years, CAF has funded $80 million over 13,000 grants to help athletes with physical challenges become whole through sports.  I have to say it was a huge success.  As a fellow quadriplegic with similar function to Jim, I was immediately given access to a multitude of adaptive sports through CAF (and the funding to afford it), including wheelchair tennis, handcycling, racing, WCMX, surfing, and my personal favorite and sport of choice, the hard-hitting wheelchair rugby.  Jim's groundwork completely revolutionized the expectations for a quadriplegic.  I wasn't told I needed a ramp-van—I was told I could be fast, strong, independent, and ultimately successful.
Access for Athletes has been built off these principles and continues to support those with physical challenges to become more involved, realize their abilities, and in turn contribute in their own communities.  CAF is there not only to answer the question of "What's Next?", but also provide the tools for challenged athletes to go out and succeed with the focus on what they can do, not what they can't.
However, fulfilling these principles requires funding.  A large portion of this funding comes from not only events and donors, but outside grant funding.  The Craig H. Neilsen Foundation is one such organization that has played a major role in the funding of our adaptive athletes.  The Neilsen Foundation's mission and passion is to support opportunities for spinal cord injury survivors to enjoy a better quality of life.  With the Neilsen Foundation's generous $100,000 gift in support of SCI survivors, CAF has been able to help fulfill and tie this mission to our own through the support of 456 SCI athletes in 2016 with $832,568 in grants.  Each grant doesn't just cover athletic pursuits and equipment deemed "luxury items" by insurance; it gives purpose that breaks barriers and expectations.  I have been fortunate to experience this purpose through my own spinal cord injury.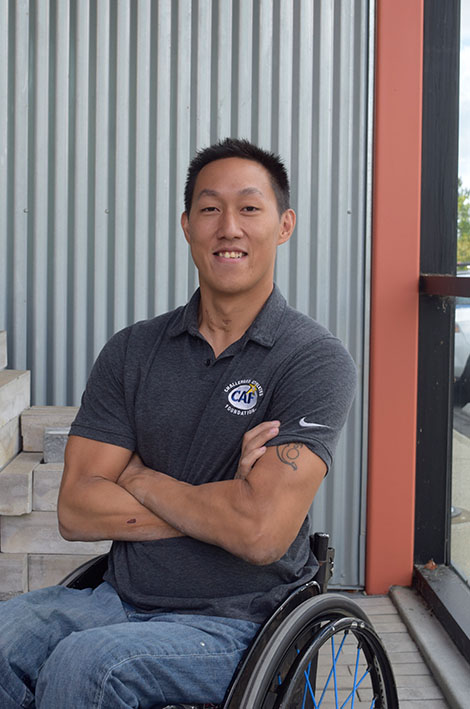 It wasn't all about rugby though.  The taste of capability on the court wasn't enough, so I became hungry to see what else I could do.  I became independent in my care and finished my last semester of college living on my own.  I learned to drive.  I was both fortunate and privileged to land a job at the Challenged Athletes Foundation as a grant writer.  Suddenly, I didn't have time for all the vacant staring I had previously budgeted for.  Every moment of my life has been filled with purpose through the simple opportunity to play rugby.
This is the power of sport and the story of a single person out of the tens of thousands we are able to fund.  With the help of organizations like the Craig H. Neilsen Foundation, we are able to fund many more grants and build a culture based on celebrating ability and the potential of a positive attitude and determined heart.  Thank you Craig H. Neilsen Foundation!