By Rich Cruse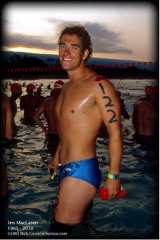 My Mom always used to say "Good comes from bad". If you ever met Jim MacLaren, I think you would agree. I was saddened to hear that triathlon's most inspirational person had passed away. He was just 47 years old. I hadn't seen him for a number of years, but he was always close to my heart.
I first met Jim at Ironman in Kona, Hawaii.  I was hanging out by the pool at the King Kam a couple days before Ironman with Scott Tinley, Wendy Ingraham, Russell Moore and others when someone in the group yells out "Hey! No amputees in the pool!". Huh? I look up and there is Jim MacLaren. He flips us the bird, removes his prosthetic leg and "hops" into the pool! He swims up to us and is laughing and smiling ear to ear. That was my introduction to Jim MacLaren back in 1991-always positive and always smiling. He was fun to be around. I began to follow Jim and learned about his accident. The former football star and aspiring actor had his left leg amputated after a motorcycle accident in NYC. Jim was breaking new ground- competing at Ironman with a prosthetic and he inspired us all.
I was there that fateful day at the Mission Viejo Triathlon in 1993, but did not hear of the news of Jim's second accident until the next day. My heart sank when I heard Jim had been struck by a car on the bike and was paralyzed. I wondered if and how Jim would survive this second set-back. Everyone Jim touched in the past came to his aid. Bob Babbitt, Scott Tinley and others created what would become the Challenged Athletes Foundation San Diego Triathlon Challenge to raise money for Jim. Doctors said Jim was paralyzed and would never have the use of his arms or legs. He proved them wrong.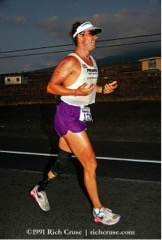 Jim continued to inspire and amaze us all. In October of 1993, Jim returned to Ironman in Kona- not as a participant like the year before, but this time as a spectator. I saw him on the pier that morning at the swim start. It broke my heart to see my friend there in a wheelchair watching others do what he no longer could. I walked up to Jim after the swim start and gave him a hug. I didn't know what to say. "I am sorry this happened to you." wasn't going to cut it. I thought for a minute and (being the visual person I am) I said, "Wow, your eyes are really blue!". The sun was hitting them and they shone like nothing I had seen before. He said "thanks". I wished him well, gave him another hug and went on to photograph the rest of the race. It was GOOD to see Jim. The next day, he spoke at the awards ceremony and touched us all deeply with his words and courage.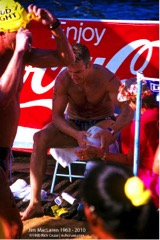 Many years later, I was photographing the CAF SDTC in La Jolla; I looked up and there was Jim! He had a tricked out chair and a tan. He looked very happy to be there. I walked up to him and gave him a big hug and said "great to see you!". We chatted for a minute; I could see Jim was happy. He told me something I never forgot. He said, "Remember that morning on the pier in Kona when you saw me in my chair? I was feeling sorry for myself, then you came over to me and gave me that big hug. You told me how blue my eyes were and it made me feel better. You inspired me that day. You looked for something positive, something to make me feel better. You looked for the best in me and I will not forget that.". That was the last time I saw Jim.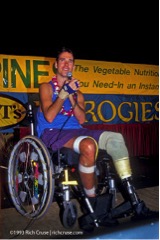 Watch the ESPN video about Jim
I will miss Jim MacLaren. He will always be in my mind and in my heart. My Mom used to say "Good things come from bad" and Jim was proof of that.  The world is a much better place because he lived. Challenged Athletes Foundation is proof of that. RIP