Written By: Amy Wallen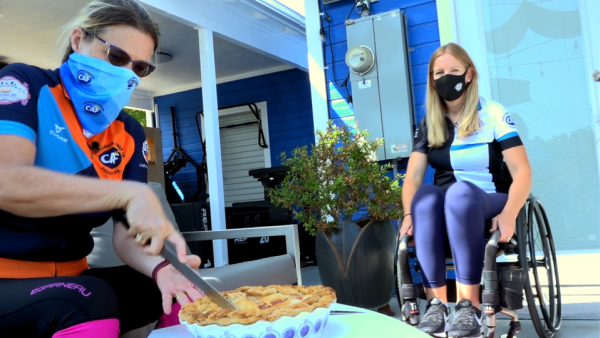 The day Dr. Anna Hackenberg and I baked pie together will stick in my memory for a long time. I'm not a professional baker, so to teach someone, a stranger, to make a pie (and on Zoom!) was new to me. What if Dr. Anna wasn't really into pie, or what if she didn't enjoy getting her hands messy in the flour like I do? I wasn't sure what to expect.
As an author, I spend an inordinate amount of time alone. Pie is my muse. Pie baking is what I do when I need to mull over an issue in a story or a fix I got a character into. While Pie is my muse, it's also a muse who provides me with comfort, not just in the eating, but the baking process. So, I make a lot of pies. I can't eat all of the pies I make, so I give them away to friends and neighbors, sharing the comfort. Word has spread, and now I have more friends than ever before.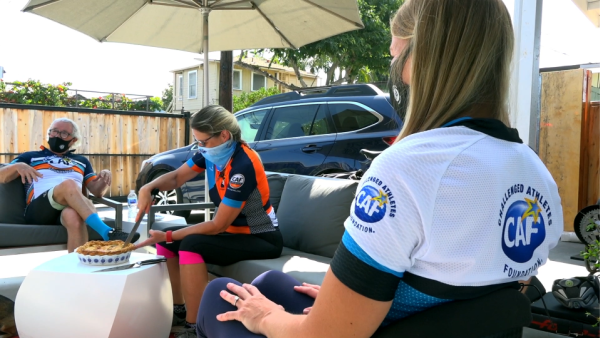 Pie, I've come to realize, brings people together. Of course, my time on Zoom with Dr. Anna meant we'd become fast friends. She had a new kitchen she was happy to show me, and she was more than willing to get her hands in the flour and break up the butter. Before we even got the pie in the oven we were already laughing. When she pulled her pie out of the oven, she sent me photos and we joked about how the blackberry juice had taken over. She asked what she should do with her extra dough and I told her about the mini cinnamon rolls that can be made.
When we went on our bike ride together, I made another friend—Larry Scott of J&L Pie Co. As the three of us pedaled he filled me in on how he came to create J&L Pie Co, the unreal pie company, and the support it provides for CAF. I ride an e-bike so I was excited to hear how he thinks an e-bike version of the handcycle could be a brilliant invention. I could tell he's someone who is committed to the Challenged Athletes Foundation's programs, always thinking of ways to bring more to the CAF community.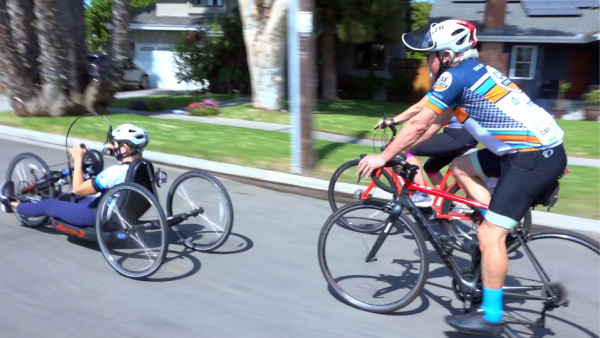 A few days later, while I was baking the same pie, Peaches and Cream, that I had made for the bike ride we all took together, and I was smiling while I thought of my two days with Dr Anna—both the pie baking and the bike ride—my phone dinged. She had sent me a photo of her mini cinnamon rolls she made that morning just as I was thinking of her. I also sent her my recipe for chicken pot pie. When she sent me the photo of that pie too it looked so perfect I wanted to eat it.
A few days later, I received an email from Larry. He shared a line spoken by one of the characters in Boston Marriage, a play written by David Mamet – "We must have pie. Stress cannot exist in the presence of pie."
I had made at least two new friends who appreciate pie as much as I do!
That's one of the best things about pie—it brings people together. Pie is meant to be shared. Pie brings people together—the gastronomic community-builder.
Here's the Peaches and Cream recipe from my favorite cookbook PIE CAMP by Kate McDermott. Kate's my teacher who has become my friend through pie as well. If you make this pie, be sure to invite a friend to share, or better yet, share it with a stranger because then you'll have a new friend.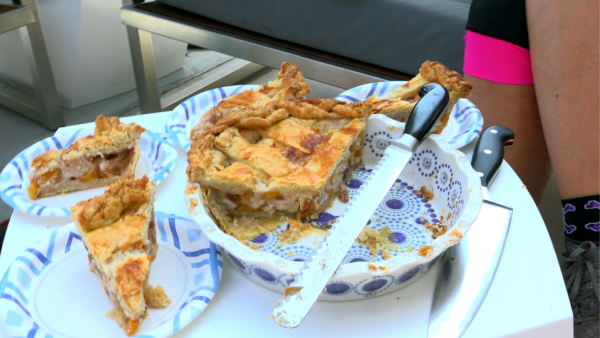 PEACHES & CREAM PIE
1 recipe Roll-Out dough
½ cup almond meal
1 cup granulated sugar, divided
6 large peaches, sliced
½ coup sour cream
1 tsp fresh-squeezed lime juice
1/8 teaspoon salt
3 tablespoons tapioca starch or ¼ cup of flour
½ teaspoon cinnamon
1. Make the pie dough, enough for two-crust pie, and chill in the fridge at least 30 minutes.
2. Preheat oven to 400 degrees.
3. Roll out the bottom dough and place in the pie pan.
4. Put the almond meal and ¼ cup of sugar in small bowl and mix together.
5. Spread almond meal and sugar mixture out on top of the pie dough.
6. Place the peach slices on top of the almond meal-sugar mixture.
7. In a small bowl, place the remaining ¾ cup sugar, sour cream, lime juice, salt, tapioca starch and cinnamon, and mix well to combine. Pour evenly over the peaches.
8. Roll out the remaining dough and place on top. Trim excess and crimp edges. Slice vents in top.
9. Bake for 60 minutes, or until you see steam and bubbling coming through the vents.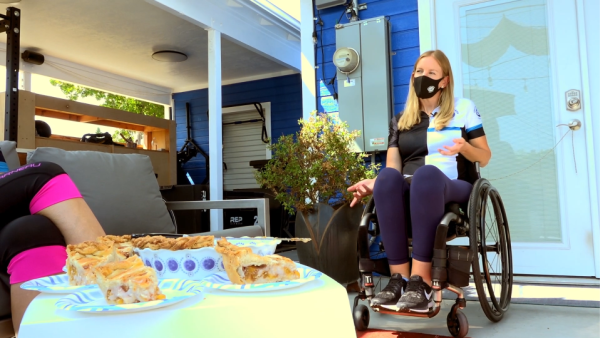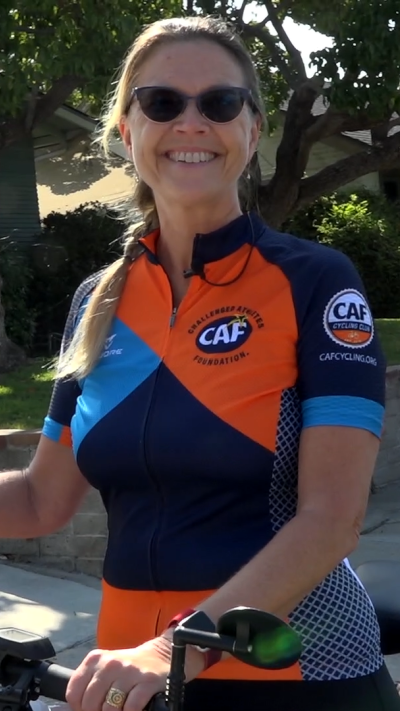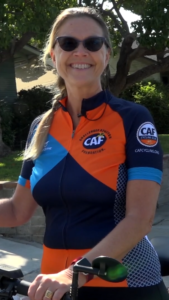 About The Author

Amy Wallen, MFA, is a bestselling novelist and memoirist. She is the associate director of the New York State Summer Writers Institute and the founder of DimeStories featured on NPR. She's taught creative writing classes at UCSD, and is the creator of Savory Salons—literary discussions with pie. She currently facilitates a 200-page manuscript workshop with pie twice a year. She teaches personal essay and creative empowerment classes at Gather in Encinitas, a yoga establishment renown for community building. Her next book is How to Write a Novel in 20 Pies: Sweet and Savory Secrets to the Writing Life.