CAF Adaptive Surf Youth Program
Our CAF Adaptive Youth Surf Program, along with support from Junior Seau Foundation, is developing the next wave of surfers that can one day compete at the highest level of adaptive surfing. We are creating more opportunity for adaptive surfers by working with board manufacturers to create innovative adaptive surfboards, by organizing adaptive surf clinics, and by providing competition travel grants.
With the International Surfing Association is announcement last year that surfing would be included in the 2020 Olympics in Japan, the 2024 Paralympic inclusion is on the horizon. And when it's here, we want our #teamcaf surfers to be ready!
2018 Junior Seau Foundation Adaptive Surf Clinics presented by CAF
To provide a forum of celebration, inclusion and fun for adaptive surfers not only changes how they view their own limitations, but how the world views them as well. The mindset that anything is possible in the water, takes shape equally on land in their daily lives. 2018 has marked a year full of salt-water stoke for CAF supported athletes.

2018 Junior Seau Foundation Adaptive Surf Clinic presented by CAF in conjunction with the 2018 Stance ISA World Adaptive Surf Chamionships
December 9th, 2018
As a part of the 2018 Stance ISA World Adaptive Surf Championship, Challenged Athletes Foundation presented a free adaptive surfing clinic for surfers of all ages.
Registration – http://support.challengedathletes.org/isasurf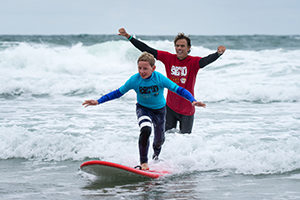 San Diego Triathlon Challenge (SDTC) surf clinic with Junior Seau Foundation
October 19, 2018
50 + kids jumped in the waters of La Jolla Shores during SDTC Weekend to catch some waves alongside a group of local surf coaches and volunteers.

Ken Whalen Surf Challenge
September 30, 2018
200+ able-bodied and challenged kids gathered for a free day of family fun and a community surf contest for new surfers.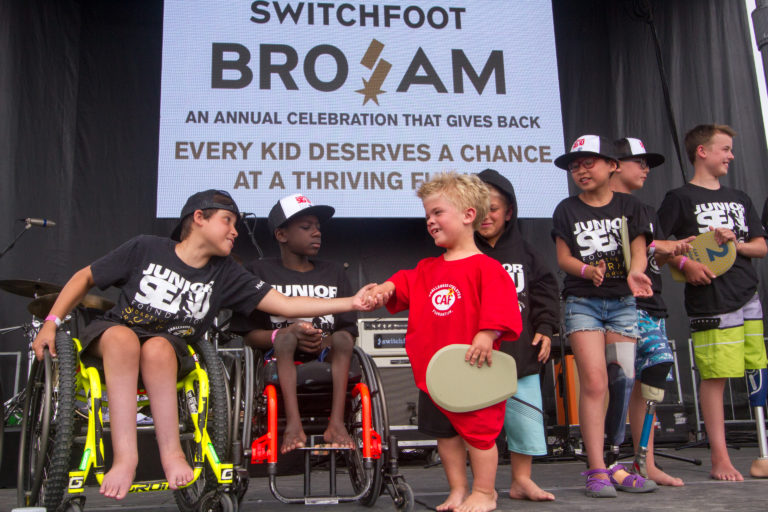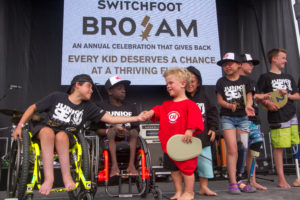 3rd annual Junior Seau Foundation Youth Adaptive Surf Camp in conjunction with Switchfoot BRO-AM
June 28-30, 2018
A three-day youth surf camp introduced, instructed and developed 10 challenged athlete kids in Del Mar, CA. The camp led into the Switchfoot Bro-Am weekend, where CAF Elite Surf Team athletes competed in the Bro-Am contest alongside able-bodied pro and amateur surfers.
Day One Photos Day Two Photos Day Three Photos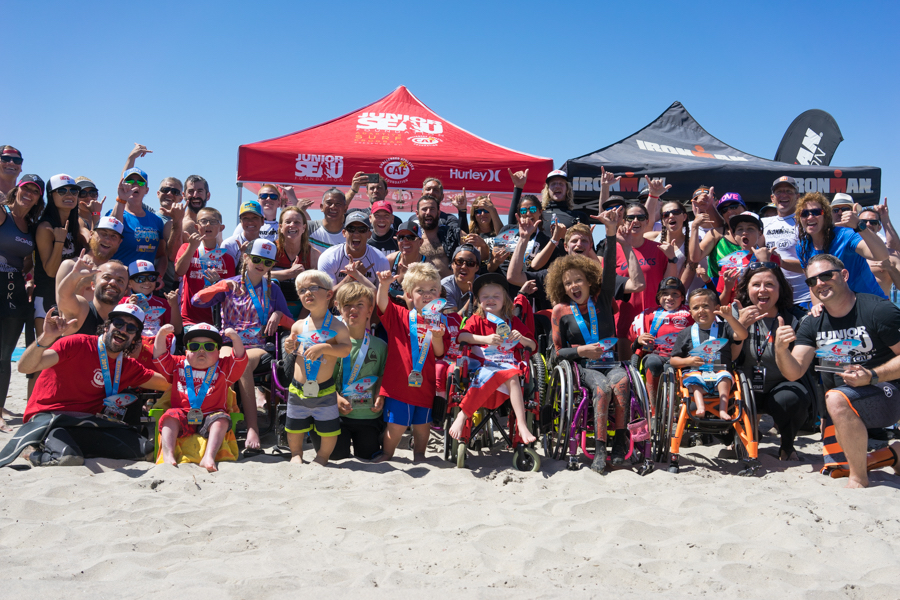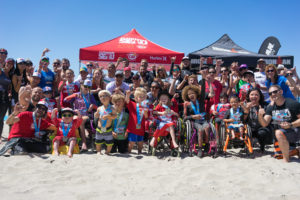 Junior Seau Foundation Adaptive Surf Clinic, presented by CAF in partnership with IRONMAN Foundation
April 8, 2018
Over 40 IM Foundation volunteers partnered with over 30 CAF surf volunteers and coaches to create a fun and safe environment for our challenged athletes who participated. There were three sessions of adaptive surfers: youth, females, and males. The majority of the 28 participants were first-time surfers!
Adaptive Surf Grants
Expensive equipment or training should not be the biggest hurdle athletes face in their endeavors. Access for Athletes is committed to helping athletes overcome financial impediments by providing funding grants for equipment, training, coaching and competition costs. Apply for a Grant! 
Community + Mentorship
We create opportunities for community and mentorship so that adaptive surfers can learn from those that have gone before them, and also be inspired to set new goals. If you would like to get involved in our adaptive surf mentorship program, reach out to Travis Ricks, Senior Program Manager, at [email protected].