CAF Community Challenge – Week 5
Welcome to the 5th week of the CAF Community Challenge presented by Vega. We have over 587 registered participants and 100 teams have been formed. Together, we've raised $496,856 of which $113,760 has been raised by the 193 challenged athletes.

CAF has moved over 50,000 miles!
If you haven't yet, be sure and join Team CAF on Strava and get moving alongside other CAF athletes! Each day we watch as fellow athletes walk, run, roll, cycle, swim, and move in many ways. It's a great way to stay motivated, keep moving, and foster communication and camaraderie. Amazing job to all and especially our top performers in each category.
DISTANCE: Brandon Lyons 1,016.62 miles
ELEVATION: Steven Peace 66,946 feet
CONSISTENCY: Bryon Solberg 82 activities
DEDICATION: Barry Vince 3d 16h 57m
Share Your Why
Why are you fundraising for CAF? What about CAF inspires you and motivates you to make a difference? Did Lance's story (below) touch you emotionally? Whatever your "why" is, we want to hear it!
Update your personal fundraising page with why you're fundraising for CAF then share your personal fundraising link along with Lance's story on social media or in an email to your friends and family. Your passion for CAF will shine through and entice others to support you by either donating towards your fundraising goal or joining you in the CAF Community Challenge.
Need help on crafting your story? Here are some resources to help guide you:
Telling Your Story | CAF Fact Sheet | How to Create Your Own Video


We have 6 weeks left to earn prizes. What is your fundraising goal? If you've already reached it – congratulations! Now it's time to set it even higher.
Over 280 participants have raised over $100 earning their CAF Nike T-shirts and CAF face mask that will ship out in the next week. That's over $28,000 – THANK YOU! And an amazing 112 participants have already raised over $500 to earn our famous CAF Swag bag. Did you catch a glimpse of the bag itself here in our Instagram post? So awesome!
A huge thank you to the 61 participants who have raised over $1,000 and earned the CAF Nike Jacket. Keep pushing to GOLD and beyond and help CAF reach their dreams of going for GOLD in their own athletic endeavors.
Did you know when you go for gold, you earn big? Join CAF's GOLD TEAM by raising $3,000 and EARN:
– Nike FlyEase Shoes
– 100% Sunglasses
– Nike ½ Zip
– The pride of knowing you have helped fund 2 grants for challenged athletes in 2021.

CAF's Community Challenge Gold Team as of 9.2.2020
Tommy + Beth Knapp
Dick Lansing + Carleen Kreider
Tim + Tina Weidenkeller
Douglas Kincart
Kelly Ray
Elijah Taylor
Bob Babbitt
Danny Gabriel
Parker Olenick
Nancy Reynolds
Craig Blackwood
Tom Atwell
Cat Ellis
Mike Mogul
Melinda Johnson
Olivia Stone
Virginia Tinley
Tom Smith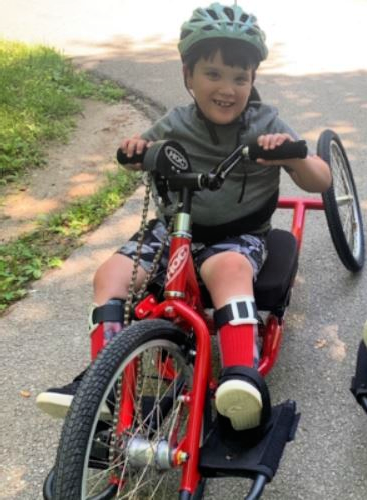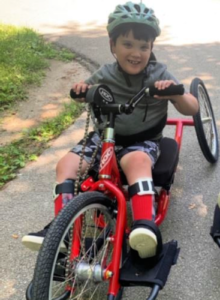 A great story to share with your fundraisers, family and friends is that of Challenged Athlete Elijah Taylor. Elijah has raised almost $7,000 through his Facebook Fundraiser – a very easy way to share out your appeal.
Elijah was born with Spina Bfida. He recently received a handcycle from CAF and uses it to keep up with his siblings on the trail. He is committed to paying it forward and helping more challenged athletes.
Another great story this week is that of Operation Rebound Athlete Lance Weir. As Bill Walton says, "Until you've ridden your bike with Lance Weir, you have not been on a bike!"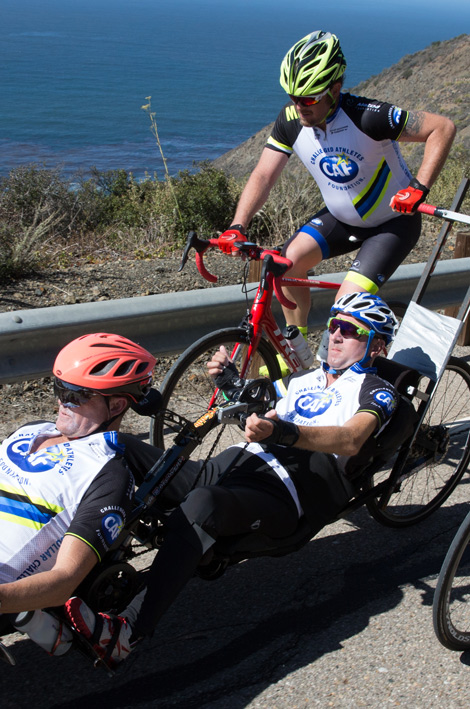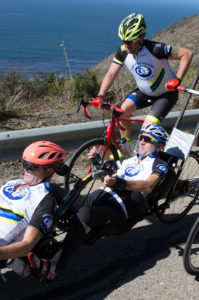 Lance Weir, a Marine Corps Reservist, was dislodging a canoe in a river when afterwards he leaned headfirst into the water to retrieve his baseball cap. His head hit a submerged rock, shattering his C5 vertebrae, and he became a quadriplegic. 17 years after his injury, Nico Marcolongo from CAF's Operation Rebound program encouraged Lance to enrich his life through sport. Lance discovered that he was not only good at shooting an air rifle, he was one of the best in his category and was identified as a Paralympic hopeful.
Over the years, he has earned 8 gold medals at both the Marine Corps Trials and the Warrior Games. Lance also cycles on an adaptive tandem hand cycle and has completed CAF's Million Dollar Challenge, a 620-mile ride from San Francisco to San Diego, and other endurance rides including the grueling Silver State 508. And just this past week Lance and Team Chase/Team Holland rode 30 miles to add to their over 300 total miles during the challenge.
Watch this moving video narrated by Dick Enberg to learn more about Lance.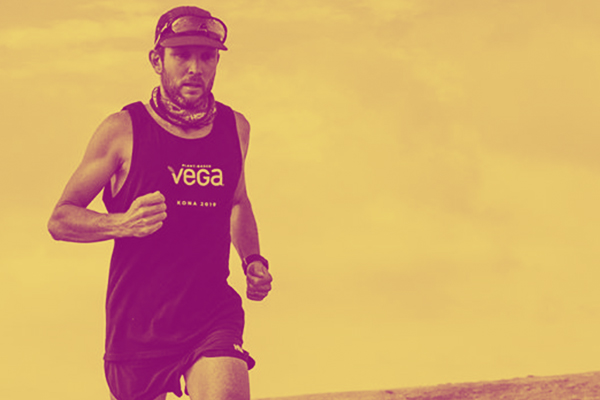 Join the Vega Power Your Story Strava Challenge!
Have you connected to Strava yet? Vega, our presenting partner, has you covered with our first Strava Challenge, the Power Your Story challenge, starting September 14th. We believe that everyone has a story, and everyone is an athlete. Everyone can move, no matter their fitness level, abilities or experience.
We're challenging you to move, anytime, anywhere and track at least 30 km/19 miles, while motivating and supporting others to do the same. The best way to motivate others and feel the sense of community it by joining Strava Clubs.
Join us today on the Vega and Challenged Athletes Foundation Strava Clubs and stay tuned for more details on the challenge. You can join as many clubs and challenges on Strava as you want, and every mile you move will count towards your Challenge Hound miles that will help us reach our CAF Community Challenge mileage goal. Let's make our collective story, the greatest ever grown.