CAF Community Challenge – Week 7
Welcome to the 7th week of the CAF Community Challenge presented by Vega. We have over 700 registered participants and 100 teams have been formed. Together, we've raised $720,000 of which $130,000 has been raised by the 215 challenged athletes.
Haven't joined us yet? There's still time!

CAF has moved over 102,000 miles. Amazing job to all and especially to our challenged athletes who are top performers in nearly every category.
DISTANCE:
1) Brandon Lyons (Handcycle) 1,536.87,
2) Annie Elmendorf 1, 411.89
3) Joe Hamilton 1,405.17 miles
ELEVATION:
1) Steven Peace (USMES Trike) 89,091 feet,
2) Mark Andrews 77,415 feet,
3) Andrew Shore | RIDE Triathlon Team 76,453 feet
CONSISTENCY:
1) Dr. Bryon Solberg 129 activities
2) Sherrine Jones-Hayward 102 activities
3) Barry Vince 94 activities
DEDICATION:
1) Barry Vince 128 hours 53 minutes,
2) Sherrine Jones- Hayward 102 hours 47 minutes
3) Francisco Postlethwaite Munoz 102 hours 37 minutes
TOP TEAM DISTANCE:
1) Wednesday Girls Friends & Family 7,937.9 miles,
2) Team Caffeine Green (MDC Ride Leaders) 5,596.9
3) Team CAF Cycling Club 5,186.8

Want to see more from the leaderboard?
Check out the challenge hub!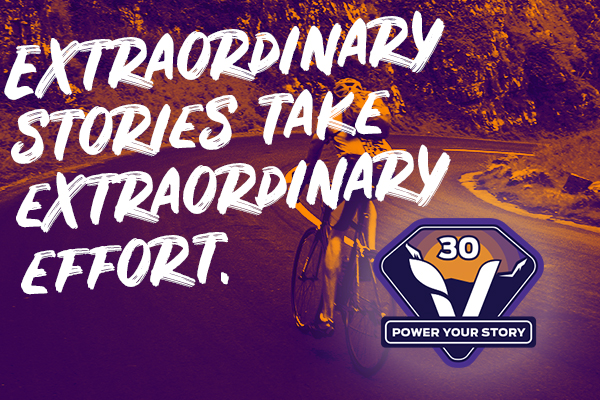 Have you joined the Vega Power Your Story challenge? There is still time, it runs through September 27. Join the challenge in the Strava app and complete 30 km/18.6 miles of activity of your choice. You can run, cycle, swim, roll, or walk at your pace, on your own terms and push for your personal best! Join the Vega Strava club to get more details on the challenge.

Want to know the easiest way to fundraise? Connect your fundraising page to your Facebook Fundraiser!
Here's how to connect your personal page to a Facebook Fundraiser:
1. Login to your Participant Center – Make sure your title, description and photo are updated before connecting. Please view instructions on how to update your page in the FAQs page.
2. Click on the Connect Fundraiser to Facebook button on the right-side menu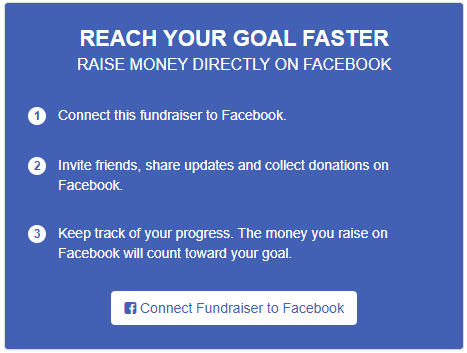 3. Click Create Fundraiser.
4. The Facebook login page opens in a pop up window to enter your login information. You need to login and allow the connection.
5. Your title and description should be the same as your current fundraising page.
6. Your fundraiser should be created and linked now.
7. You can share your Facebook Fundraiser link with your friends and family to ask for donations.
Your personal fundraising page and Facebook Fundraiser are linked – this means if someone donates on Facebook, you will see your total amount will automatically update. If someone donates on your personal page, the Facebook Fundraiser will automatically update your amount.
If you don't use Facebook, be sure to login to your participant center and update your personal URL and share that in your personal emails and any other social channels you use! Your friends and family can donate directly to your fundraising page and then see their names on your honor roll or choose to donate anonymously.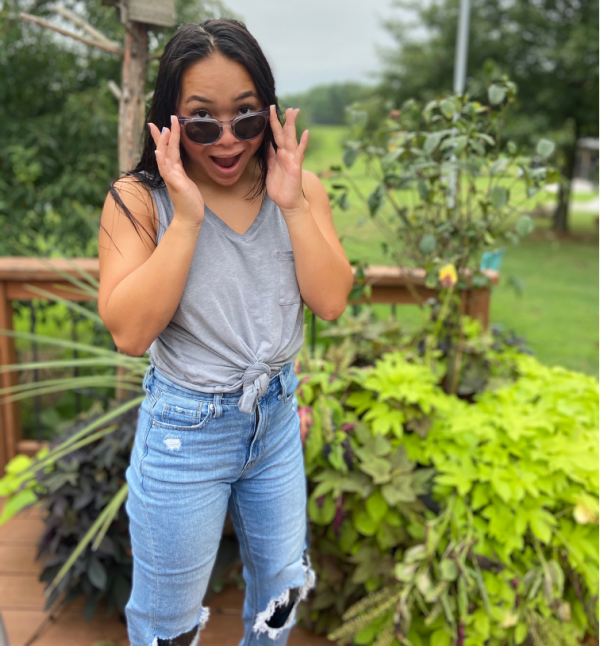 Raise $1,000 and receive a pair of 100% Lifestyle Sunglasses (value $130)
That's right! CAF has teamed up with our Global Partner and Official Eyewear 100% to give a pair of 100% lifestyle glasses to all participants who reach $1,000 in fundraising by midnight, September 25th.
Give it 100% effort this week and you can look as cool as Haven Shepard!
Congratulations to the 360 participants who have earned their CAF Nike T-Shirt and CAF Face Mask.
Over 155 participants have earned the coveted CAF Swag Bag! You can earn one too by hitting $500. Stay tuned for details on how to pick up your swag bag in person if you live in San Diego or Orange County. All others will be shipped directly to you. Keep pushing to earn your CAF Nike Jacket by reaching $1000 and you can earn a pair of 100% Lifestyle Sunglasses, too!

CONGRATULATIONS to our VIP GOLD TEAM as of 9/17/2020
Tommy + Beth Knapp
Dick Lansing + Carleen Kreider
Bob Babbitt
Tim + Tina Weidenkeller
Elijah Taylor
Douglas Kincart
Kelly Ray
Parker Olenick
Danny Gabriel
Nancy Reynolds
Craig Blackwood
Tom Atwell
Melinda Johnson
Cat Ellis
Mike Mogul
Dean Roeper
Tom Smith
Barry Baker
Olivia Stone
Richard Wallace
Virginia Tinley
Rosalind Jarrett Sepulveda
John Dempsey
Nancy Groot

Looking for a motivating story to share with your fundraisers? Meet Ella Rodriguez.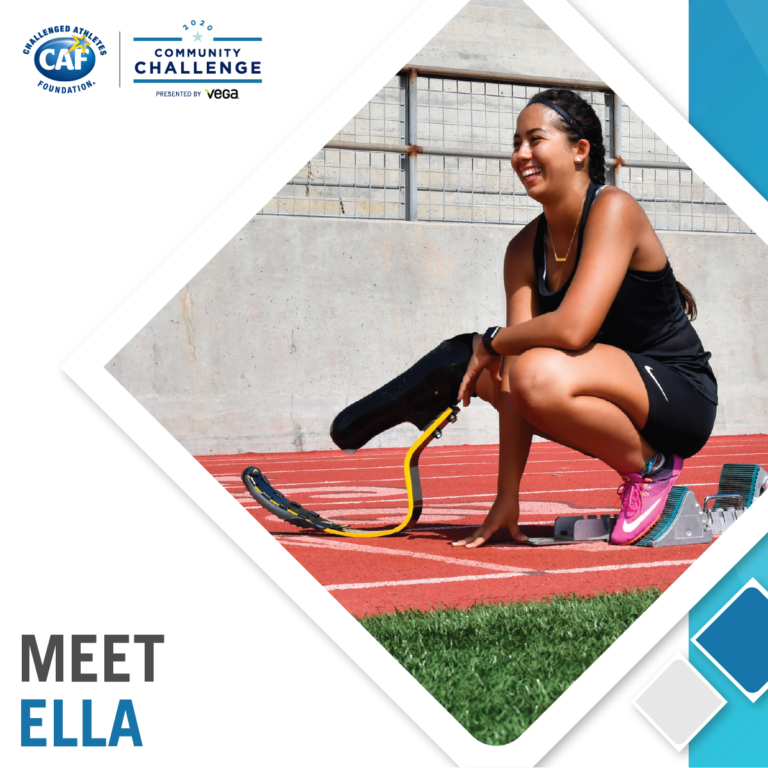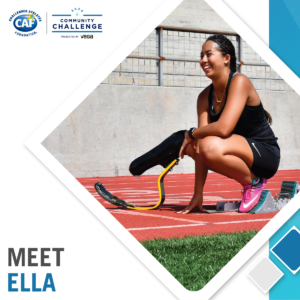 As a young girl, she asked Santa if he could help her meet other amputee kids like her. After she was granted an Össur running prosthetic from Challenged Athletes Foundation, she began to find a community just like her through sports.
At the age of 10, Ella received her first Össur running prosthetic from CAF and now, at 16 years old, she is a competitive track and field athlete, wheelchair basketball player, surfer and cheerleader. Ella also pays it forward by speaking on behalf of CAF, raising funds for CAF and mentoring young challenged athletes.

Don't forget to share your progress with friends and family on your social channels! Not only will you help motivate others and spread the word about CAF and the challenge, you'll also be entered to win fun prizes along the way!
This next week, as we head into Week 7, everyone who shares their progress by posting a photo on social media, tags us, and uses the hashtag #CAFCommunityChallenge will be entered to win an ActivBody Activ5 from silver sponsor, ActivBody! Find it tough to make time for the gym? Activ5 lets you get a workout in, no matter how busy you are. Learn more about Activ5 here.
Week 6 winners from this past week will be sent their Vega Fuel Packs from from presenting sponsor, Vega. You can read more about Vega below!
Vega® Protein & Greens
Power your story by adding easy plant-based nutrition to your day with Non-GMO Project verified Vega® Protein & Greens. Made with real, plant-based food ingredients, Vega® Protein & Greens is more than just a protein shake and offers a good source of Antioxidant Vitamin C & Vitamin A which contributes to the normal function of the immune system.