Beyond Sport: A Capital Campaign to support our future
Challenged Athletes Foundation knows the power of sport to motivate, to inspire, and to heal. In honor of our 25th anniversary, we are raising the bar higher to ensure CAF programming can help more individuals with physical challenges across the world, in any sport, at every level, to achieve the impossible; in sports and beyond. The Beyond Sport Campaign has a goal of securing $12 million in funding to support four key initiatives. Success of this campaign will allow CAF to impact thousands of more lives, change the norms around sports inclusivity and secure our future.
WHY YOUR SUPPORT IS NEEDED
21 million people in the U.S. are living with a permanent physical disability
Adaptive sports equipment is not covered by health insurance
50% of all adults with a disability get no aerobic physical activity
Obesity rates for children with a disability are 38% higher than for children without one
In the U.S. there are an estimated 606,000 kids under the age of 18 living with a permanent physical disability
WHY SPORTS MATTER
CAF's mission touches many important issues in society. The statistics continue to show that access to sports and a supportive community makes a significant difference in the lives of individuals with long-lasting impact beyond sport.
THE CAMPAIGN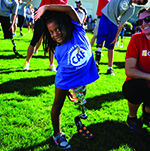 THE CASE TO EXPAND THE GRANT PROGRAM
Securing additional funding for our grant program will allow CAF to meet the current demand and prepare for the future.Learn More >>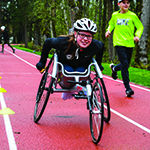 THE CASE TO INCREASE ACCESS TO HIGH SCHOOL SPORTS
Through a combined strategy of coaching and equipment support our goal is to increase participation of athletes with physical challenges in high school sports.Learn More >>
THE CASE TO GROW REGIONAL IMPACT
By building on our regional efforts in Northern California and the Northeast, we will have a greater impact on the lives of individuals. Learn More >>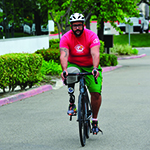 THE CASE TO SECURE THE CAF ENDOWMENT
Our long term goal is to build our Endowment funds primarily through designated gifts and estate gifts so athletes with physical challenges everywhere have the funding they need.Learn More >>
CAF's IMPACT

CAMPAIGN DOCUMENTS