Challenged Athletes Foundation + Strava Community Ride for Inclusion
Strava's technology connects over 50 million users worldwide and as of earlier this year, over 3 billion runs, rides, swims, hikes and other activities have been uploaded. Their social fitness app gives athletes of all abilities the feeling of camaraderie and competition with others from all parts of the world.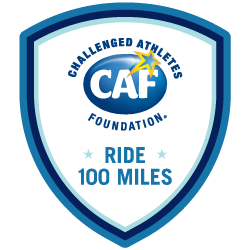 Strava partnered with the Challenged Athletes Foundation (CAF) to offer the Ride for Challenged Athletes Foundation from October 4 – 18 to engage their cycling community to complete 100 miles in two weeks. 258,992 people participated in the challenge to increase awareness for inclusion in sports while collectively logging 48.4 million miles!
150,899 finished and earned their coveted CAF badge their Strava Trophy Case while many donated to enter a sweepstakes to win exciting raffle prizes from CAF partners and raise much needed funds that will help support more challenged athletes receive critical adaptive equipment, coaching and training during these challenging times.
Together, we shined a light on technology innovation and the advancement of the wheelchair functionality of the Strava app. This was the second Strava Challenge for CAF, with the first one taking place in 2014 prior to the app's accessibility features for the handcycle (ride) and racing wheelchair (run) tracking that it has today. These advancements came through the voices of several CAF athletes including San Francisco based Rob Balucas.
In 2015, Rob was on a training ride when he lost control of his bicycle and crashed and sustained a spinal cord injury that left him paralyzed from the waist down. Within 10 days, he had recovered enough to begin increasing his activity levels in a wheelchair. He was back to training, but this time on a handcycle. Rob used the Strava app to track his rehab, then in 2017 he worked closely with Strava engineers to include a handcycle mode for accurate routes and times.
Another key athlete that provided insights is Mary Kate Callahan who was paralyzed from the waist down after contracting transverse myelitis as an infant. She grew up determined to stay active and has turned that resolve into a professional career that started with swimming, blossomed in triathlon and most recently expanded to long-distance running. Mary Kate is a Paralympic athlete and has been setting new standards for disabled athletes with her sights set on the Tokyo 2021 Paralympic games.
She also participated on Strava's all-women team as the first wheelchair athlete in their 340-mile relay known as the Speed Project 4.0 and is an avid Strava challenge participant.
"Now especially being so virtual, one of my favorite things to do is wake up in the morning and see what my teammates and friends who live in other countries have already done," says Mary Kate. "There's nothing more powerful than seeing people accomplishing goals – or starting to try to accomplish goals."
See CAF Live interview with Mary Kate, Executive Chairman and Co-Founder of Strava, Mark Gainey and CAF Co-Founder Bob Babbitt
Strava was also the Official Technology Partner of CAF's Community Challenge presented by Vega – one unified, extraordinary challenge that spanned multiple weeks, multiple sports and athletes of all abilities logging and tracking their miles on Strava's platform.

The CAF community found a silver lining in waking up each day with the goal to track miles and make sports a daily habit for so many and sharing Strava.
Stay Connected with Team CAF