CAF Community Challenge – Week 10
Join Us For The Celebration of Abilities Awards Program Presented by Aspen Medical Products
Welcome to the final week of the 2020 CAF Community Challenge! Let's cross the finish line strong.
Mark your calendar for Saturday October 17th – 4pm PT LIVE on Facebook.
Tune in for the 2020 Celebration of Abilities Awards Program co-hosted by Bob Babbitt and Michelle Wie as we showcase of unforgettable sports accomplishments! Celebrate the extraordinary CAF athletes and the generosity of CAF supporters throughout the past year.
Celebrity presenters include Robin Roberts, Bill Walton and Joan Benoit Samuelson. Featuring a special performance from the Grammy® Award Winning band SWITCHFOOT.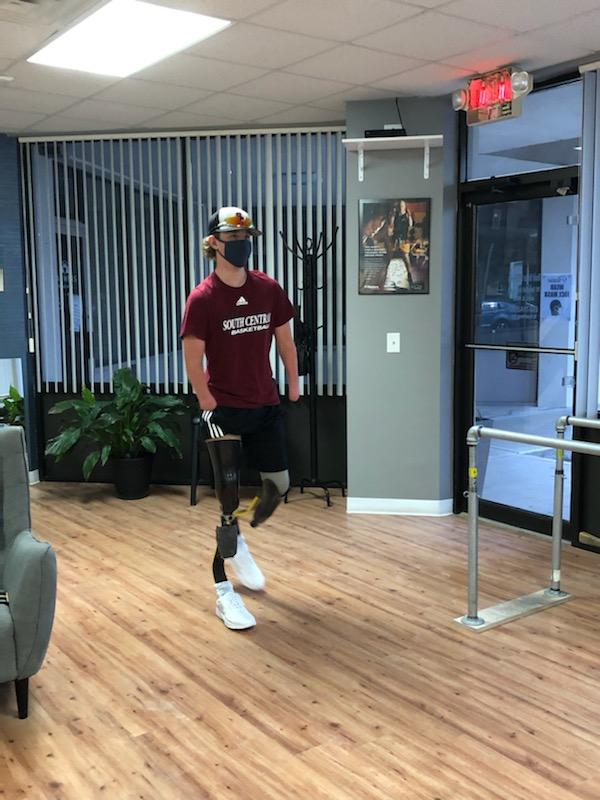 CAF + Ossur Grant a Day Week
Be sure to watch and share all the extraordinary surprise grant presentations from this past week. We paired up some professional athletes and surprised (5) individuals with lower limb-loss with new Össur running prosthetics.

Watch all (5) touching videos right now

Össur is a global leader in non-invasive orthopaedics that allow people to pursue a Life Without Limitations. They focus on improving people's mobility through innovative technologies within the fields of Prosthetics and Bracing & Supports while ensuring opportunities aren't diminished due to injury or disability.
As our Global Partner, Össur has impacted thousands of CAF athletes by helping to provide life-changing grants and co-hosting the Össur and CAF Mobility Clinic.

Don't forget to share your progress with friends and family on your social channels! Not only will you help motivate others and spread the word about CAF and the challenge, you'll also be entered to win fun prizes along the way!
This next week, as we head into Week 10, everyone who shares their progress by posting a photo on social media, tags us, and uses the hashtag #CAFCommunityChallenge will be entered to win a $100 to the CAF Store! Want to stock up on CAF gear now? Check out what we have available here.
Check out our Virtual Goodie Bag to learn more about the other amazing offers our sponsors have provided for our challenge participants.
Week 9 winners from this past week will be sent their 1 lb bag of coffee from silver sponsor, Equator Coffee.
CAF has moved over 175,000 miles – We have 9 days remaining to hit our goal of 1,000,000! Keep pushing.

Congratulations to our top athletes in each category as of 10/7/2020:
DISTANCE:
#1 – Brandon Lyons -2,489 miles
#2 – Jamie Maguire 2,344 miles
#3 – Joe Hamilton 2,169 miles
ELEVATION:
#1 – Jamie Maguire 173,553 feet
#2 – Steven Peace (USMES Trike) 128,330 feet
#3 – Denise Edwards 117,418 feet
CONSISTENCY:
#1 – Dr. Bryon Solberg 200 activities
#2 – Sherrine Jones Hayward 148 activities
#3 – Barry Vince 147 activities
DEDICATION:
#1 – Barry Vince 197 hours 18 mins,
#2 – Francisco Poslethwaite Munoz 158 hours 27 minutes
#3 – Sherrine Jones-Hayward 156 hours 17 minutes
TEAM:
#1 – WednesdayGirlzFriends&Family 13,890 miles
#2 – Team CAF San Diego Cycling Club 8,892 miles
#3 – Team Caffeine Green (MDC Ride Leaders) 8,398.3 miles

To see more results click below to visit our Challenge Hub
October 10 – Ride for Pie Day!
Cycling and Pie are perfect together! On October 10, we plan to ride as a community by logging our personal miles outside or indoors and finishing with pie! During a year with so few in-person events we want to try something new and give you a day to look forward to.
Let's celebrate CAF's commitment to adaptive cycling, the strength of our community, and our deep gratitude to J&L Pie Company, the generous sponsor of our Adaptive Cycling program.
Here's how it works:
1) Get out and ride anytime, anywhere
2) If you haven't already – make sure you've joined the CAF Strava Challenge to track your miles and be eligible for even more prizes
3) Finish your ride off at your favorite pie shop or at home with a piece of homemade pie
4) Share your ride on Strava and Social Media and tag #CAFCommunityChallenge and #RideforPie for a chance to win our photo contest

Oct 4 – 18: Ride for Challenged Athletes Foundation Strava Challenge
Join cyclists from across the country for the Ride for Challenged Athletes Foundation Strava Challenge, a two-week, 100-mile challenge. All participants who complete 100 miles of cycling and donate $10 or more are entered for the chance to win some amazing prizes!
All the Strava challenge participants will help us reach our million mile goal!

October 18: Community Challenge Run, Walk, Roll
Join Philadelphia Insurance and the CAF community of athletes and supporters as we celebrate the last date of the CAF Community Challenge presented by Vega.
We have partnered with Charge Running to host this inspiring morning of celebration on October 18th at 7:30am PT.
Whether you're outside (following safety and social distancing guidelines), or inside on your home treadmill, let's get together, virtually!

Top Fundraiser Incentive Prize
We are excited to share that the top three fundraisers in the CAF Community Challenge will earn their choice of the following three incentive prizes in roll-down order beginning with the highest fundraiser. The top fundraiser will be determined on Saturday, October 18th at 12:00 pm. (CAF Staff and BOD members are not eligible).
• Addaday IRONMAN® BioChair Pro
• Freemotion t10.9b REFLEX™ treadmill
• Entry into the 2021 IRONMAN® 70.3 World Championship in St. George, Utah on September 15-19, 2021

CONGRATULATIONS to our top fundraising teams as of 10/7/2020
1. Team Tommy
2. IRONMAN-ish 140.6 with Team Whalen
3. Team Maguire
4. Team Caffeine Green (MDC Ride Leaders)
5. Team CAF Staff
CONGRATULATIONS to our VIP GOLD TEAM as of 10/07/2020
Tommy + Beth Knapp
Alan Shanken + Allison Caccoma
Patrick O'Connell
Dick Lansing + Carleen Kreider
Jeffrey Essakow
Geof Garth
Bob Babbitt
Jamie Maguire
Megan Maguire
Susie Maguire
Timothy Maguire
John Elliott
Chris Renard
Douglas Kincart
Don Ankeny
Brian Enge
John Payne
Tina + Tim Weidenkeller
Parker Olenick
Ralph Robinson
Danny Gabriel
Elijah Taylor
Dean Roeper
Kelly Ray
Jim + Chris Wittmer
Denise + Paul Fejtek
Craig Blackwood
Donald Muller
Tom Atwell
Melinda Johnson
Kathryn Ray
Cat Ellis
John Heuisler
Mike Mogul
Nancy Reynolds
Tom Smith
Barry Baker
Marci Mauro
Wayne + Holly Brander
Logan Seitz
John Sheridan
Olivia Stone
Richard Wallace
Virginia Tinley
Leigh Vosseller
Rosalind Jarrett-Sepulveda
Gary Huang
John Dempsey
Nancy Groot
Alan Shanken
Allison Caccoma
Michael McKeon
Patrick McKeon
Brittney McLaughlin
Jim + Katherine Flynn
Greg + Debbie Hexberg
Cindy + Michael Winn
Jack Winn
Vega Pumpkin Pie Recipe
Enjoy pumpkin pie flavors all year round with a Vega pumpkin pie smoothie recipe. Beautifully smooth and rich, this is a good-for-you smoothie recipe to keep in your arsenal every day of the year! Check out the recipe on the Vega blog.