Challenged Athletes Foundation's Operation Rebound Program Allows Injured Troops to Heal Through Sport
Authored by: Christy Fritts and Alexis Kruger
Chele Teabout was a corrections officer when she was hit by a 500 pound food cart, severely damaging the nerves in her leg. Chele endured 29 failed surgeries before deciding to amputate her leg. After being introduced to CAF, Chele overcame severe depression and lost over 170 pounds! Thanks to CAF's Operation Rebound, a sports program for American military personnel, veterans and first responders with permanent physical challenges, Chele went on to complete 18 triathlons and found an entirely new outlook on life, dedicating herself to helping others.
"Words can't describe what CAF has done for me, they saved my life!"
– Chele Teabout, Operation Rebound Athlete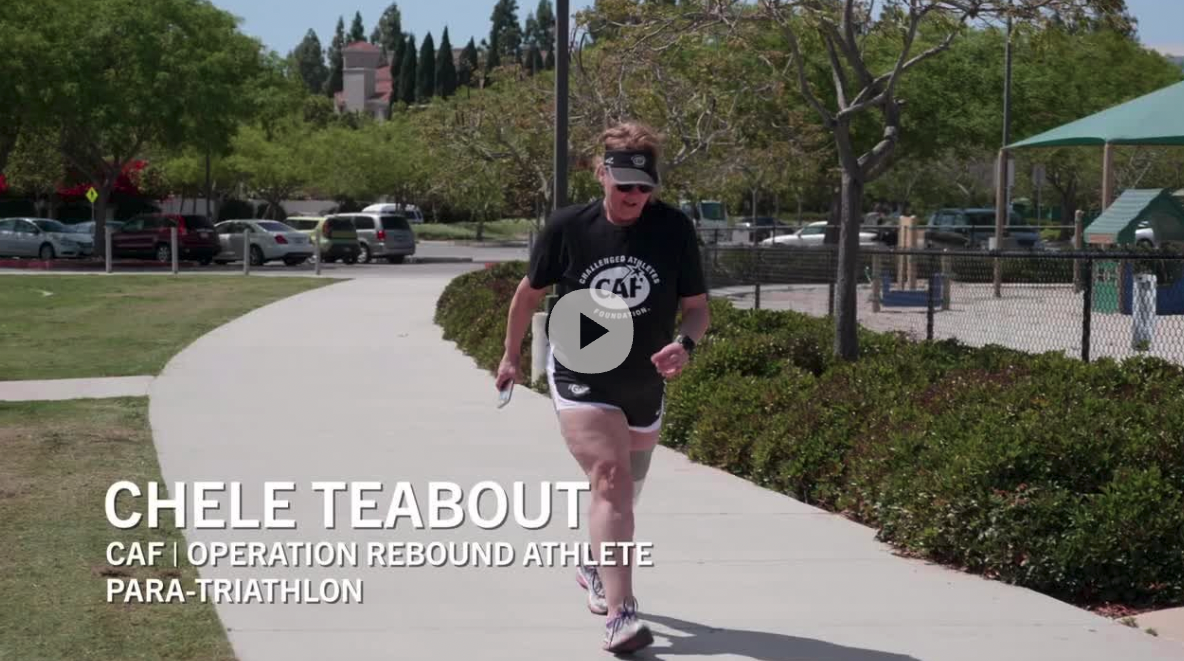 "Challenged Athletes Foundation's Operation Rebound Program allows injured troops to heal through sport. By providing grants, sports and fitness opportunities to U.S. armed forces, active military personnel, as well as U.S. law enforcement officers, firefighters and paramedics with permanent physical injuries we are strengthening our members' mental and physical well-being. Our program is designed to empower them through sports and integrate them into our CAF community."
– Nico Marcolongo, CAF's Operation Rebound Sr. Programs Manager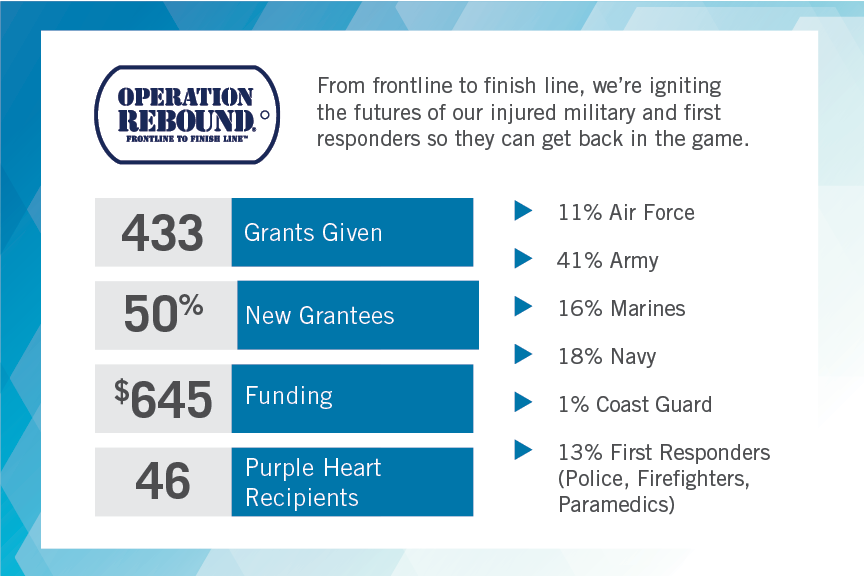 This April 1st and just south of the nation's largest marine corps base, 10 resilient Operation Rebound® athletes will compete at IRONMAN 70.3 Oceanside. These incredible athletes will compete alongside 5,000 able-bodied athletes to swim 1.2 miles in Oceanside Harbor, cycle a 56-mile bike route through San Onofre Bluffs State Park and Marine Corps Base at Camp Pendleton and run 13.1 miles through Oceanside. Some will participate as individuals and undertake the whole race while others will participate as part of a relay team.
For the past 12 years, CAF has been the official charity partner of IRONMAN® in Oceanside and has helped bring the power of healing from the front lines to the finish line. This year, #TeamCAF is currently comprised of 10 Operation Rebound athletes including Roderick Sewell, history's first bilateral amputee IRONMAN World Championship finisher, and Paralympian's Eric McElvenny, Rudy Garcia-Tolson and Willie Stewart.
"Operation Rebound athletes are not defined by their injuries, but rather by their heroic spirit and determination to overcome them. Our continued partnership with Ironman 70.3 Oceanside, allows our athletes to reignite their competitive spirit and strengthen the community."
– Nico Marcolongo, CAF's Operation Rebound Sr. Programs Manager
CAF is looking for athletes of all abilities to join the team this year. Fundraise $2,000 and you'll have an entry to join CAF at the 2023 Athletic Brewing Company IRONMAN 70.3 Oceanside  on Saturday, April 1. Your participation and fundraising with #TeamCAF allows service members to heal through sports and gets them from the frontline to the finish line.
You compete. Our service members win. This is your ONLY chance to register for this SOLD OUT event! Plus, you have the chance to register as a relay!
Spots are filling up fast so register TODAY!