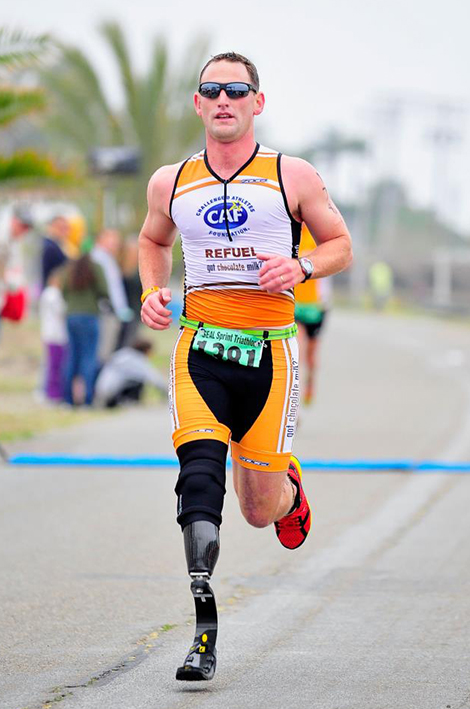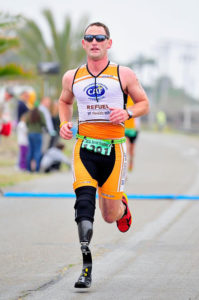 Physical Challenge: Below Knee Amputee
Hometown: Pittsburgh, PA
Sport: Marathons, Triathlons
Captain Eric McElvenny, USMC (ret.) has athleticism, determination and passion engrained in his pedigree. Eric excelled in both baseball and football throughout high school and went on to major in Mechanical Engineering at the U.S Naval Academy. He carried on his love for sports as a member of the
Naval Academy Rugby team.
Following graduation and Marine Corps training, Eric deployed three times to the Middle East. On this third deployment to Afghanistan, Eric was working with Afghan soldiers and stepped on an IED in December 2011, suffering the loss of his right leg below the knee in the explosion. It was difficult for Eric to leave his fellow marines behind and return early from deployment, but after a few months of physical therapy, Eric is back in action this time in the world of triathlon. Eric used surfing as part of his recovery and from there, started competing in triathlon. In 2013, Eric completed the IRONMAN World Championship in Kailua-Kona, HI and has gone on to complete a number of IRONMAN and IRONMAN 70.3 events since that time.
With the support of the Challenged Athletes Foundation's Operation Rebound program, Eric raced in his first two triathlons just 6 months after taking his first post injury steps. Eric hopes to "inspire and motivate others, disabled or able bodied, athletes or non, to get out there, be active, accomplish goals, overcome adversities, build confidence and enjoy life".
In The Media:

Challenged Athletes Live Q&A with Bob Babbitt: Episode Twenty | Eric McElvenny
Eric's Personal Website | ericmcelvenny.com
Wounded Marine To Ironman Triathlete | Eric McElvenny, Bob Babbitt & The CAF
Eric McElvenny: The Next Step | World of Adventure
The Bigger the Challenge – The Eric McElvenny Story | The Post Game
Eric McElvenny – Below-knee amputee, Ironman & CAF Athlete | The Athlinks Podcast