Celebration of Abilities Awards Winners
The Celebration of Abilities Awards Dinner kicks off SDTC weekend, celebrating the extraordinary heart and performance of CAF athletes throughoutthe year. Here are this year's award winners.
---
Jim MacLaren Award:
"CAF's highest annual honor given to the individual or individuals who have made the greatest contribution to the CAF mission in that year."
Willie Stewart completing Leadman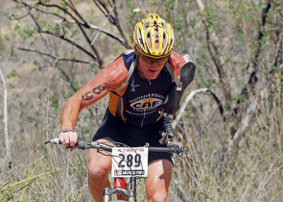 In 2017, Willie will become the first challenged athlete to complete Leadman "" over 280 mountain miles of mountain biking and trail running in one summer across some of the toughest terrain and conditions in the sports of trail running and mountain biking
In 1980, a construction accident resulted in Willie's arm being ripped out of the socket. Because of rush hour traffic, Willie ran a mile on foot to the hospital while trying to hold his left bicep muscles in with his remaining arm. Willie's sport resume includes winning the Catalina Marathon overall, completing the Ironman and Xterra world championships, and a Paralympic medal in cross country skiing. Willie is also a 15-time Escape from Alcatraz Triathlon finisher and current course record holder, two-time finisher of the grueling HURT 100 mile run in Honolulu, Hawaii, and most recently completed the Leadville Trail 100.
---
Trailblazer:
"A challenged athlete who demonstrated courage, commitment and leadership "" not just in their personal performance but in opening doors for others."
Hunter Woodall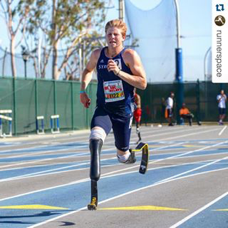 In 2017, Hunter became the first amputee running on prosthetics to receive a D-1 scholarship for track and will be attending the University of Arkansas in the fall of 2017.
Hunter was born with fibular hemimelia, and after amputating his legs below the knees doctors said he would never walk. Hunter didn't just learn to walk, but played every sport available to him as a kid, and starting to run competitively after doing his first 5km fun run at school. He won his first state title in the 400-meter as a junior in high school in 2016, and took home a silver and bronze at the Rio 2016 Paralympic games.
---
Most Inspirational:"An athlete who never ceases to inspire those around them through strength, athleticism, ability and true dedication to the CAF mission."Lance Weir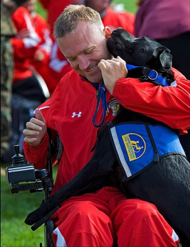 Lance was canoeing near his hometown of Walnut Ridge, Ark., when a dive into the river to retrieve his baseball cap shattered his C5 vertebrae. In 2011 a fellow Marine asked Lance to compete in a trial at Camp Pendelton and he discovered his talent as a shooter. Lance has since taken first place in the past two Marine Corps trials and Warrior Games forair rifles and has also helped coach the Marine Corps shooting team at the Wounded Warrior Battalion at Camp Pendelton. Lance also cycles with a captain on an adaptive tandem hand cycle. He has completed CAF's Million Dollar Challenge four times and other endurance rides including the grueling Silver State 508. Lance also achieved the title of first tandem hand cycle to cross the finish line at an IRONMAN® race.
---
Exceptional Athletic Performance:"An athlete who, through perseverance and exceptional athletic conditioning, has achieved extraordinary levels of success in sport."Andre Kajlich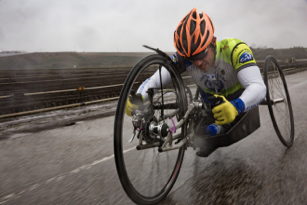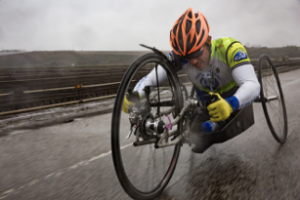 Whilestudying in Prague, André was struck by a subway train and lost both of his legs above the knee. After waking up from a three-week long coma, André's life had changed dramatically. While it was tough to comprehend that he would never walk again, André almost immediately took to his new lifestyle with a "Challenge Accepted" mindset. He eventually completed the IRONMAN World Championships in Kona and the grueling Brazil 135 Ultramarathon. This year, Andre became the first solo handcyclist to complete the Race Across America (RAAM).
---
Sam Day Rising Star:"A young athlete who has demonstrated commitment, dedication and focus to meet an athletic goal."Female: Annie Flood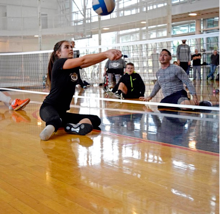 After having a syme's amputation on her right leg at 9 months old, Flood grew up active like other children. Since she received her sports prosthetic as a grant from CAF, it has renewed her love of sports, including soccer, volleyball, and tennis. Annie competed for USA's Women's Youth Sit Volleyball Team in the 2017 Parapan American Games in Brazil with help from a discretionary grant from CAF. Annie is 14 years old.
Male: KJ Fields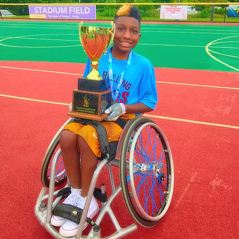 A week after graduating from kindergarten, KJ was hit by a car. Among other injuries, KJ suffered a spinal fracture. KJ plays with the Mississippi WheelCats and KJ participates in wheelchair basketball camps, and this past year he received Defensive Player of the Year. KJ is 12 years old.
---
Partner of the Year:"A partner who has made a significant contribution to CAF in the past year and whose values best reflect the values and mission of CAF."CAF & Nike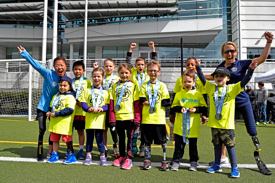 The partnership between CAF and Nike started when the foundation was born in 1994. As one of the first sponsors of CAF's San Diego Triathlon Challenge, Nike donated running shoes that year and has continued over the last 24 years to provide product donations and financial support totaling over $1,000,000 that has significantly underwritten event costs and provided funding to benefit CAF athlete grants. In 2017 CAF and Nike launched The Athlete's Path program to pilot a personalized approach to developing athletes with physical challenges. In April 2017, Nike hosted clinics on their campus including an Össur Running and Mobility Clinic, presented by CAF, Swim, Sit Volleyball and Wheelchair Basketball Clinics for 106 challenged athletes in the community with the collaboration from Adaptive Sports Northwest and Portland Track. CAF athlete Adelynn receives Össur running leg and CAF graciously received a $200,000 grant award.
---
Volunteer of the Year: "Individuals who have gone above and beyond to generously donate their time and resources to support CAF; a community that has become engrained in their lives."
Dr. Jeff Anthony,Dr. Mike McHale, & Nurse Sharon Dunlap
These individuals have volunteered their time and talents for 10+ years as the medical team for CAF's Million Dollar Challenge ride down to the coast of California. With us since the very first MDC, these volunteers have been by our side through many successful events and some difficult moments. They work in service to our community year round, taking care of our participants and challenged athletes. Beyond the actual event days, they are our professional advisors, our planners and our trusted friends. The donation of their time and expertise can never be repaid.