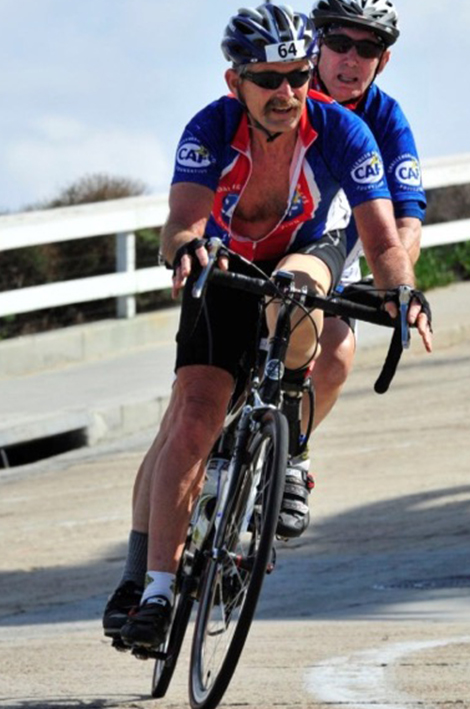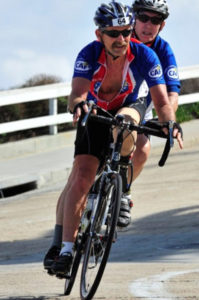 Sport: 
Cycling, Surfing
Biography:
Jim Penseyres grew up in Ontario, CA. He ran cross-country and surfed in high school. Upon graduation Jim enlisted in the United States Marine Corps were he served in the infantry. In 1967, Jim was deployed to Vietnam. Within two weeks of completing his tour, Jim earned his second of two Purple Hearts after stepping on a landmine while on patrol outside of Da Nang. The mine's blast resulted in a below-the-knee amputation of Jim's left leg.
After retiring from the Marines, Jim began surfing again and also took up long distance cycling. Since 1985, Jim has participated in 20 Race Across America and other long-distance cycling events.
In 2008, Jim became a member of CAF Operation Rebound. He continues to cycle regularly and is also a mentor to the many newly injured veterans who are looking to become active again after experiencing a traumatic injury. Jim is married to his wife Diane of 40 years. They have one daughter and four grandchildren.
"CAF Operation Rebound is a great program for our injured veterans of all eras."-Jim Penseyres
The generosity of supporters like you has given Jim the opportunity to continue his cycling as a member of the CAF Operation Rebound team.
How Does Operation Rebound Help?
Operation Rebound provides unparalleled sports opportunities and support to our troops and veterans of any branch of service and first responders who have served honorably and have suffered permanent physical injuries. Grants are awarded for event travel, lodging, entry fees, training and equipment.
How Can You Help?
Make a tax-deductible contribution to Challenged Athletes, Inc., (dba Challenged Athletes Foundation) a non-profit 501 (C) (3) organization. To make a donation, please call (858) 866-0959, send a check to the address listed below, or make a secure payment through our website: www.challengedathletes.org.