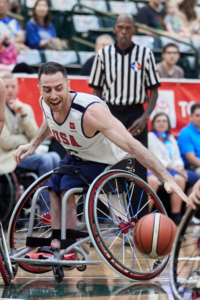 Physical Challenge: Paraplegic
Sport: Wheelchair Basketball
Hometown: Westbury, NY
When he was 11 months old, Steve Serio had surgery to remove a spinal tumor which resulted in paraplegia from the compression of his spinal cord. Steve was introduced to wheelchair basketball at 15 years old, giving him the power to embrace the things that made him different.
He continued playing the game through college at the University of Illinois and made his Paralympic debut with the USA National Team in 2008 in Beijing. Steve brought home the gold medal from the Rio 2016 Games and looks forward to competing in the 2021 Paralympic Games in Tokyo.


In The Media:

Challenged Athletes Live Q&A with Bob Babbitt: Episode Twenty Five | Steve Serio