CAF Athletes Defy Limitations at the Working Wounded Games
By Diane Ngo
CAF sponsored a team of eight adaptive athletes from San Francisco to compete in the only CrossFit styled competition at the Working Wounded Games (WWG) held in Washington D.C. in October 2017. I was one of the very fortunate eight athletes!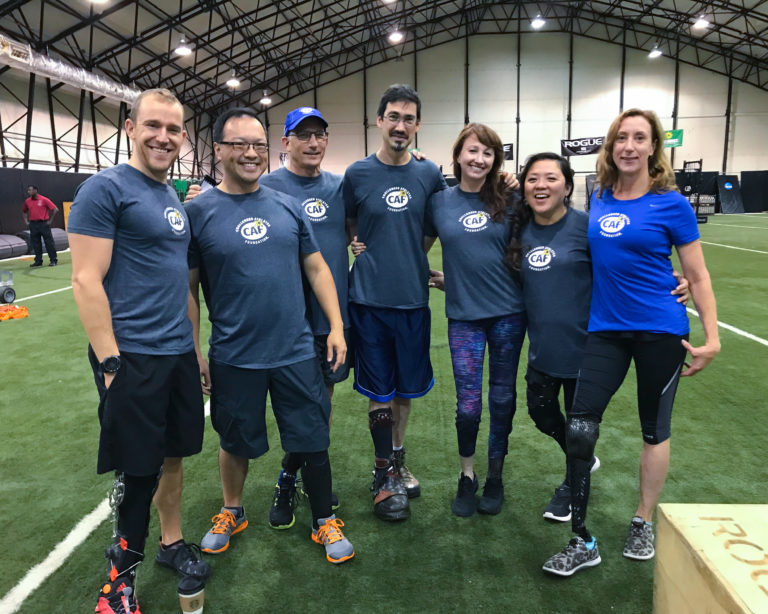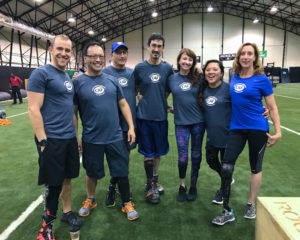 At a young age, I contracted polio and the disease left my body with a weakened left arm (dislocated shoulder and fused elbow) and right leg. Competitive sports were out of the question due to my physical challenges. About two years ago, a friend and recent amputee, Christopher Ng, told me about an adaptive CrossFit class taught by Max Conserva held at the San Francisco CrossFit Box. Max himself is an adaptive athlete and after training for several months with him, I saw improvements in my physical mobility and stamina. This helped me gain confidence and strength that poured into all areas of my life.
When Max shared about the WWG competition, I knew that this was the next step to push my physical training to the next level. The idea of competing by myself was too intimidating, so I convinced a handful of my fellow classmates and Coach Max to register as well. I knew competing as a team would be a great motivator and provide the necessary accountability. Out of the eight of us, only our coach Max had ever competed. Our team included other first-timers like Deborah Bevilacqua, Laurel Hodge, Tony Lee, Christopher Ng, Joshua Unterman, and CAF board member, Alan Shanken.
Although athletes have varying degrees of disabilities, the staff devised ways for everyone to be able to adapt and compete equally in similar WODs (Workouts of the Day). The competition included four WODs and each one was very challenging. It pushed each one of us to our limit and beyond! What especially stood out for me was the sense of community and support that I felt throughout the competition. When athletes completed their WOD, they did not just walk away and rest. Instead, they jumped over to help cheer and encourage their other competitors to finish as well! We were the largest team to ever compete at WWG and to represent CAF was unbelievable and gave us extra confidence.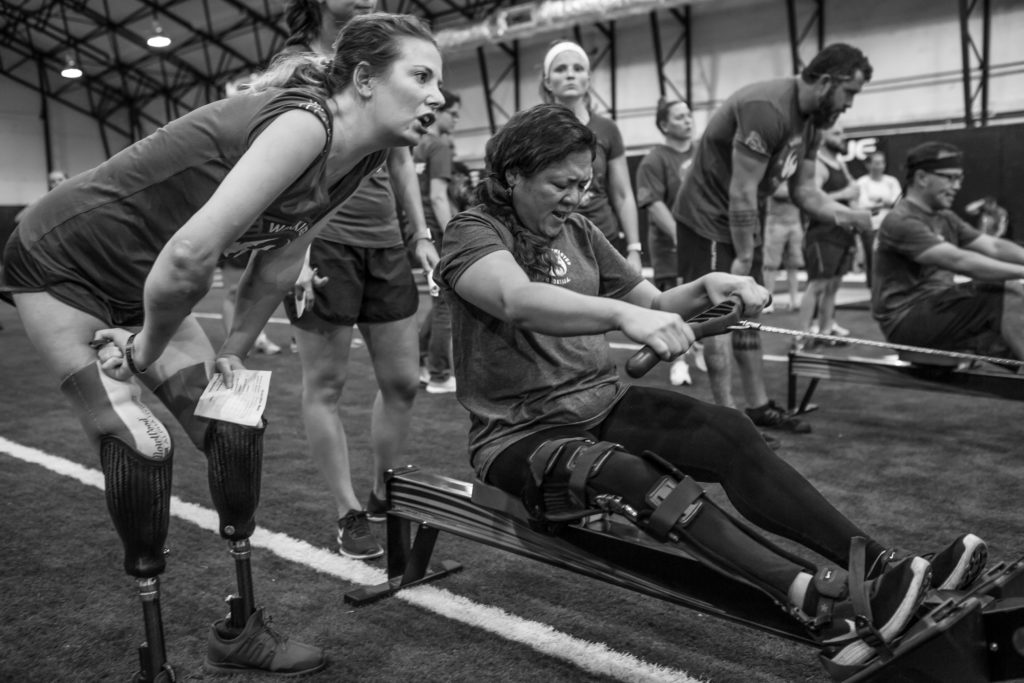 During the third WOD, I was about to pull out of the competition because the movements were very difficult for me to complete in order to be counted. However, the head judge came over and walked me through how to adapt the movements and I was able to complete the routine! This speaks to the importance and heart of this event. It pushes all of us to think outside of the box.
What we typically view and think as impossible is not always the case. This resonates to heart of what CAF is all about as well – an organization that empowers others to get out of their comfort zones and try new things. This takes an entire community; whether you are an athlete, family member, donor, or sponsor, we are all part of a greater team.
The weekend was amazing and out of the eight competitors, two of us placed first and second in our respective categories! Not too shabby for first timers. We are already back training hard for WWG this Fall and hope to grow our team to include more athletes representing CAF.
On behalf of our team, thank you CAF for your continued support of us athletes here in the San Francisco Bay Area!