Cycling, Coffee, and Camaraderie
Cycling, coffee, and camaraderie have been big drivers in building the culture of the CAF community over the years. Whether it's the starting point of the ride, a quick drop-off for those wanting more social than cranking of the pedals, or the reward at the end – the coffee ride or the ride to coffee is a simple way for friends to cycle and come together.
We are spotlighting one of our favorite partners -Equator Coffees! Thanks to CAF supporter, cyclist, and Equator co-founder Helen Russell who started this company 26 years ago with just that in mind- the passion of meeting friends for a cup of good coffee.
"We believe in bringing people together with coffee. We consider it our social responsibility to be contributing members of the communities that gather at our cafes. We treasure our relationships in the global coffee community and believe in investing in collaborations with great partners like the Challenged Athletes Foundation as a crucial link in our chain of well-being", said Helen Russell.
With six cafés located in throughout the Bay Area, our CAF NorCal Cycling Club usually starts their Saturday rides with coffee before and sometimes after at the Larkspur location. Now we'd like to share Equators' specialty CAF blend and membership program with our bigger community of cyclists, athletes, and supporters.
The CAF Blend is a Fair Trade and organic certified, built around a pair of coffees from Ethiopia. The first is a natural processed coffee from the Sidama growing region that gives the blend its classic fruit-forward character. The second is a vibrant, fully-washed coffee that adds brightness and subtle floral notes. We complete the blend with a coffee from the Ketiara Cooperative in the Gayo Mountain region of Sumatra's Aceh Province. Our coffee, affectionately known as Queen Ketiara, is grown by the group's women producers. This rich and full bodied coffee balances out the other more nuanced components to create a complex and smooth blend with just the right amount of fruit presence.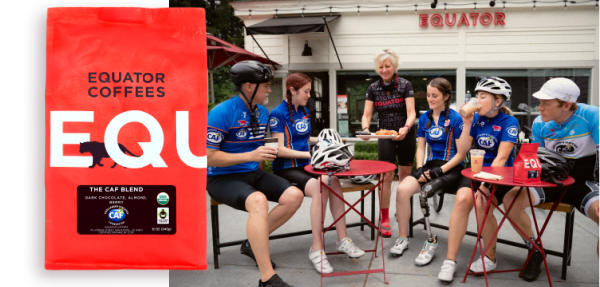 Equator will donate $1 for every 12oz bag of CAF Blend sold to the CAF, funds raised will help empower lives through sport. Start a CAF Blend subscription today with code CAF30 and get 30% off your first bag purchased along with free lifetime shipping with this offer.

For those interested in joining CAF's Cycling Community and riding with us weekly (coffee promised along the way), we are starting our in-person rides this Saturday, May 15th in San Diego, Northern California, and Idaho. JOIN CAF CYCLING CLUB here!