Freedom Through Technology, Freedom Through Sport
"Hey Siri" has a whole new meaning for Challenged Athlete Scott Leason. Every day, he is guided by sounds, touch, voices and technology, rather than his sight.
Scott lost his vision when he was shot in the head during a robbery while working at a convenience store after retiring from seven years of honorable service in the U.S. Navy.
Growing up in Southern California, Scott spent countless hours being active in the water; surfing, water skiing and swimming in the ocean. While many things were challenging after losing his vision, the biggest void in his life was not participating in sports.
After Scott was introduced to CAF's Operation Rebound program, everything changed. He started competing again in water skiing competitions and even surfing, becoming the first visually impaired adaptive surfing champion.
Through a tag team of support, CAF's Operation Rebound provides Scott with access to sports, while technology helps get him to the starting line and find independence in the sports he loves, along with his daily tasks.
The Digital Difference – in Sport 
Scott loves to be active and participate in many sports, but waterskiing and wakeboarding make him feel most alive. 
"I can compete just like anybody else. No guide, no coach, just me at the end of the line doing my thing. That's when I feel like I'm not a blind person. I'm a water-skier and a wakeboarder," said Scott. 
Scott's first-ever CAF grant provided him with an Audio Signaling Device for slalom waterskiing. It beeped and informed Scott of his timing for getting around buoys. Having this device allowed him to ski just like someone without a visual impairment, with the same principles of timing and rhythm.
Another instance of freedom in sport through technology happened while Scott was catching waves. His coach wasn't able to come in the water that day, so instead, he strapped a water proof walkie-talkie to his helmet, his coach on the other end helping him catch waves and give direction from the sand.
The Digital Difference – in Life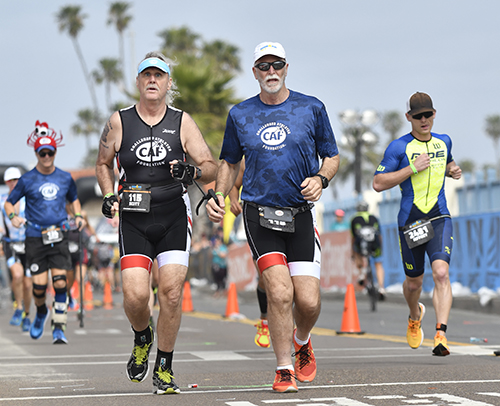 While there are still opportunities for growth, Scott has seen technology grow leaps and bounds since he was injured, positively impacting his everyday activities.
"I feel fortunate to be living in this age of technology since being blinded 25-years-ago. It's all there for us," he noted.
Scott has been helping with Beta testing for Aira glasses, headquartered in San Diego. "When I'm traveling at the airport, I can contact the agent and they tell me nearby restaurants, direct me to the location and then direct me back to my gate. They even helped me put eye drops in Snickers, my seeing eye dog, one time."
For someone with a visual impairment, websites built with screen readers make the world of difference. Not all websites are friendly in this capacity, but thankfully there are software companies like TeamViewer to help Scott connect with individuals who can support him in real time.
"I can register on my own for most races, however, the only tough part is when there's a time limit and I'm not as fast at signing up," said Scott.
Scott attributes much of his success in the digital world to the foundational training he received from various rehab centers. For anyone with a recent visual impairment, Scott recommends training in orientation, safety and mobility first. In his words, "Take it on like a sport."
Apple Watch Impact
 Scott has recently been using an Apple Watch to enhance his training and workout routine.
Before his Apple Watch, Scott would be at the YMCA on the treadmill and when his workout ended, he would hope an employee would be nearby to read off his workout stats – number of miles, heart rate, etc.
Now, while he still needs someone to help him start the treadmill, Scott starts and stops his watch with the machine and he can hop off when he's done, the watch reading his numbers aloud.
He also uses his watch during his outdoor cycling rides with the Blind Stokers Club and while on his indoor bike every night.
"Everything is done by voice," shares Scott. "My temperature, the date, my breathing and heart rate is all read aloud by Siri with a simple swipe and double tap of the index finger."
Scott & CAF's 25th Anniversary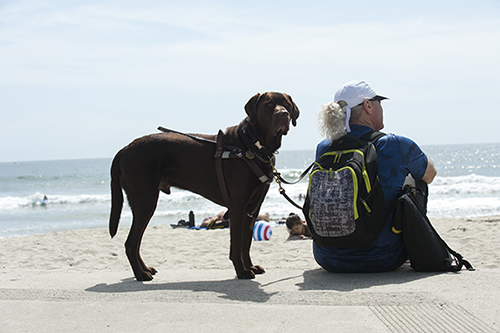 This year, Scott shares his 25th anniversary of becoming blinded with CAF's 25th year of changing lives through sport. Scott has surfed, waterskied, wake boarded, cycled 620-miles down the coast and become an IRONMAN, thanks to CAF. All of which he never dreamed would be possible.
"I was very angry when I first came to CAF.  Since getting my first grant 12-years-ago and all of the subsequent support, the anger has dissipated and been replaced with contentment through sports and fitness," said Scott.
The community aspect of CAF has also made a big impact on Scott's life. "I feel like I've been accepted into the family. Everyone is loving and supportive. We all pull from each other and I'm inspired by others who are always trying to find a solution, working hard and adapting."
Scott shared some valuable advice he learned from a fellow CAF athlete and cyclist, Lance Weir.
"Whenever an opportunity presents itself, always say yes."
Global Accessibility Awareness Day
Thursday, May 17th marks the seventh Global Accessibility Awareness Day (GAAD). The purpose of GAAD is to get everyone talking, thinking and learning about digital (web, software, mobile, etc.) access/inclusion and people with different disabilities.
Show your support for Scott Leason and GAAD by donating today.