Boise Para Road National Championships | Day 2 Recap
Embracing its competitive spirit, CAF hosted four national championship events in July 2021: the USA Paralympics Cycling road race, time trials, criterium, and relay national championships. This series of events was the last domestic championship before Tokyo 2021. With all four events held in the same state over a single weekend, elite athletes are able to focus less on travel and more on their performance.

Below is a recap of Saturday's events from CAF's Christy Fritts including the U.S. Paralympics Cycling Crit National Championship at the Boise Twilight Criterium, CAF + Mission43's Kids Ride, and the US Paracycling National Relay. Read Friday's recap here.
It was another amazing day on the race course! At the Capitol Building, the U.S. Paralympics Cycling Crit National Championship at the Boise Twilight Criterium brought out the true grit in our athletes with temps soaring over 100 degrees.
U.S. Paralympics Cycling Crit National Championship
Jamie Whitmore brought her A-game and held on to the front of the pack finishing with an incredible time of 28:54 and Tokyo-bound Team Bridgestone athlete Will Groulx finished with an impressive time of 29:04.
Taking 1st and 2nd in the H3 category was Alicia Dana and Gabby Platt from the CAF Women's Adaptive Cycling team and teammate Ryen Reed won her category with a 29:45. Energy was high and the heat was on, literally!

Kids Ride Powered By CAF + Mission43
The CAF-Idaho Kids Ride with Kristen Armstrong and Muffy Davis was well-attended. Over 400 kids wheeled up to the start line for their chance at a lap around the crit course. CAF kids Vivian, Brooklyn, and Ramon also participated in the inclusive kids race.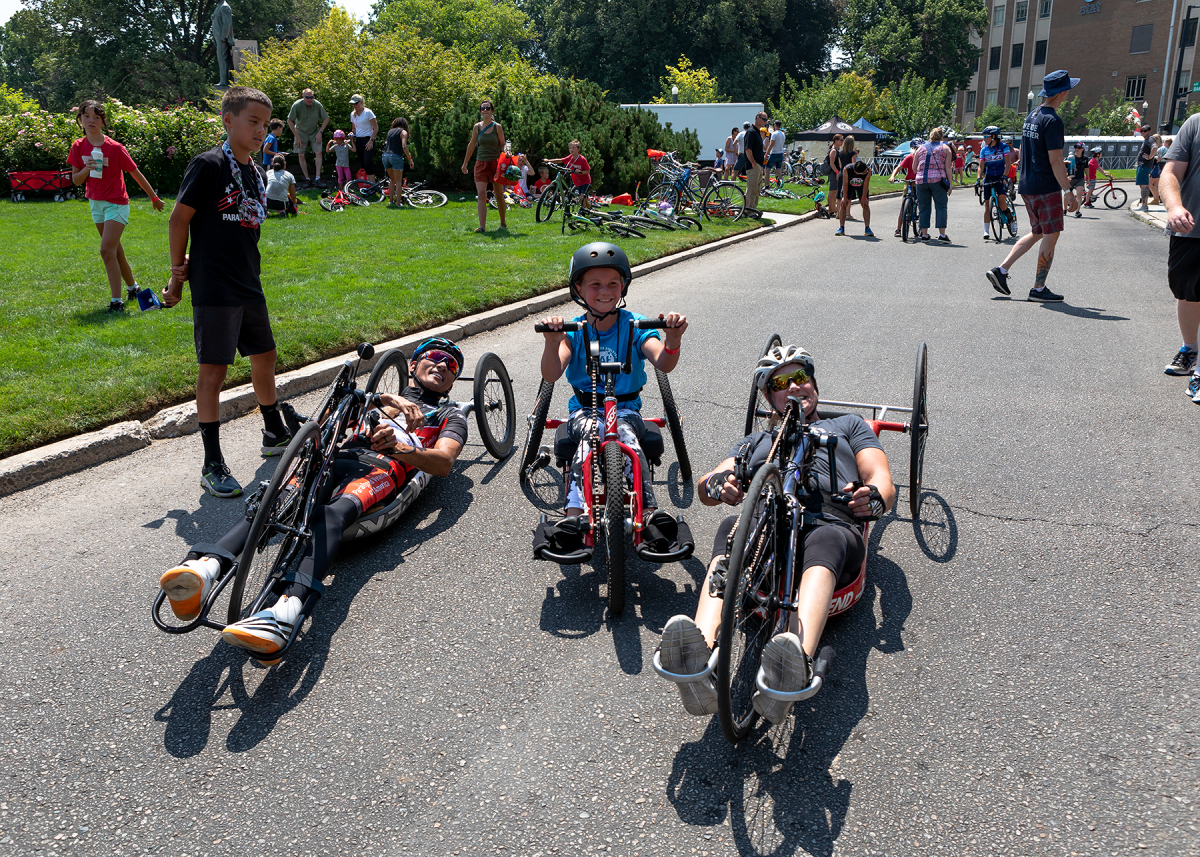 However, when Brooklyn Gossard came around the corner, she was flanked by Paralympians Will Groulx and Muffy Davis. This impactful moment has only solidified Brooklyn's dreams of becoming a para triathlete someday.
New grantee Vivian rode alongside Muffy as well and was all smiles as she navigated the sea of youth cyclists on her new handcycle.
US Paracycling National Relay
The Handcycle Relay made for even more excitement as five teams of 3 hand cyclists returned to the course. Each cyclist rides a total of 3 laps but only one lap at a time before their teammate goes. The volunteers were busy lining up the teams and repositioning them for their next lap.
Alicia Dana's Skullcrushers Team took first place and Gabby Platt's team came in to a close 2nd place for the Para Nationals Relay. There were so many beautiful moments of teamwork today with CAF athletes helping one another on and off the course.
All in all it was a great day! Looking forward to today's Road Race National Championship.
Catch up on the CAF news hits over the weekend:
Velo News | Challenged Athletes Foundation to host USA Cycling para-cycling road national championships
KIVI (ABC) | CAF-Idaho hosting four-Paralympics Cycling National Championship events
KTVB (NBC) | Athletes prepare to participate in 34th annual Twilight Criterium in downtown Boise
KMVT (CBS/FOX) | Paralympic Cycling National Championship held in Glenns Ferry
KIVI (ABC) | Idaho Outdoor Fieldhouse will serve Mission 43 and the Challenged Athletes Foundation
Magic Valley Times | This Idaho man is set to compete in Tokyo Games as Paralympic National Championships rides through Idaho
Yahoo News | CAF-Idaho hosting four-Paralympics Cycling National Championship events