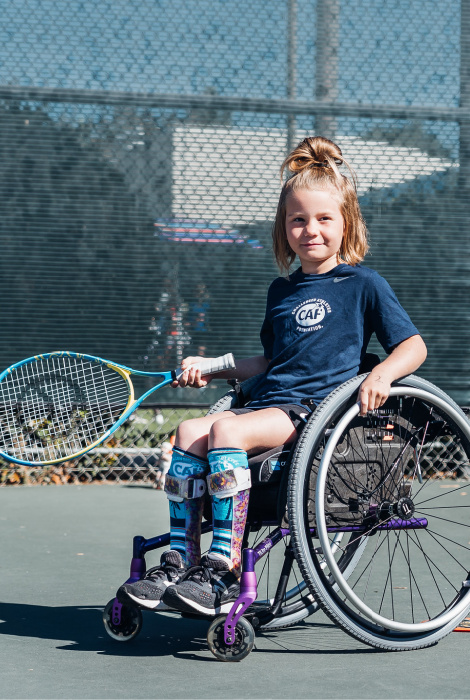 Challenge: Paraplegia
Sports: Handcycle, hockey, tennis, paratriathlon, WCMX
At 15 months old, identical twin Brooklyn Gossard, woke up from a nap and leaned to one side as a child with an ear infection might do. The next morning, she couldn't reach for her sippy cup. Forty-eight hours later, she was diagnosed with acute idiopathic transverse myelitis and, not being able to move her arms, Brooklyn was considered quadriplegic. Her identical twin sister, Bella, has never experienced symptoms of the autoimmune disorder.
Thousands of physical therapy sessions later, Brooklyn has regained the use of her upper body and is determined to make a name for herself in the world of sports, namely triathlon. Through the support of the Challenged Athletes Foundation, she participates in various adaptive sports clinics including WCMX, sledge hockey and curling. Now, through a grant from CAF Idaho, Brooklyn zips around on a handcycle, training to achieve her goal of completing 100 triathlons within two years.
Brooklyn's larger-than-life personality, infectious smile and unrelenting tenacity to try new things is a direct reflection of the approach her family has taken since the onset of her paralysis and physical challenges. The Gossard family has made it their mission to find every opportunity possible for Brooklyn and they are her greatest cheerleaders along the way, just as she is to her fellow athletes.
In The Media:



Meridian Girl Inspires With Love for Adaptive Sports
Young Athlete Raises Awareness About Inclusive Sports