CAF Womens Adaptive Cycling Team
After their season came to an unexpected end due to the COVID-19 pandemic, the Challenged Athletes Foundation's Women's Adaptive Cycling Team is back! With Carlos Moleda returning as the Team Manager and coming off of a long year of indoor training over Zoom, the all-female team is ready to compete at a series of live events in 2021.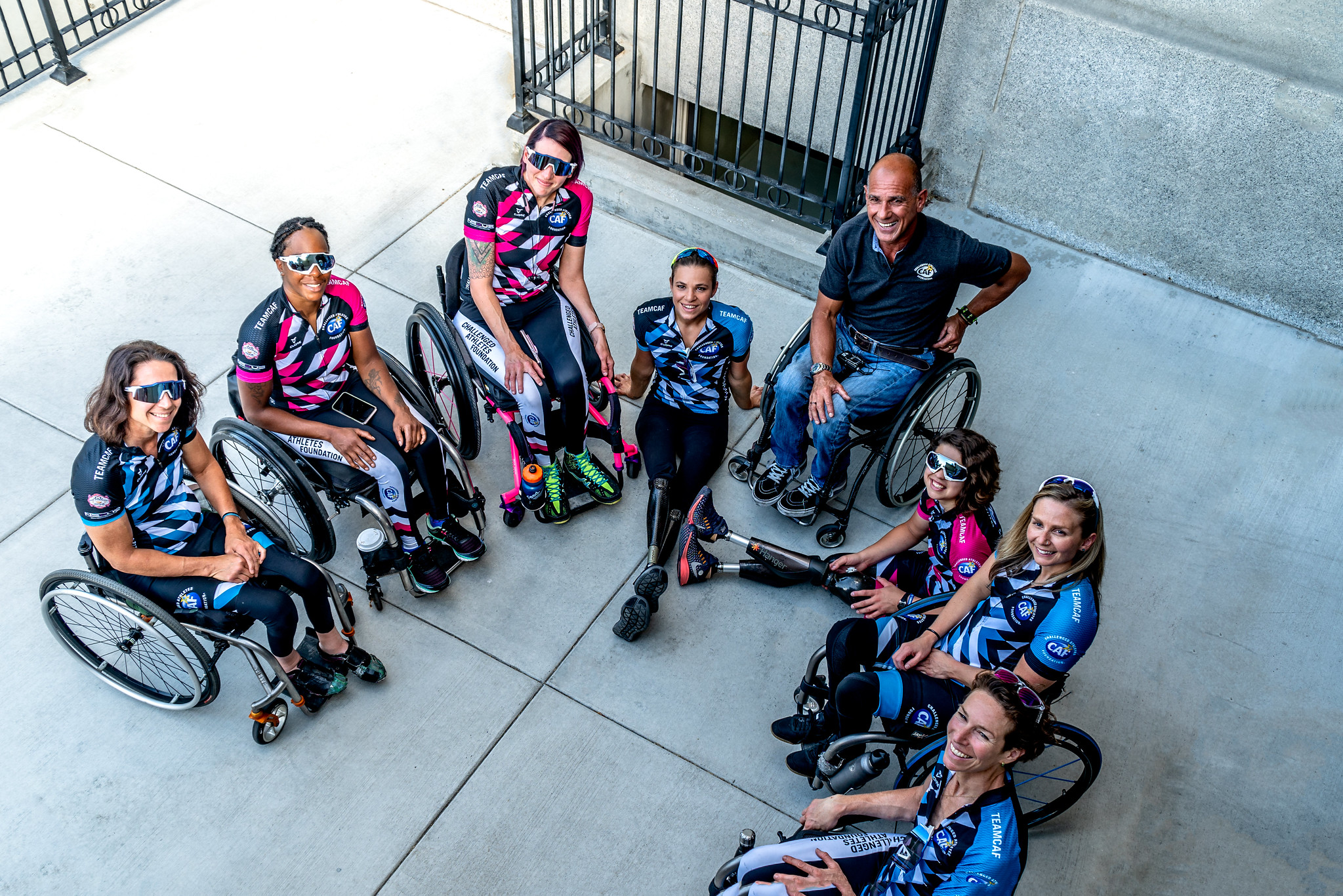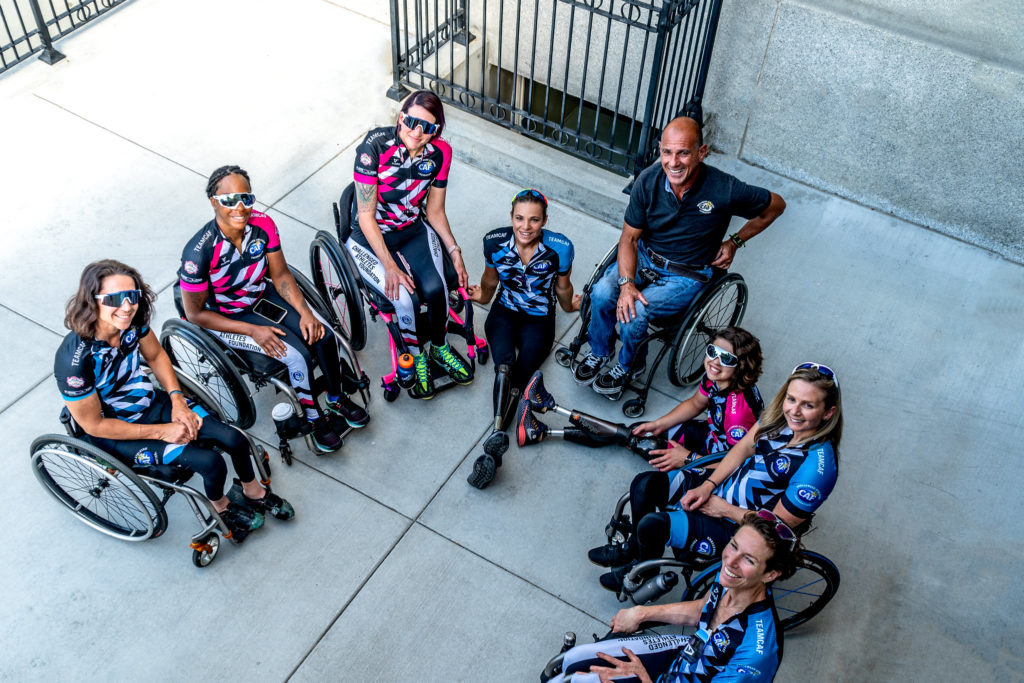 Formed in 2019, the team was built with the vision to get more women involved in the growing sport of adaptive cycling. Female athletes were identified by Carlos and CAF and then provided the coaching, equipment, and motivation to train and compete as a team. While it provides a community and chance to compete, CAF's Women's Adaptive Cycling Team demands high-performing, resilient women.
Follow the team as they have upcoming races in Huntsville, Minneapolis, Boise, and an international trip to either Italy or the Netherlands. With the support of CAF and our specific support from these sponsors – Chargepoint, Toyota, J&L Pie Company and 100%, the Women's Adaptive Cycling Team paving the way for female adaptive athletes in cycling and beyond!
Meet the Team
Coach: Carlos Moleda
CAF Ambassador Carlos Moleda is seen as a pioneer for the sport of wheelchair racing. A Navy SEAL and Purple Heart recipient, Moleda was injured in the line of duty and was paralyzed in 1989. After an introduction to triathlon, Moleda became the first handcycle athlete to break 11 hours at the IRONMAN World Championship and won the division four times. He is a seven-time national champion and also won the Buffalo Springs Triathlon, the only wheelchair qualifier for the IRONMAN World Championship, twice.
Moleda has helped to develop rules for paratriathlon events, and he completed Race Across America in 8 days, 9 hours on a four-person handcycle relay team. He has been instrumental in helping CAF customize thousands of sport wheelchairs given as grants over the years and now coaches CAF's Women's Adaptive Cycling Team.
Team Captain: Alicia Dana
Alicia has always been a competitor who loves pushing her body to its limits as an endurance athlete. She became paralyzed after falling from a tree when she was 17 years old and she started handcycling shortly after. She made her first Paralympic Cycling National Team in 2001 and is training to compete in the upcoming Games.

Gabrielle Platt
Gabby is currently training to qualify for the US Paralympic Team. After becoming paralyzed from three gunshot wounds to the back, she resolved to never take anything in life for granted. This focus and drive to succeed has set her on the path to following her dream of being an elite athlete.
Ryen Reed
Ryen has been pushing boundaries since the day she took her first step. Cerebral palsy and hip dysplasia affect her body movement, muscle control and coordination, reflex, posture, and balance – making it ten times harder for her to move than an able-bodied person. Sports have always been an important part of Ryen's life because they keep her strong and mobile. She's now handcycling down an elite path in hopes of competing in the Paralympics.
Lera Doederlein
Born in Saratov, Russia, Lera was adopted and moved to the US at almost two years old. After several surgeries, Lera still needed the aid of Knee-Ankle-Foot Orthoses and forearm crutches to move, and she ultimately made the decision to have a bilateral above-knee amputation in June of 2017. Lera was introduced to CAF soon after and today she's working toward her goal of becoming a Paralympian.
Danielle Watson
While rock climbing, Danielle fell over 250 feet and broke her ankles, femur, pelvis, and back in two places. She became paralyzed as a result and has since been involved in many adaptive sports and loves traveling for competitions all over the country. Danielle has her master's degree in occupational therapy and works as a hand therapist while training hard to compete with her team in national and international competitions.
Oksana Masters
Born in Ukraine, both of Oksana's legs were damaged by in-utero radiation poisoning from the Chernobyl nuclear reactor incident, along with several other birth defects. After being adopted and moving to the United States, Oksana ultimately had both legs amputated. She has won many athletic achievements and awards since and is training for the upcoming Paralympics.
Race Updates
Huntsville, AL – Time Trials
Tour of America's Dairyland – June 24-27
US Paralympic Team Trials – June 17-20
US Paracycling Nationals – July 8-11

Upcoming Races
Camps – Nov TBD

In The Media
U.S. Paralympics Cycling Open in Huntsville | WAFF 48
Women's Adaptive Cycling Team Debuts Ahead of Paralympic Section | Velo News