CAF Women's Adaptive Cycling Team at Tour of America's Dairyland Race in Wisconsin
by Alicia Dana, CAF Women's Adaptive Cycling Team Captain
The Tour of America's Dairyland (ToAD) is "the largest competitive road cycling series in the U.S.", featuring 11 days of races in the Milwaukee, WI area. A multi-day Omnium, each race has its own podium, but also counts for points toward the overall scoring. This year, there were 4 handcycling races offered over 4 consecutive evenings, July 24-27.
Each of these races was 35 minutes around a few city blocks. Able-bodied races were happening on the same course, before and after, so there were crowds of spectators lining the streets, cheering, announcers, and plenty of excitement. About 24 handcyclists in all made up the field; a third of these were women – an unusually high ratio! Classes H3-5 were represented, in both genders.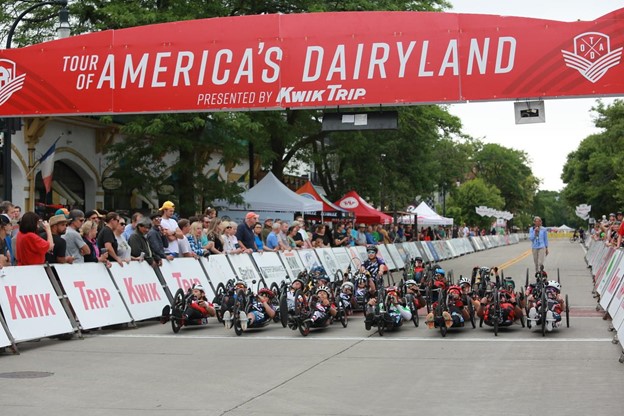 Night one was the Otto Wenz Cafe Hollander Downer Classic. Alicia got a surprise when she got a special call up to the line with an announcement of her recent qualification for Tokyo, and was warmly cheered by the crowds. The race was fast and furious, as crit races always are. Alicia was 4th overall, Ryen and Gabby finished 10th and 11th, Danielle was 17th, and Lera 21st.
Afterwards, we all scrambled to get changed, fed, and to the podium on time…only to discover that there was no podium planned for the women! We sat and watched the men receive their glory, then spoke to the race organizers about women's handcycling and the need for representation and visibility. To their credit, they promised us a podium for each of the following races.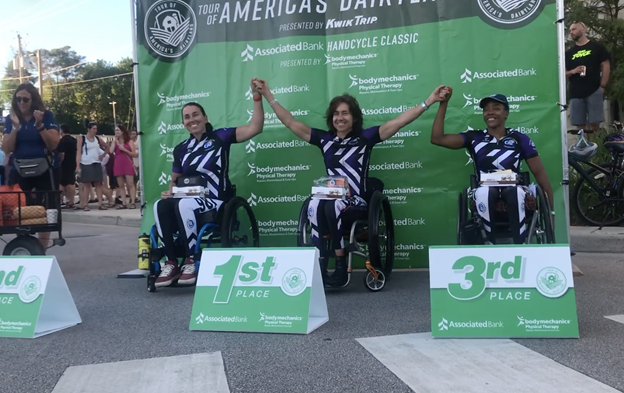 Night two was the Shorewood Criterium Cycling Classic – our results were similar to night one, with Danielle and Lera both advancing in their placements to 16th and 18th, respectively.
Night three, the Highlands Criterium, contained some drama: early into the race, Alicia suffered a mishap when she collided with a handcycle that had come to a standstill in the middle of the street. Her rear wheel badly damaged, she at first exited the course, thinking the day was done… until Carlos swiftly re-directed her back on, to at least finish!
She managed to limp around the course until the race was over, finishing in last place (but finishing!) Ryen Reed then rose to the top of the podium, and claimed the green and white leader's jersey for the overall Women's category.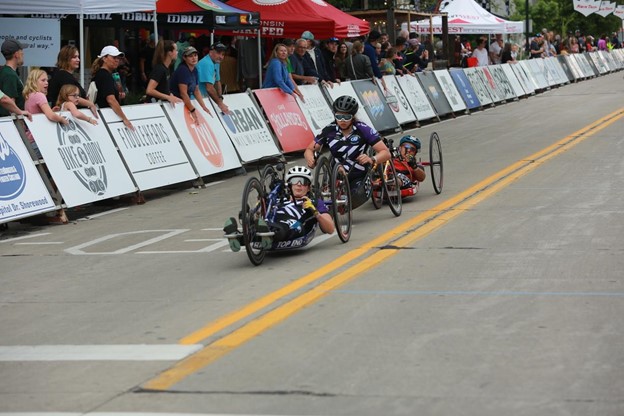 The final night of racing, the Cafe Hollander Tosa Village Classic, was the most technically challenging course: a long, steep climb; a fast descent into a sharp left hand turn; a few fast turns after that, then a straightaway into a headwind gave us all a chance to test our skills and strength more than any of the prior courses. Each of us did really well – clearly, we had all improved our game since night one.
The final podium, for the Omnium, had Ryen at the top, Alicia in 2nd (her crash on night 3 set her far back in the points), and Velette Britt for PVR in 3rd. We celebrated with a team dinner, then had a late night of packing bikes for the trip home.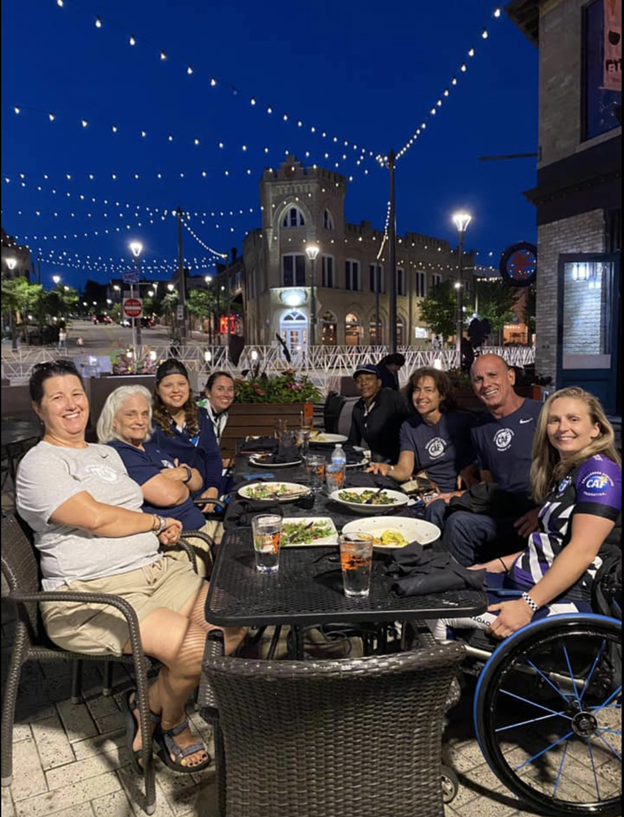 Once again, we were blessed on this trip to have the crucial support of Joaninha and Kathy, who drove us, got us food and water, helped get us into and out of handcycles, and performed a multitude of other helpful and necessary tasks.
Read on: Seeking Gold in Alabama Time Trials
Learn more about the CAF Women's Adaptive Cycling Team here.