23rd Annual Aspen Medical Products San Diego Triathlon Challenge Raises Over $1 Million to Support CAF
Annual Weekend of Events Raises $2.6 Million to Support Athletic Endeavors of Challenged Athletes Globally
SAN DIEGO – November 4, 2016 – The Challenged Athletes Foundation's 23rd annual Aspen Medical Products San Diego Triathlon Challenge (SDTC), where able-bodied individuals and challenged athletes compete side-by-side to display the power of the human spirit, held in La Jolla, CA hosted more than 5,000 participants, spectators, sponsors and volunteers over the weekend of October 21-23, 2016. The staple event, which gave birth to the organization back in 1997 to help one person, Jim Maclaren, and raised $49,000, this year, raised over $1 million to continue to fulfill its mission to help physically challenged individuals get the support they need to succeed in sports and in life.
Through the weekend's festivities including the Mazda Foundation Million Dollar Challenge, which culminated on Friday, raised over $1.5 million through the efforts of 120 cyclists who rode down the coast for seven days and 620-miles from San Francisco to San Diego. Plus, the YMCA of San Diego County Tour de Cove, raised more than $90,000. All together, these CAF events helped raise more than $2.6 million to support people with physical challenges.
The weekend was full of activities for all the challenged athletes who converged in San Diego from around the world, far reaching as Australia. On Friday morning, the XTERRA Wetsuits Open Water Swim Clinic plus the Junior Seau Foundation Adaptive Surf Program Kids Clinic Presented by Cavignac and Associates kicked off the weekend. The morning clinics were followed by the Mazda Foundation Million Dollar Challenge ride-in ceremony. In the evening, the inspirational Celebration of Abilities awards and dinner took place. Saturday morning featured the 1-mile swim leg of the triathlon at La Jolla Shores followed by five adaptive sports clinics at the Jewish Community Center featuring the Össur Running and Mobility Clinic Presented by CAF, plus wheelchair tennis, swim, tandem cycling and boccia clinics.
On Sunday, Robin Williams' children Zelda, Zak and Cody presented grants for adaptive sports equipment to three challenged athletes, Patrick Ivision a rugby wheelchair, Sebastian Desposato a surfboard, and Danny Smutts a basketball wheelchair. Event participants took on the 44-mile bike and 10-mile leg of the triathlon followed by the YMCA of San Diego County Tour de Cove, Philadelphia Insurance Kids' Run and the Kaiser Permanente Thrive-5K Fitness Walk presented by Hanger Clinic. Participants and spectators celebrate inspirational athletic spirit while building camaraderie.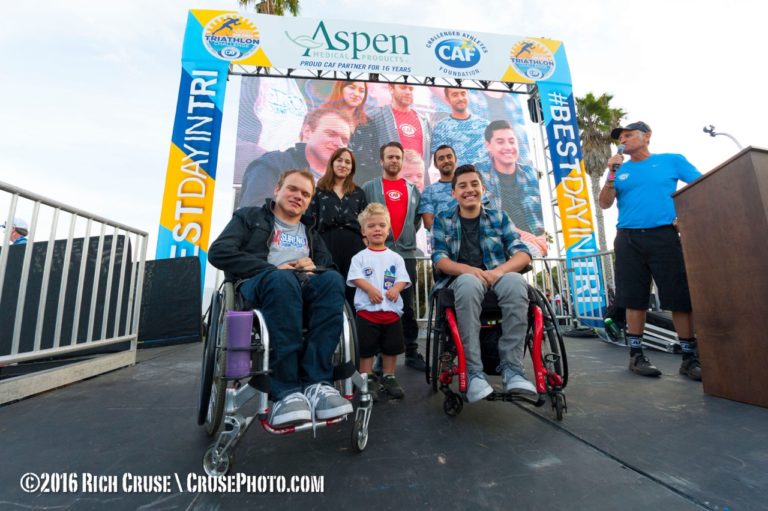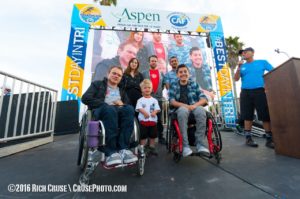 Challenged Athletes Foundation CEO Ken Wheatley remarked, "SDTC weekend exemplifies what Team CAF is all about and why it's dubbed as the 'Best Day in Tri.' Thanks to the tremendous efforts and dedication from our participants, volunteers, supporters, partners and staff, we were able to all come together and celebrate a life-changing weekend for the hundreds of challenged athletes of all ages and abilities who participated in these activities."
Funds raised over the course of the weekend will continue to allow CAF to provide adaptive sports equipment, travel and training, and competition expenses to athletes around the world with physical challenges, and to support the organization's mentoring programs and schedule of annual, free camps and clinics.
This year, the top fundraising team, Team Coastline and its 30 affiliated members, raised more than $130,000 through independent fundraising efforts.
Sunday also included special grant presentations made in honor of long-time CAF supporter Kate Steinle, who tragically passed away last year. She was a close friend of CAF founder and Board Chairman Jeffrey Essakow's daughter, Nicole. Through the Kate Steinle Fund and the YMCA of San Diego County, 9-year-old thrill seeker who was born with Spina Bifida, Kumaka Jensen, was awarded a surfboard. Additionally, through Össur and the RC Baker Foundation, Mike Atherton, a triple amputee from Florida who lost his legs and left arm while on a boat trip that turned tragic when the boat exploded, received two Össur Flex-Run feet and an Össur Cheetah knee.
The Mazda Foundation Million Dollar Challenge sponsors include: Mazda Foundation, Tech Sgt. Jack Kushner Foundation, Sixteen Fifty Creative Intelligence, Qualcomm and Pirch.
The Aspen Medical Products San Diego Triathlon Challenge sponsors include: Aspen Medical Products, Össur Americas, Converse, Nike, Lusardi Construction Company, DJO Global, Philadelphia Insurance Companies, Wawanesa Insurance, Nytro Multisport, Mirum, Ashworth Awards, XTERRA Wetsuits, Kaiser Permanente, Accenture, Hanger Clinic, Headsweats, Wells Fargo, Eastridge Workforce Solutions, Sycuan Casino, VAVI, LAK Advertising, VDP Direct, Alphatec Spine, Union Bank and YMCA of San Diego County.
For a full recap of the Aspen Medical Products San Diego Triathlon Challenge weekend of events video and photos, visit Challengedathletes.org/SDTC.
About the Challenged Athletes Foundation
The Challenged Athletes Foundation® (CAF) is a world leader in helping people with physical challenges lead active, healthy lifestyles. CAF believes that participation in physical activity at any level increases self-esteem, encourages independence and enhances quality of life.  Since 1994, more than $80 million has been raised and over 13,000 funding requests from people with physical challenges in all 50 states and dozens of countries have been satisfied. Additionally, CAF's outreach efforts reach another 60,000 individuals each year. Whether it's a $2,500 grant for a handcycle, helping underwrite a carbon fiber running foot not covered by insurance, or arranging enthusiastic encouragement from a mentor who has triumphed over a similar challenge, CAF's mission is clear: give opportunities and support to those with the desire to live active, athletic lifestyles To learn more, visit challengedathletes.org or call 858-866-0959.
About the Mazda Foundation
Through the Mazda Foundation, Mazda and its employees are working together to proactively help our neighbors – and the communities where we live and work – to build a better, brighter future. With contributions exceeding $8 million since its founding in 1992, the Mazda Foundation is playing a meaningful role in helping thousands of Americans realize their aspirations and dreams. It's also important to note that programs the Mazda Foundation supports range from children's organizations and educational scholarships to food banks, environmental programs and crucial disaster relief efforts. To lean more, visit Mazdafoundation.org.
About Aspen Medical Products
Aspen Medical Products is a leader in the development of innovative spinal braces designed to improve patient outcomes by offering effective pain relief, patient comfort, motion restriction and stabilization as needed to support the patients' continuum of care.  Aspen's commitment to clinical research is unparalleled in the orthotics community and has directly impacted product development resulting in the most effective spinal orthotics on the market.  A comprehensive product offering, including numerous award winning products, has helped millions of patients get back to the activities they care about.  Aspen is also a proud sponsor of the Challenged Athletes Foundation (CAF) for over 16 years and is the Title Sponsor of the Aspen Medical Products San Diego Triathlon Challenge. To learn more, visit aspenmp.com.