5 Interesting Facts About Wheelchair Curling
Photo credit: (Peter Morenus/UConn Photo)
by Steve Emt
Steve Emt, a member of TEAM USA Wheelchair Curling team competing in the 2018 Pyeongchang Winter Paralympic Games, took a moment to share with us a little about his sport.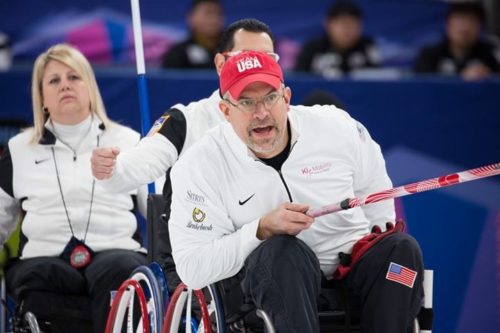 1. There's no sweeping
The major difference between wheelchair curling and typical curling is that we don't sweep. It's more difficult on us because sweeping makes a lot of bad shots look good. Since we don't sweep there is less yelling on the ice.

2. We don't slide out of the "hack"
Unlike typical curlers we do not slide out of the hack, meaning we don't push the stone from a starting block. In wheelchair curling, we push the stone from a stationary position near the "hog line," or the line by which the stone must be clearly and fully released by the thrower.

3. We don't deliver the stones with our hands

Instead of delivering the stone with our hands, in wheelchair curling we deliver the stone using a stick that hooks onto the handle of the stone.

4. Men and Women play together
In most competitions, there must be mixed gender on the ice for each team. The typical curlers have a men's team and a women's team. We have one team that is comprised of 3 men and 2 women.

5. WheelChair Curling is growing

Wheelchair curling is still a fairly young sport. Just five years ago when I started, there were only about 15 wheelchair curlers in the U.S. That number has doubled in the past five years.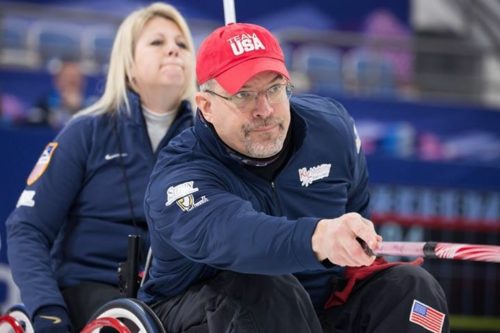 About Steve: Steve was paralyzed in a car accident, amidst a promising career on the University of Connecticut basketball team. He went on to become a teacher at a local middle school, feeling compelled to make an impact in the lives of young adults. Sports grew to be a large part of his influence as a teacher, and in his own life, when he was recruited by the Paralympic wheelchair curling coach. He is now "vice-skip" of the Team USA curling team, ready to represent his country in South Korea.