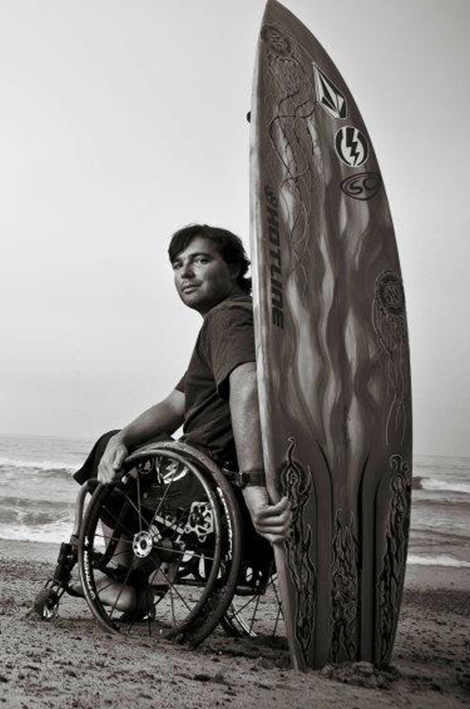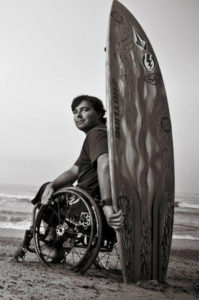 Physical Challenge: Paraplegic
Sport:  WCMX, Surfing
Hometown: Santa Cruz, California 
Christiaan "Otter" Bailey was a professional skateboarder and surfer alternating between his home in Santa Cruz, California and serving as a surf safari guide in Central America and West Africa.  In 2006, a skateboard crash while shooting a video would paralyze Christiaan from the waist down and put his lifestyle in question.
Questions are made to be answered and Christiaan was a firm "yes" when it came to returning to his passions.  With the help of all his former sponsors, Christiaan remained able to continue surfing on tour, becoming not only the first paralyzed World Surfing Association National Champion, but also the first paralyzed person to surf "Mavericks" in Half Moon Bay, California. In 2010, Christiaan was selected by the International Olympic Committee to showcase the sport of WCMX during the Vancouver Paralympic Opening Ceremonies.
Christian is also the CEO of Ocean Healing Group, a non-profit that provides adaptive sports adventures in Costa Rica to children in wheelchairs and their families. Additionally, Christiaan has helped coach CAF athletes through adaptive paddleboard clinics. Bailey has been instrumental in the growth of adaptive surfing and is now excited to introduce the sport of adaptive paddle boarding. Bailey is also the current captain of the USA Paralympic Surfing Team, a 5x National Champion, and an 8x ISA Worlds Medalist.

In The Media:

CAF Idaho Adaptive Paddle Boarding Clinic Hosted by Christiaan Bailey
Christiaan Bailey YouTube Channel
Catching Up With Team USA's Christiaan Bailey, Para Surfing's Great Hope | Men's Journal