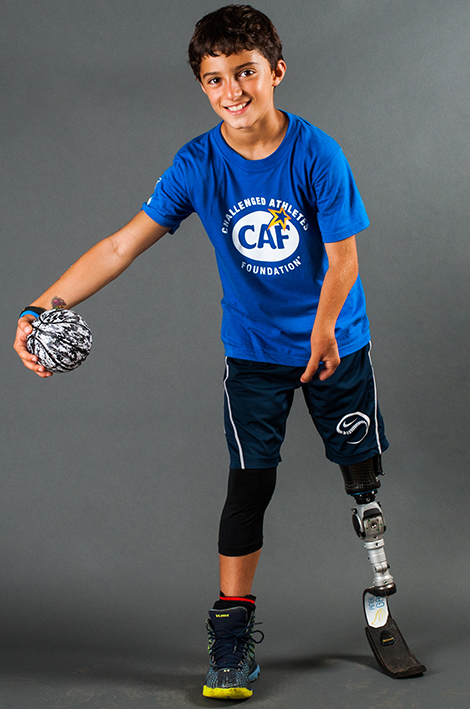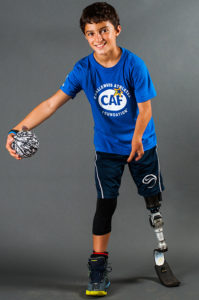 Sport: 
Basketball, Baseball, Football, Track and Field
Biography:
Ezra's motto is "You can Dream it, You can Hope for it, or You can Make It Happen."
Since he could crawl Ezra has loved sports. When Ezra was born, he only had one finger on his left hand and was completely missing his left knee and shinbone. That didn't stop him. Ezra began to pull himself up to stand at only 11 months old. This led to his first prosthetic leg from Shriners Hospital Los Angeles and he has been unstoppable ever since.
Now as a teenager, Ezra is a national recorder holder in track and field, plays basketball, football, soccer, skateboards and surfs. He's a well-rounded student-athlete receiving good grades in school and actively participates in school leadership, theatre, and musicals.  He's also an accomplished motivational speaker frequently speaking to corporate and youth crowds in the thousands. Ezra has been featured on CBS Sports, Ellen DeGeneres Show, Good Morning America and was a 2014 finalist for Sports Illustrated SportKid of the Year. He's also the Chief Ambassador & Youth Council Lead of Angel City Sports, organizers of the Angel City Games in Los Angeles.
Watch 5-year-old Ezra Frech accept his award for being CAF's 2010 Rising Star Award winner at the Celebration of Abilities Awards Dinner preceding CAF's San Diego Triathlon Challenge