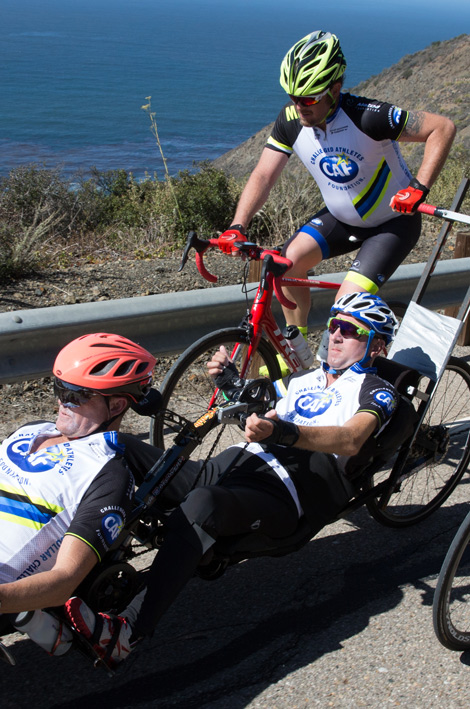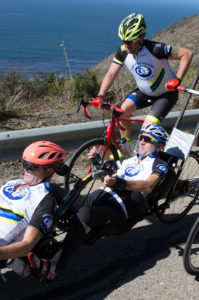 Physical Challenge: Quadriplegic
Hometown: Carlsbad, CA
Sports: Handcycling + Air Rifle
Lance Weir, a Marine Corps Reservist, was dislodging a canoe in a river when he leaned headfirst into the water to retrieve his baseball cap. His head hit a submerged rock, shattering his C5 vertebrae, and he became a quadriplegic.
17 years after his injury, Nico Marcolongo from CAF's Operation Rebound program encouraged Lance to enrich his life through sport. Lance discovered that he was not only good at shooting an air rifle, but he was also one of the best in his category and was identified as a Paralympic hopeful. Over the years, he has earned 8 gold medals at both the Marine Corps Trials and the Warrior Games. Lance also cycles on an adaptive tandem hand cycle and has completed CAF's Million Dollar Challenge, a 620-mile ride from San Francisco to San Diego, and other endurance rides including the grueling Silver State 508. Lance also achieved the title of first tandem hand cycle to cross the finish line at an IRONMAN® race.
From gold medals to breaking records – including becoming the world record holder for being the first quadriplegic to cycle over 200 miles on a recumbent adaptive tandem bicycle, Lance Weir has shown the world that shattering his C5 vertebrae hasn't slowed him down. 
In The Media:
Lance Weir | Heroes of Sport Podcast