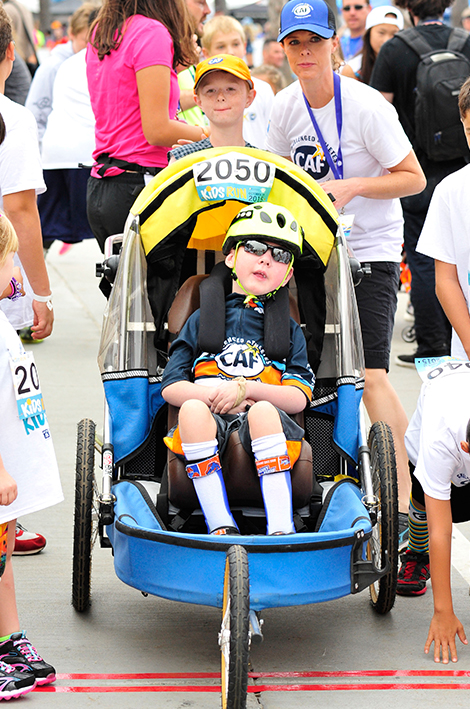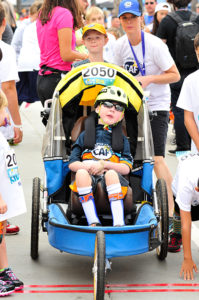 Challenge: Lissencephaly
Sport: Triathlon
Lucas doesn't walk or talk.  Most of his time is spent in a wheelchair and he requires assistance with the most basic of tasks.  Lucas was born with Lissencephaly, a rare condition in which the brain develops without the normal folds and wrinkles in the cerebral cortex.
But Lucas's only response to his circumstance is to smile.  The 7-year-old loves to smile, especially when 9-year-old big brother Noah is around.  Lucas's nonverbal nature doesn't prevent their relationship in the slightest; a series of glances with a gentle squeeze of the hand or shoulder is all the conversation they need as the two brothers do everything together from watching cartoons to taking walks.
When Noah decided to do a YMCA Kid's Triathlon, there was no question that, like everything else, Lucas would be at his side.  From pulling Lucas on a raft for the 200m swim, a three mile bike with a trailer, to finally pushing Lucas in a buggy for a mile run, Noah made sure they stayed side by side from start to finish line.
Meanwhile, Lucas loved the whole experience and wore his trademark smile the whole time.  To Noah, seeing his brother happy was well worth the effort, claiming the most exhausting part was simply "Running, because it's at the end."  After all, no weight is heavy enough to break the bonds of brotherly love.
In The Media